printer friendly version
Nick Denbow's Industrial Internet report: The future for IoT
Technews Industry Guide - Industrial Internet of Things 2016
Editor's Choice
There is a new trend evident in the presentations at conferences and corporate presentations, such as those organised by automation suppliers like Emerson and Yokogawa. Apart from the information about their new products, and new applications of their systems enabling better automation, these conference organisers also now offer a presentation from a 'Trend-watcher' or 'Futurist'. Inevitably basing their arguments on the way technology has grown, in relation to computing power, mobile phones, and the Internet, these presentations try to explain the IoT (Internet Of Things) of today – to then discuss what the IoT will really provide, and what will be accepted as normal, in 10 years' time.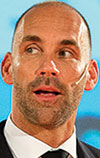 Trendwatcher Richard van Hooijdonk.
Richard van Hooijdonk, a 'Trendwatcher'
For the Yokogawa European conference, their Trendwatcher was Richard van Hooijdonk, from the Netherlands. A well-known radio lecturer, Richard is also a lecturer at the Nyenrode & Erasmus University (maybe they made a new subject area for him?). Entitled 'Trends 2030', his presentation linked the IoT with the growth of robots; with wearable and injected (into the body) electronics; with 'Big Data'; with 4D printing and with cybercrime.
Van Hooijdonk backs up what he says with his actions, at least enough to make us stop and think. He has had an RFID code implanted into his arm, which not only establishes his body with an IP address, but also provides the access code to the electronic lock on his apartment, so that he is recognised and the door is unlocked when he turns the doorknob. The unit also is programmed with the number for his Bitcoin account. While admitting that the injection process was not painless, his whole approach was that such technology will become smaller and cheaper, with future volume application. So the injections will be less painful, at least!
Personal sensors vs robot automation
Probably everyone in the audience understood and could relate to different parts of Richard's view of the major future developments likely. Certainly I could understand the function of some wearable electronic systems that monitor heart rate, temperature and blood pressure, etc. But I lost the plot when this device was also bio-chemically analysing data from an internal pill or pills that circulate around and analyse the blood and other fluids, to look for symptoms or diseases that need treatment, and then automatically call the doctor!
However, I could relate to the emphasis placed on robot automation, which particularly included advanced drones that can now use optical imaging to identify sections of fields or crops which need spraying with insecticide or seeds or fertiliser etc: the drones are self-programmed to fly over the field in a regular search pattern. Automated and self-checking robots for window cleaning, lawnmowers, carpet cleaning and floor polishing, litter picking and hoovering are all about to take over such manual jobs. Robotics will then take over other duties, like planting out seedlings and watering individual pots in garden centres. In the kitchen the fridge will know when it has run out of specific items like eggs, milk and butter, and order them automatically from the grocer, on a schedule.
Relating this to IoT
In terms of automation, the IoT offers the interlinking between multiple devices like pieces of home equipment. For example: the alarm clock rings, after having consulted your schedule, weather and traffic reports, to decide when you need to be awake: the curtains open, or alternately the lights are switched on, the bath is filled and the coffee pot or kettle switched on to brew a drink. But these actions may not have to be programmed, the devices themselves, and other sensors, will have been fed into a big 'consequences' database in the cloud somewhere, that uses pattern recognition to learn repeated sequences, and can then take over and run these sequences automatically. This 'Big Data' processing facility, using pattern recognition, creating artificial intelligence that can process all this data, is a necessary adjunct to the simple sensors – we can't look at all that mass of information ourselves.
Such data processing can be seen in a small way already, when the supermarkets collect your purchase pattern information, and uses this to predict when you will buy these same goods again. If you do not buy them when the computer thinks you should, it can send you a reminder, or even a special offer, to tempt you back to the store. Alternatively, look for a price for a flight on-line: suddenly adverts for that flight appear on every web page you access, and alongside your emails that mention keywords like 'holiday'.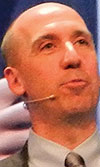 Futurist Jack Uldrich.
Jack Uldrich, a 'futurist'
The Emerson European User Group conference on the other hand, brought Jack Uldrich over from the USA. Jack started life as a naval intelligence officer, and developed an ability to talk American almost as fast as my brain can translate the words being used. He now describes himself as a Futurist, and consults for many major investment groups, plus is a regular guest on CNN and CNBC. In his website (jackuldrich.com) he presents a paper describing the 10 ways IoT will 'Open up a Future of Opportunity'.
Uldrich sees the alarm clock wake-up routine quoted above as the simplest use of IoT. A more comprehensive view is that sensors in your pyjamas, mattress, home lighting systems and the kitchen, monitor everything from your diet to your sleep pattern, and tell you to modify your behaviour to improve your lifestyle. For example, tell you to reduce the caffeine intake after 6pm, and tell your bedroom lights to get brighter as soon as you come out of REM sleep – whatever that is!
I leave you to read the rest of the paper: but Uldrich takes IoT with Big Data as just one of the major triggers for change. The other factors he lists are social media, robotics, biotechnology, nanotechnology, AI and renewable energy, which will all coalesce to focus on the intelligent automation of our lives.
New opportunities
Uldrich sees some major business entrepreneurs emerging as a result of the technology changes around us already, identifying Spacex in satellite launchers – the re-useable ones that now land on ocean barges. Others include Tesla's new designs of electric cars, and their plans to develop a 0,5 million units a year production facility for the required car batteries by 2020; GE producing 3D printed aero-engine parts (such as turbine blades) by 2020; and Deloitte recently moving into an office building in Amsterdam that can use IoT sensors to reduce energy consumption by 85%.
Van Hooijdonk also pointed to disruptive new ideas overturning established markets, mentioning Uber in taxi services; BnB in renting holiday houses; Spotify in music; and Netflix in taking over the video rental market digitally.
These Trendwatchers/Futurists do have a place in business. In fact, Van Hooijdonk teaches companies how to anticipate and deal with major changes that might disrupt their business, by creating their own internal disruption team. In this way, they may avoid the fate of Kodak, Blockbuster and Proctor & Gamble. There are obviously many profitable careers opening up in presenting trendwatching lectures, some forecasting IoT scenarios for the future.
But what about the IoT?
Gartner, a leading information technology research and advisory company, forecasts that 6,4 billion 'things' will be connected to the Internet by end 2016, up 30% from 2015, and that this number will reach 20 billion by 2020. These devices will generate a market for service spending of USD235 billion in 2016, so this spend will be approaching USD1000 billion worldwide by 2020. Admittedly, only around a third of these connections will be in business operations, two thirds will be in consumer areas. But the major market demand will be for services, where businesses employ external providers to design, install and operate their IoT systems. In reality, this means processing the information available using Big Data techniques, to allow the client to get on with his own business, yet benefit from new technology. "IoT services are the real driver of value in IoT, and increasing attention is being focused on new services by end-user organisations and vendors," said Jim Tully, vice president and analyst at Gartner.
So the attention Gartner speaks of can already be seen coming from the major automation suppliers, who are offering 24/7 services to analyse the data available from industrial Internet-based sensors, or from plant sensors connected over a VPN link via the Internet. The GE, Emerson and Yokogawa companies of this world see their customers using their products, but that these products have far more capability than the customer can absorb, so they need to be the supplier who provides the expansion and development services. Otherwise, someone else will jump in and pinch the client's attention, and the work.
So we already have GE supporting their aero-engines with wear and condition monitoring systems, then extending this to their compressors and pumps on LNG liquefaction plants, with teams of GE people monitoring and reporting back to their clients. These teams might only be in three or four places around the world, all linked by the Internet, but they can control their maintenance staff on site. These guys are directed to the machine or plant area that needs attention: and the whole contract is no longer measured in man hour charges, but in percentages of the plant output capability, when the equipment availability is maintained above X%. Similarly we see automation companies developing comparable contracts, where they use the IoT inputs to enable plant performance improvements, so that a South African plant (for instance) benefits from operational experience learned from a similarly linked up Canadian plant: and the payment is a proportion of the performance improvement.
There are opportunities also for specialists to develop expertise in their own specific areas, e.g. for machine manufacturers to link all their own machines worldwide, and be the leaders in offering the most efficient, reliable widget production machinery: but eventually these will be linked into a major supplier of widget production and business services.

The IoT benefit will come from collaboration and learning, matching patterns and experience and from knowledge gained elsewhere: it needs AI, which could be 'Artificial Intelligence' – or may be 'Automated Intelligence' – and it will come from Big Data, from multiple small sensors, interconnections, and collaboration!
Nick Denbow spent 30 years as a UK-based process instrumentation marketing manager, and then changed sides – becoming a freelance editor and starting Processingtalk.com. Avoiding retirement, he published the INSIDER automation newsletter for five years, and then acted as their European correspondent. He is now a freelance Automation and Control reporter and newsletter publisher, with a blog on www.nickdenbow.com
Further reading:
Control loop question answered
June 2019, Michael Brown Control Engineering , Editor's Choice
Control loop expert Michael Brown recently received a question from reader, Hansell Williams. The question relates to applying neural network and machine learning concepts to plant automation and control. 
...
Read more...
---
Nick Denbow's European report: Trends in plant monitoring
March 2019 , Editor's Choice
Early last year, the interest from many large automation and sensor suppliers focused on condition monitoring, for example, using wireless communications to monitor the condition of the motors and bearings 
...
Read more...
---
Now might be the time to have a talk with your IT service provider
March 2019, Absolute Perspectives , Editor's Choice, IT in Manufacturing
The Gartner hype cycle provides a simple graphic representation of how emerging technologies are adopted in the market. The principle is quite simple: a new technology (such as augmented reality) will 
...
Read more...
---
Nick Denbow's European report: Will UK industry pull out of the Brexit torpor?
February 2019 , Editor's Choice
Whether the UK – whoever is in charge – decides in March to remain in the EU, drop out, or make a negotiated partial exit, the last year has been disastrous for UK industrial investment in instrumentation 
...
Read more...
---
New toolkits for innovation
January 2019, Absolute Perspectives , Editor's Choice
Why you might want to bypass the DCS and scada systems.
Read more...
---
Emerging technologies pose a pressing governance challenge
December 2018 , Editor's Choice
As the year draws to a close, multiple factors compel the continuation of the Industry 4.0 theme and its challenges, particularly those related to governance. Many readers of this column, as well as social 
...
Read more...
---
Nick Denbow's European report: Condition monitoring resurrected yet again as sensors get smarter
December 2018 , Editor's Choice
Back in the mists of time, that is, in the sixties, the engineers in charge of the gas turbines used to generate electricity in power stations, and others monitoring helicopter gearboxes, used sensors 
...
Read more...
---
First rack-mounted switches that comply with the IEC 61850-3 Edition 2 Class 2 Standard
November 2018, RJ Connect , Editor's Choice
In today's industrial processing environment, industrial Ethernet has become a de-facto standard to connect to the company's PLCs in manufacturing, IEDs in substations and cameras for CCTV, in harsh environments. All of these demand ruggedised networking switches to ensure stable communications to the company's scada, ERP and MES software. Often, industrial networking products are installed in and around the production areas where they are subjected to high temperatures, vibrations and electrical noise from VSDs and motors.
Read more...
---
Nick Denbow's European report: Japan reopens nuclear power plants while progress is slow elsewhere
November 2018 , Editor's Choice
The Fukushima nuclear power plant accident occurred back in March 2011. Following that disaster, Japan ordered the close-down of all the nuclear generating plants in the country – there were 42 of them, 
...
Read more...
---
The Digitalisation Productivity Bonus
October 2018, Siemens Digital Industries , Editor's Choice
Siemens researches the value of digitalisation to manufacturers.
Read more...
---