printer friendly version
Traceability through serialisation deters counterfeiters
August 2016
Data Acquisition & Telemetry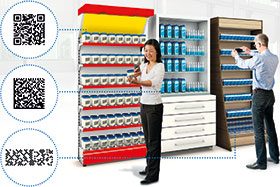 In Europe, the Falsified Medicines Directive (FMD) is defining new traceability requirements for prescription drugs and over the counter medicines that may be subject to counterfeiting. Coming into force in 2018, the FMD addresses the very real threat of counterfeit drugs to public health and safety as falsifications become more sophisticated.
Counterfeiting in the pharmaceutical industry is also of concern in South Africa for local and export companies alike. It is not simply a case of taking money away from licensed manufacturers, as falsified medicines may contain active ingredients that are of bad quality or in the wrong dosage. Without proper evaluation of the quality, safety and efficacy, such counterfeit drugs could represent a genuine health hazard.
The FMD imposes a requirement for item-level serialisation, whereby individual packs of medicines are marked with a unique, machine-readable identifier that will provide traceability from point of sale all the way through the manufacturing process, so that the authenticity of that medicine can be checked anywhere in the supply chain.
While the FMD specifically tackles the manufacture and retail of pharmaceutical products, the pressure on medical device and food and beverage manufacturers is no less real. This means there is a requirement for manufacturers in all these industries to ensure the ability to trace individual products and batches – not only through their own manufacturing processes, but right through the whole supply chain to the consumer.
Traceability via databases
It is not enough that this traceability be managed internally. Product data must be uploaded to a national or international database where product IDs can be held and verified as required. While it has long been required practice to print machine-readable identification coding – barcodes, 2D code – onto packaging to deliver some degree of traceability, the stringent requirements of the FMD for serialisation presents two key challenges for manufacturers. The first is to look at how they manage data internally, with supply chain partners and with consumer-oriented servers. The second is to look at how they will need to change production hardware and processes.
New ways to meet recent demands
Two main approaches to meeting these new demands in terms of data management and production processes have emerged: the single system point-to-point solution, and the flexible layer solution.
Single system point-to-point solution (closed single supplier solution)
This is a ready to use system that fulfils all requirements from printing and inspection to data handling and exchange with the supply chain and government servers. However, it lacks the flexibility to change as production lines evolve.
While this solution addresses the requirement for serialised data, other FMD required inspection tasks such as tamper-evident seals or existing quality control measures are not addressed. Additional inspection systems or specialised sensors are needed, representing a doubling of resources.
Flexible layer approach (open solution)
This alternative solution separates the data/content-handling aspects from the hardware considerations in the production line. It works towards an open structure with defined interfaces between the different solution levels. The goal is to provide the freedom to select the printers, serialisation software, ERP/master data environment and to integrate these into existing IT and machine environments.
The system is highly flexible, meaning that users can readily adapt to changes and new demands on the production line. Importantly, existing inspection systems and tasks can be easily merged with the new serialisation solution, avoiding double handling issues with changeovers and changes in multiple inspection systems in the line.
Omron's pioneering technology
Omron's expertise not only in machine automation, but also in vision systems technology, makes it ideally placed to advise and assist in implementing serialisation systems. For example, Omron's FH vision technology can provide cutting edge quality inspection and code verification.
FH vision implementation not only supports serialised code integration, but also other various inspection tasks, all set up in a single system that is accessible via one interface. Adding or modifying inspection tasks, as well as ensuring compliance management, user training and maintenance, are all significantly simplified.
As an integral part of Omron's Sysmac automation platform, it allows data management integration into various scada, MES and ERP solutions, as well as global compliance management concepts to support serialisation implementation throughout the supply chain.
With all the changes to packaging designs and additional inspection tasks, the maintenance, training and documentation demand for multiple inspection systems in the same production line is expected to be a challenging task. In this context the advantages of the flexible layer solution for serialisation will far outweigh the initial preserved advantages of the seemingly easier end-to-end solution.
For more information contact Laetitia de Jager, marketing manager, Omron, +27(0)11 579 2625, +27(0)76 062 8668, laetitia.de.jager@eu.omron.com, www.industrial.omron.co.za
Credit(s)
Further reading:
Towards the Smart Factory
February 2019, Omron Electronics , IT in Manufacturing
With much of the reported paradigm of Industry 4.0 resting on self-configuration of machinery and production lines, Omron's Victor Marquess looks at what can already be achieved to get on the path to 
...
Read more...
---
One machine control over EtherCAT
February 2019, Omron Electronics , Motion Control & Drives
Manufacturing is changing. Production lines need to be increasingly flexible to cope with shorter production runs, more varied products and tighter deadlines. Manufacturers are addressing these challenges 
...
Read more...
---
Omron innovation
October 2018, Omron Electronics , News
At Omron's recent Innovation Conference held at the CSIR Conference Centre, delegates were briefed on the latest developments in IIoT and the Smart Factory, and the benefits of Omron's new i-Automation 
...
Read more...
---
Enhanced IoT security technology for manufacturing site networks
October 2018, Omron Electronics , IT in Manufacturing
Omron and Cisco collaborates to deliver reliable performance under extreme conditions.
Read more...
---
New network function for digital ­indicator
October 2018, Yokogawa South Africa , Data Acquisition & Telemetry
Yokogawa has added a network function to the UM33A digital indicator with alarms. With this network function, a single UM33A digital indicator can receive, process and sequentially display data from up 
...
Read more...
---
Innovation and intelligence for the factory of the future
September 2018, Omron Electronics , IT in Manufacturing
Thanks to increased processing power and the availability of increasing volumes of data, the discussion about Artificial Intelligence (AI) is gaining momentum.      
The current status
In the case of the 
...
Read more...
---
Omron introduces new i4 Scara family
August 2018, Omron Electronics , Motion Control & Drives
Omron has announced that it will introduce a new line of Scara robots, boasting sleek design and enhanced performance. Named the 'i4', the new generation robots will save space during installation and 
...
Read more...
---
Remote monitoring and telemetry at power station water plants
July 2018, Omniflex Remote Monitoring Specialists , Data Acquisition & Telemetry
The wireless ability to manage pumps remotely over long distances is now available using Omniflex's Teleterm M3 Radio RTUs. This full functionality IEC61131 PLC enables both control and wireless communications 
...
Read more...
---
Preparing for digitalisation and an era of collaborative robotics
Technews Industry Guide: Industrial Internet of Things & Industry 4.0, Omron Electronics , News
Digital transformation and its associated technologies – collaborative robots in particular – are generating enormous interest in manufacturing. Industry 4.0 will have a strong impact in the coming years 
...
Read more...
---
IO-Link compatible sensor range from Omron
Technews Industry Guide: Industrial Internet of Things & Industry 4.0, Omron Electronics , Sensors & Transducers
The IO-Link compatible sensor range from Omron currently incorporates through beam, retro-reflective and diffuse reflective photosensors, colour mark sensors, standard proximity sensors and spatter-resistant 
...
Read more...
---