printer friendly version
From the editor's desk: Printing the future
February 2019
News
3D printing – aka additive manufacturing – is the process by which material is solidified layer-on-layer to produce physical objects based on computerised models. While the idea is almost 40 years old now, it just hit its prime as a viable manufacturing technology. No longer limited to the confines of the rapid-prototyping workshop, the cost of 3D printers has come down fast, while the range of printing material continues to grow exponentially. Notably, it is now possible to print anything from human body parts through food to fine jewellery, depending on your preference as a designer.
In a production context, it is considered one of the more disruptive technologies of the Industry 4.0 era because of its potential to upset the economics of manufacturing. As prices drop and the technology becomes ubiquitous, it's been predicted that certain products will be cheaper to manufacture at, or much closer to, the point of sale. The idea is that even though the individual unit cost may be higher, this would be offset by the saving on transport and other inventory related expenses. In the automotive industry, for example, spare parts could be printed in the repair shop as and when they are required, cutting the need for inventory and supply chain management. The raw materials would, of course, have to be held on the premises, so some degree of stock holding will still exist.
Among the automation companies, Metso is one of the first movers in the field. For years, Metso Flow Control has been exploring the possibilities of the technology for manufacturing purposes. So far, this has been limited to research and development and the quick resupply of rarely used spare parts to customers around the globe. But that changed recently after the company received an urgent call from an end user having problems with the valves it currently used in a harsh gas treatment application. A new solution was needed, capable of faster cycle speeds and exceptionally long service intervals.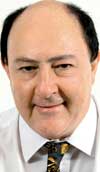 Utilising their experience with digital models and 3D printing, Metso engineers were able to produce robust new valve components for this application, custom-designed to cope with the extreme process conditions, and manufactured from materials capable of lasting the duration of the extended service intervals. This project cut to the quick of Industry 4.0 promise in an elegant combination of customer pull and technology push, which resulted in the company shipping its first ever valves fitted with printed components. To meet the radical specification, Metso used 3D printing technology to create a new, ultra-robust valve design with special emphasis placed on the sliding surfaces. For more on how they did it, see 'First Metso valves with 3D printed parts'.
Steven Meyer
Editor: SA Instrumentation & Control
Credit(s)
Further reading:
From the editor's desk: 4IR could solve South Africa's youth unemployment problem
July 2019, Technews Publishing (SA Instrumentation & Control) , News
From 4-6 June, Africa Automation Fair 2019 attracted some 4500 visitors and 131 exhibitors from seven countries, including Australia, China, Germany, South Africa, South Korea, Switzerland and Taiwan. 
...
Read more...
---
Africa Automation Fair 2019 wraps up with strong growth
July 2019, Reed Exhibitions , News
Key event reflects SA's growing interest in IIoT/4IR.
Read more...
---
4IR in South Africa: SAIMC involved from day one.
Technews Industry Guide: Industrial Internet of Things & Industry 4.0 , News
The Fourth Industrial Revolution (4IR), also known as Industry 4.0, has necessitated that countries develop new policies, strategies and innovation plans to enable an inclusive whole-of-society approach 
...
Read more...
---
Announcing MESA's 2019 award winners
July 2019, MESA Africa NPC , News
MESA International has announced this year's winners of the 12th Annual Outstanding Contribution Award. A new Innovative Service award was also announced in honour of long time community member, Tom Bruhn. 
...
Read more...
---
Robin Briggs appointed managing director of BMG
July 2019, Bearing Man Group t/a BMG , News
Robin Briggs has a passion for strategy and a commitment to driving successful business growth in South Africa's industrial sector. He brings to BMG a wealth of product knowledge, a thorough understanding 
...
Read more...
---
Arca receives prestigious award
July 2019 , News
Arca has been awarded the quality label 'Innovative through Research' for the year 2018/2019 by the German Association for the Promotion of Science and Education (Stifterverband für die Deutsche Wissenschaft). 
...
Read more...
---
PoolSense: set to change the face of pool maintenance forever
Technews Industry Guide: Industrial Internet of Things & Industry 4.0 , News
The automatic pool cleaner changed the face of pool cleaning forever, but maintaining the quality of the water has remained a difficult and expensive task. PoolSense is about to change this. An unobtrusive 
...
Read more...
---
Sensear appoints Extech Safety Systems as authorised distributor in sub-Saharan Africa
July 2019, Extech Safety Systems , News
Extech has partnered with Sensear to distribute its products in sub-Saharan Africa. Sensear is a global leader in digital communication and active listening headsets and earplugs for use in high noise 
...
Read more...
---
R&C Instrumentation receives accreditation from Fluke
July 2019, R&C Instrumentation , News
R&C Instrumentation is pleased to announce that the company has received accreditation from Fluke Process Instruments for its Infrared Temperature Calibration facility. This facility is housed in a climate-controlled 
...
Read more...
---
Test Dynamics launched to represent National brands
July 2019, Test Dynamics , News
Test Dynamics has been appointed to provide continued representation of the National Instruments brand following a decision by National Instruments to pursue a distribution model in southern Africa.
...
Read more...
---