printer friendly version
From the editor's desk: Valve manufacturers drive new value through IIoT-enabled services
January 2019
News
Valve suppliers just joined the digital revolution in their quest to drive down total cost of ownership through performance-related monitoring solutions. What is surprising is that it took so long. After all, as final control elements, valves have earned a reputation as the 'bad actor' in many process control loops.
The problem is twofold. Firstly, the valve often operates unattended under extremely harsh process and ambient conditions with little (or often no) warning of problems that may be starting to appear. And secondly, the valve is often the last place anyone thinks to look, as when processes do become unstable, often the first 'solution' that comes to mind is that the loop needs re-tuning.
With the emergence of IIoT-enabled remote management platforms, process industry end-users can now begin to take advantage of the monitoring and analysis services provided by valve suppliers. In theory this was all possible before, but practically it was too expensive to commercialise because it involved close cooperation between the valve suppliers, IT service providers, analytics experts and the end-users themselves, who were often unwilling to make the raw process data available.
The recent advances in secure cloud-based IIoT platform offerings, along with wireless communication networks, Big Data analytic packages and advanced visualisation technology, has changed all that. But where does one start?
According to the ARC Advisory Group, end users are well advised to develop a phased approach, which includes measurable goals for each step in the process. To avoid getting caught up in the hype surrounding digital technologies, the first step should be to focus on an existing valve-related process problem that is negatively impacting day-to-day operations. Plant owners should begin by identifying their most critical assets that are prone to frequent instability or failure, and deploy feasible monitoring solutions for the valves in those crucial control loops. Severe service valves with their typically higher failure rates offer the most significant potential for cost saving, making them obvious candidates.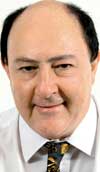 The latest generation of valve actuators make extremely accurate position sensing and direct measurement of valve stem travel and thrust possible. This data can be transmitted over a wireless or traditional fieldbus link, and because the information is directly measured and not interpolated, it is an ideal fit for asset management and predictive maintenance planning.
Leveraging the expertise that valve manufacturers have built up over decades just became more reachable than at any time in the past. Industrial facility operators can now have access to actionable control valve health information whenever and wherever they need it. The ARC Advisory Group's David Clayton has more in 'New performance management solutions for intelligent valves and pumps'.
Steven Meyer
Editor: SA Instrumentation & Control
Credit(s)
Further reading:
From the editor's desk: Edge, cloud or both?
June 2019, Technews Publishing (SA Instrumentation & Control) , News
In the illusory world of digital transformation, the question of where the applications will best be hosted often triggers a lively discussion. In particular, the cloud vs. edge debate has left many wondering 
...
Read more...
---
Wireless IoT devices in oil and gas reached 1,3 million in 2018
June 2019 , News
According to a new research report from Berg Insight, the number of devices featuring cellular or satellite connectivity deployed in oil and gas applications amounted to 1,3 million at the end of 2018. 
...
Read more...
---
Siemens and Iraqi government sign roadmap agreement
June 2019, Siemens Digital Industries , News
In a move that takes the roadmap for rebuilding Iraq's power sector a step further, Siemens and the Ministry of Electricity of the Republic of Iraq have signed an implementation agreement. This builds 
...
Read more...
---
Emerson acquires KNet software
June 2019, Emerson Automation Solutions , News
Emerson has announced the acquisition of KnowledgeNet (KNet) software from Tunisia-based Integration Objects. KNet's unique analytics application software accelerates digital transformation initiatives 
...
Read more...
---
BI set to add ContiTech belts to its range
June 2019 , News
Bearings International (BI) is set to add to its basket of premium brands following a visit by the ContiTech Power Transmission Group to discuss a local distribution agreement for its belt ranges. These 
...
Read more...
---
Endress+Hauser expands patent portfolio
June 2019, Endress+Hauser , News
The number of patents submitted by the Endress+Hauser Group continues to rise. As reported during the annual Innovators' Meeting held this year in France, the Group submitted 287 initial patents in 2018, 
...
Read more...
---
Hyflo Southern Africa incorporated into BMG's Fluid Technology division
June 2019, Bearing Man Group t/a BMG , News
The Engineering Solutions Group (ESG) of Invicta Holdings has incorporated Hyflo Southern Africa into BMG's Fluid Technology Division. This development is a positive move for both companies and for the 
...
Read more...
---
Festo to go digital at Automation Expo
June 2019, Festo , News
The world is currently undergoing radical digital transformation, which is viewed as an implementation of digital technologies in all sectors, including the automation industry. As a company that continuously 
...
Read more...
---
MESA aligns with Africa Automation Fair to promote next level industry automation
June 2019, Reed Exhibitions , News
MESA Africa has aligned with Africa Automation Fair for the first time this year, to help drive the next level of industry automation in South Africa. Vice chairman, Gerhard Greeff, explains that MESA's 
...
Read more...
---
Future Production Technologies Conference
June 2019 , News
"The Fourth Industrial Revolution will herald the transformation of entire systems of production, management and governance," says Bob Williamson, chair of the Future Production Technologies Conference 
...
Read more...
---