printer friendly version
Networked technologies in the factory of the future
May 2015
IT in Manufacturing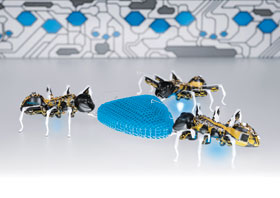 'Integrated industry – join the network' was the motto of this year's Hannover Messe trade fair. At an online press conference, Festo gave a foretaste of highlights from the significance of partner country India to the qualification of employees for future production systems, and from new technologies for the factory of the future to current projects from the Bionic Learning Network.
Industry 4.0 involves a number of challenges, for example the search for the business model of the future, matters of data privacy protection or universal standards for communication between machines. The increasing volume of rapid networking at the technological and organisational levels will be decisive when it comes to realising more efficient value-added chains and product life cycles in future business models. Festo is viewing production from various perspectives – the focus of attention is on the development of new technologies, but also on technical education that meets the requirements of Industry 4.0.
Partner country India
Festo is a partner in industry and in education and training and Festo India is making an important contribution to the success of the family enterprise and the development of the region. This is confirmed by Rashmikant Joshi, managing director of Festo India: "The size of the Indian national economy, transformations in the age structure of the population and the relatively high level of economic growth make the Indian subcontinent an important market for the future. Despite the cautious forecasts for the Indian economy, Festo grew by 12% last year alone."
Qualification 4.0: Education for production of the future
For countries with a high proportion of productive industry, the fourth phase of industrialisation is both a potential game-changer and an immense challenge. Education and training for dealing with the new technologies and the development of digital networks in production, sales and further areas will be a decisive factor for the enterprises of these countries over the coming years.
Festo Didactic is the world market leader in technical education and offers integral solutions in education and training for Industry 4.0 to enterprises and universities throughout the world.
Technologies for the factory of the future
SupraMotion 3.0: Automation modules for motion in suspension
Festo has already been investigating superconductor technology and its industrial application for several years. At the Hannover Messe 2015 trade fair, the company will once again be showcasing three new, innovative application concepts. "We are now not merely showing impressive levitation effects and the opportunities offered by superconductor technology, but are actively discussing their potential together with the automation industry. We are currently working towards initiating our first pilot projects," said Georg Berner, head of strategic corporate development, Festo.
SupraCycle – contactless transfer
SupraCycle for the first time demonstrates how a suspended permanent magnet can be actively transferred from one superconductor automation module to another. Two magnetic object carriers are suspended in the cryostats at a distance of a few millimetres to the superconductors and then transferred in turn from one cryostat to the next.
SupraHelix – a rotating conveyor shaft
The SupraHelix exhibit makes use of two cryostats with superconductors that are arranged alongside each other on a semi-rotary drive unit. When cooled to below their transition temperature, they suspend a shaft with integrated permanent magnets beneath them and hold it at a distance of eight millimetres. The shaft is inclined at 40° by means of the semi-rotary drive. A permanently excited integrated stepper motor sets it in rotation without contact, so that it can convey individual metal rings upwards along its thread. This exhibit shows how ring-shaped work pieces can be transported from one processing station to the next.
SupraCarrier – storing and moving objects on suspended rollers
Two cryostats with superconductors are mounted on an electrical axis, above each of which two magnetic transport rollers are held in suspension. A flat work piece carrier rests on the rollers. The axis moves the superconductor elements horizontally. Between these and the suspended rollers is a cover plate with openings through which the rollers are retracted when the cryostats are lowered; the work piece carrier then lies on top of the cover plate. Suspended transport rollers such as these could be used to move flat, non-ferromagnetic products of all sizes.
Networked technologies demonstrate new approaches – the Bionic Learning Network in 2015
In the Bionic Learning Network, an association of Festo with universities, institutes and development companies, the engineers have investigated and further developed technical concepts and industrial applications based on models from nature.
BionicANTs – cooperative behaviour based on a natural model
For the BionicANTs, Festo engineers have not only taken the delicate anatomy of the natural ant as a role model. For the first time, the cooperative behaviour of the creatures has also been transferred to the world of technology using complex control algorithms.
"Like their natural role models, the BionicANTs work together under clear rules", explains Dr. Heinrich Frontzek, head of corporate communication and future concepts at Festo. "They communicate with each other and coordinate both their actions and movements. Each ant makes its decisions autonomously, but in doing so is always subordinate to the common objective and thereby plays its part towards solving the task at hand."
In an abstract manner, this cooperative behaviour provides interesting approaches for the factory of tomorrow. Future production systems will be founded on intelligent components, which adapt flexibly to different production scenarios and thus take on tasks from a higher control level.
eMotionButterflies – ultra-lightweight flying objects with collective behaviour
The eMotionButterflies developed by Festo demonstrate complex issues from the world of future production such as functional integration, ultra-lightweight construction and communication between individual systems that is networked and optimised on a real-time basis. The aesthetically appealing bionic butterflies show the extent to which the virtual and real worlds can grow together. The coordination between the individual flying objects is effected autonomously and safely by means of a well-networked external guidance and monitoring system. The communication and sensor technology used, which constitutes an indoor GPS system, enables the butterflies to exhibit collective behaviour without danger of collision.
The combination of integrated electronics and external camera technology with a host computer ensures process stability by means of an intelligent guidance and monitoring system.
For more information contact Russell Schwulst, Festo, 08600 Festo, russell.schwulst@za.festo.com, www.festo.co.za
Credit(s)
Further reading:
Siemens' software for digital transformation of automotive design
September 2021, Siemens Digital Industries , IT in Manufacturing
Model-based development process and systems are used in Japan and globally to adapt to the biggest automotive transformation in 100 years.
Read more...
---
Is track and trace through the factory a waste of time?
September 2021, Iritron , IT in Manufacturing
Modern track and trace solutions are purpose-built to introduce as little disruption to the existing production process as possible, while also being flexible enough to cater for plants that range from fully manual to fully automated.
Read more...
---
Modularity for scalability
September 2021, RJ Connect , IT in Manufacturing
Businesses are looking for versatile solutions that are easy to maintain to ensure smooth operations while keeping costs down.
Read more...
---
Saryx launches TMP
September 2021 , IT in Manufacturing
The digital transformation that has swept the world in the past few years has fundamentally altered most people's approach to technology, with an increasing number seeking the ability to manage their 
...
Read more...
---
Secure boundaries enhance industrial cybersecurity
September 2021, RJ Connect , IT in Manufacturing
When enhancing cybersecurity, it is important to understand how industrial systems are exchanging data and how they connect to IT-level systems.
Read more...
---
Siemens drives digital transformation at virtual Smart Mining forum
September 2021, Siemens Digital Industries , IT in Manufacturing
With its motto: 'On the road to the digital future', Siemens hosted its virtual Smart Mining forum from 3-5 August.
Read more...
---
Deep-learning AI made accessible
September 2021, SICK Automation Southern Africa , IT in Manufacturing
SICK Automation has launched a set of deep-learning software and services called dStudio, making artificial intelligence (AI) more accessible to the southern African market. This software works with machine 
...
Read more...
---
How safe are our factories? Part 1: Cybersecurity for operational technology.
August 2021, Wolfpack Information Risk , IT in Manufacturing
If companies are regularly being subjected to cyber hacks overseas, isn't it only a matter of time before someone with enough motivation, skill and resources targets us?
Read more...
---
HSEC Online simplifies health and safety compliance for companies
Technews Industry Guide: Sustainable Manufacturing 2021 , IT in Manufacturing
This automated, cloud-based solution provides a transparent, collaborative workflow platform which eliminates most of the manual complexities of health and safety document management compliance.
Read more...
---
Creating factories of the future
Technews Industry Guide: Sustainable Manufacturing 2021, SEW-Eurodrive , IT in Manufacturing
Raymond Obermeyer, managing director of SEW-Eurodrive South Africa, explains that Industry 4.0 includes all the opportunities for digitally networked production.
Read more...
---