printer friendly version
Pressure: VEGABAR Series 80 all round pressure instrumentation
August 2014
Pressure Measurement & Control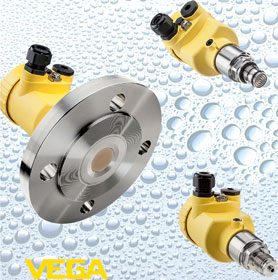 VEGA – The background
VEGA Grieshaber KG was founded in 1959 as a small family business, when level measurement technology was still a young science. Since then it has grown into a globally active manufacturer of process measurement technology, specialising in level and pressure transmitters. The company is based in the iconic Black Forest town of Shiltach in southern Germany.
"VEGA is not the largest producer of level and pressure instrumentation," admits Isabel Grieshaber, head of marketing, "but large enough to act quickly and efficiently. Each year VEGA produces 390 000 measuring instruments in 65 000 different versions and usually delivers them within a few days. Every instrument is tailor-made and specialised for the task that awaits it at the customer's plant. Our successful instrument concept plics makes this possible, as it can realise almost any combination of features for the customer's needs. This standardised instrument platform has proven its worth for over 10 years."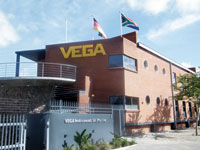 Company founder Bruno Grieshaber, was careful to bring together the right people whose individual strengths complemented each other. Today, his son Jürgen Grieshaber has created an environment in which the VEGA family of employees can grow and develop as they work together as a team. An ability to listen to customers' needs is what drives the research and development of new technologies at this company. Worldwide, VEGA has over 1000 employees and is represented on all continents and in many countries, including 35 nations in Europe. In South Africa, VEGA Instruments SA is headed up by managing director John Groom.
Building customer relationships and going that extra mile to meet their needs is what drives Groom's business philosophy. "In Africa the roads are often long and sometimes quite difficult," he says. "But that doesn't prevent VEGA employees from visiting their customers on site." In the manufacturing process, VEGA's instruments are steeled against all extremes. In simulated environments, quality inspectors subject them to searing heat and freezing cold, let them stand under pouring water, put them under extreme pressure, give them electric shocks and shake them vigorously. Every instrument must be ideally prepared for its future application.
Only instruments that pass this acid test get approval for deployment in real life. A good product has to be fully developed before it hits the market. That's why VEGA integrates quality assurance at the start of the development phase.
VEGA – The specialist for pressure measurement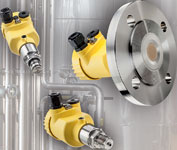 For over 40 years, VEGA has been developing and producing smart pressure transmitters. Now, with the new VEGABAR 80 series customers can fast track to the right pressure transmitter for their specific application. The VEGABAR 80 pressure transmitters can measure gauge, absolute, or differential pressure reliably in all liquids, gases and viscous media. Specially designed ceramic and metallic measuring cells enable high-precision measurement. Their area of application ranges from -1 to 1000 bar at process temperatures from -90 to +400° C. With just three innovative transmitter variants, almost any process pressure application can be solved.
The VEGABAR 81 with a chemical seal assembly is the specialist for high temperatures and chemically aggressive media. The VEGABAR 82 with a ceramic measuring cell is the all-rounder for 80% of all applications in the process industry. Finally, the VEGABAR 83 with a metallic measuring cell is the expert for high-pressure applications.
Electronic differential pressure
An innovative software and hardware concept allows all sensors in the VEGABAR 80 series to be quickly and easily combined into an electronic differential pressure system. Compared to conventional differential pressure measuring systems, electronic differential pressure measurement is often cheaper and much easier to handle. VEGA is the only supplier that offers this solution with ceramic pressure transmitters. The advantages of being able to combine into an electronic differential pressure system are: easy instrument selection and reduced parts stocking; simple adjustment system which allows time-saving and reliable instrument setup; and long-term measurement stability, as there are no oil-filled capillaries.
For more information contact Chantal Groom, VEGA Instruments SA, +27 (0)11 795 3249, chantal.groom@vega.com, www.vega.com
Credit(s)
Further reading:
Pressure transmitters for mobile equipment
June 2019, Turck Banner , Pressure Measurement & Control
In order to provide solutions for use in mobile equipment, Turck has expanded its portfolio of pressure sensors with the introduction of the PT1100/2100 transmitters. This includes mining, forestry, agricultural 
...
Read more...
---
Understanding accuracy specifications
May 2019, EOH Process Automation Solutions , Pressure Measurement & Control
Pressure measurement device accuracies are commonly specified as percentage of full scale, or percentage of reading, and the difference is significant. If an accuracy statement simply names a percentage 
...
Read more...
---
Miniature IR thermometer for plastic film
May 2019, Instrotech , Pressure Measurement & Control
Temperature is a key physical variable for ensuring quality in the production of plastic film. The application of non-contact temperature measurement technology poses the challenge that films with a thickness 
...
Read more...
---
Pressure sensor with IO-Link
May 2019, WIKA Instruments , Pressure Measurement & Control
WIKA has a new, flexible pressure sensor with IO-Link in its portfolio. The model A-1200 is used for pressure monitoring or as a PNP/NPN switch, especially in intelligent machines. The new pressure sensor 
...
Read more...
---
Get your sensor data faster
Africa Automation Fair 2019 Preview, VEGA Controls SA , Sensors & Transducers
VEGA's Tools App enables sensor parameters and configuration settings to be read and adjusted via Bluetooth on any smartphone or tablet. They are easy to operate and all data is permanently available 
...
Read more...
---
Pressure and level transmitter
Africa Automation Fair 2019 Preview, Morton Controls , Pressure Measurement & Control
The Anderson-Negele L3 pressure and level transmitter is designed for measuring variable process pressure or hydrostatic applications in the hygienic industry. It can be viewed at Stand C13. Features 
...
Read more...
---
Hoses and fittings for water blasting
April 2019, Parker Hannifin Sales Company South , Pressure Measurement & Control
Water blasting is the use of water with high pressure and high speed to clean and treat various surfaces. It can also be used to cut through different solid materials like steel and concrete. The advantage 
...
Read more...
---
80 GHz for liquids
April 2019, VEGA Controls SA , Level Measurement & Control
Vegapuls 64 radar level measurement improves efficiency for bitumen supplier.
Read more...
---
New pressure sensor with IO-Link
April 2019, ifm - South Africa , Pressure Measurement & Control
Besides continuous process value monitoring via IO-Link, the new PV type pressure sensor from ifm electronic offers two switching outputs. It also features a compact design with G ¼ process connection 
...
Read more...
---
New pressure switch for process industry
April 2019, WIKA Instruments , Pressure Measurement & Control
WIKA has released a new pressure switch with high switch differential adjustability for the process industry. The model PSM-700 mechanical pressure switch has been designed for control and monitoring 
...
Read more...
---