printer friendly version
WirelessHART – the easiest way to connect to a process control system
May 2014
Fieldbus & Industrial Networking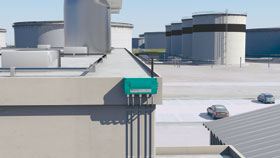 The WirelessHART gateway from Pepperl+ Fuchs can now be connected to a process control system via EtherNet/IP or Modbus. Connection is quick and easy thanks to the integrated web server and the 3D simulation tool, both of which make using the WirelessHART network easier and save the user time and money.
Effective planning for faster commissioning
For anyone wanting to use a WirelessHART network for measurement of process variables, site planning is an unavoidable chore. Investing the time pays off, however, since having a well thought out network concept shortens commissioning time significantly. Finding out at the commissioning stage that the operating range of nodes has been incorrectly estimated, or that some nodes are not included in the mesh network, leads to time consuming, and often difficult, troubleshooting.
Pepperl+Fuchs offers a 3D simulation tool – Wireless Network Checker (WiNC) – as a standalone software tool designed to avoid this scenario altogether. With WiNC, existing 3D plant data can be imported, or entire plants can be created from scratch in the tool itself. The required WirelessHART devices are then positioned as needed before the network simulation is run. This allows the user to see which devices are communicating with each other and where there is no connection, preventing any unpleasant surprises during commissioning.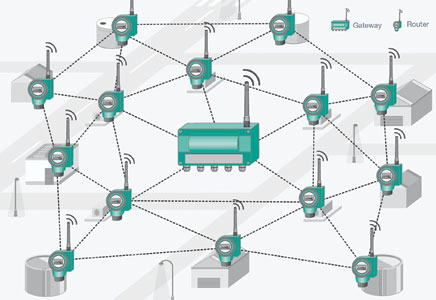 Easier connection to process control systems with flexible Modbus mapping and full integration with EtherNet/IP
Once the WirelessHART network has been simulated, the user can be reasonably confident that it will work as a mesh network. The reason for this is that the simulation is not simply based on empirical values; it uses a mathematical race tracking algorithm, which enables the planned network to be calculated with a very high degree of accuracy. But the WirelessHART network still has to be connected to the process control system. The Pepperl+Fuchs gateway provides two ways of doing this: connection via Modbus or connection to the process control system via EtherNet/IP. Simple tools and ways of establishing the connection quickly and effectively are available in both cases.
With Modbus, the most complicated part is the Modbus mapping. The process control system must know the address where the WirelessHART gateway makes the different data available. The WirelessHART gateway from Pepperl+Fuchs offers flexible Modbus mapping in integrated web servers for this. It enables easy Modbus mapping by variables or sorting and addressing of nodes. The data generated in this way can also be exported in the form of a CSV file. This can be used for documentation purposes or imported into Excel for further editing there. The edited file can then be re-imported by the gateway. During the import, the gateway indicates whether any inadvertent errors such as duplicate addresses have occurred. This provides for a quick and easy way of checking the Modbus mapping.
Modbus mapping is not necessary when the gateway is connected via EtherNet/IP. In the case of the Rockwell process control system Logix, the WirelessHART gateway from Pepperl+Fuchs is fully integrated. Nevertheless, the process control system needs to know the addresses of the various nodes. The gateway uses the HART descriptor for this purpose. Here, the EtherNet/IP addresses in the WirelessHART station are stored according to a simple structure. This is best carried out together with configuration of the WirelessHART device with the network ID and join key. The gateway itself has a default address and does not therefore need to be mapped. All that then remains is to tell the process control system the IP address of the gateway and the number of WirelessHART network nodes. The WirelessHART network is then connected to the process control system.
The stage after connection and before commissioning is where the diagnostic tools come in
Once the network has been successfully connected it is commissioned. The WirelessHART network usually builds itself. But wireless connections are not visible to the naked eye, which makes troubleshooting very difficult. But, the gateway offers graphical network diagnostics directly in the web server, which enables the user to see a device's connections with other network nodes at a glance. The quality of the connection is indicated by a colour code – red means no connection, yellow an acceptable connection and green a very good connection. The intensity of the data traffic on the path can be indicated graphically by the path width. The option also exists to view this data as a list in the web server, since all the information is also available in a list. This can be exported as a CSV file for documentation purposes. The WirelessHART network is thus fully transparent and visible. These handy tools do not just help during commissioning; they can also be used for diagnostics during operation if the user simply wants to know what has changed in a WirelessHART network. Changes happen because the WirelessHART network is self-optimising and seeks out the optimum paths during operation.
These diagnostic tools in the web server are, of course, also available in the Modbus and EtherNet/IP WirelessHART gateway. Together with the simulation tool WiNC, they make WirelessHART visible and transparent for the user, regardless of the process control system to which the network is being connected.
For more information contact Mark Bracco, Pepperl+Fuchs, +27 (0)87 985 0797, mbracco@za.pepperl-fuchs.com, www.pepperl-fuchs.co.za
Credit(s)
Further reading:
The safety over OPC UA concept
June 2019 , Fieldbus & Industrial Networking
Another problem with existing safety protocols is the lack of a concept for dynamically establishing and terminating connections. The current state of technology requires that early during the project 
...
Read more...
---
Interference-free transmission with the Ethernet media converter
June 2019, Phoenix Contact , Fieldbus & Industrial Networking
The new FL MC EF 660 SCRJ media converter from Phoenix Contact enables the connection of cost-effective polymer and HCS/PCF fibre technology. The optical transmission of data via fibre optics is free 
...
Read more...
---
Rail-mount fibre optic distributor for network expansion
June 2019, Webb Industries , Fieldbus & Industrial Networking
Jasco's Webb Industries has introduced Telegärtner's new, modular rail-mount fibre optic distributor. The all-new STX distributor can be extended according to actual needs. The stackable modules allow 
...
Read more...
---
Powerful new remote I/Os
Africa Automation Fair 2019 Preview, Vision Automation , Fieldbus & Industrial Networking
UniStream Remote I/Os are a powerful addition to the UniStream series. The line comprises an Ethernet-based remote I/O adaptor and a broad range of remote I/O modules, such as analog and digital I/Os 
...
Read more...
---
Mobility for Industry 4.0 ­challenges
Africa Automation Fair 2019 Preview, Pepperl+Fuchs , Industrial Wireless
The Tab-Ex 02 series of tablets from Pepperl+Fuchs has innovative features that make Industry 4.0/IIoT applications easy to implement.    The DZ1 version ecom has a range of applications that are unique 
...
Read more...
---
Combine process and motion control with Profinet networking
Africa Automation Fair 2019 Preview, Varispeed (Div of Hudaco Trading) , Fieldbus & Industrial Networking
Yaskawa's MICRO CPU provides high performance and channel density, with prepared PLC and HMI/scada motion software libraries for Yaskawa servos and VSDs. At 0,02 μS per instruction and direct execution 
...
Read more...
---
IO-Link infrastructure components
Africa Automation Fair 2019 Preview, Pepperl+Fuchs , Sensors & Transducers
Pepperl+Fuchs has on show a range of IO-Link infrastructure components. As a globally established communication standard that is system- and fieldbus-independent, IO-Link offers many advantages. The universal 
...
Read more...
---
Hubs and RFID readers with IO-Link
May 2019, Turck Banner , Fieldbus & Industrial Networking
Turck has expanded its extensive IO-Link portfolio with new Class A and Class B I/O hubs with protection to IP67, and HF RFID read/write heads with threaded barrel design. Thanks to SIDI, the Simple IO-Link 
...
Read more...
---
All-in-one mobile network analyser
Africa Automation Fair 2019 Preview, Industrial Data Xchange (IDX) , Fieldbus & Industrial Networking
On show at Stand D20, the PROCENTEC Mercury from Industrial Data Xchange is an all-in-one mobile analyser that gives the user the ability to troubleshoot, maintain and monitor both Profibus and industrial 
...
Read more...
---
Next generation Layer 3 Ethernet backbone
Africa Automation Fair 2019 Preview, IAC - Industrial Automation & Control , Fieldbus & Industrial Networking
The Hirschmann DRAGON MACH4500 Layer 3 Ethernet backbone is ideal for applications that require high bandwidths and reliable data transfer. This flexible, future-oriented solution supports redundant internal 
...
Read more...
---