printer friendly version
From the editor's desk: Technology solutions dazzle at Sun City X-Change
May 2017
News
This year's Wonderware X-Change User Group Conference celebrated quality in every detail. From the class of the keynote speakers, through the slickly run breakout sessions, down to the polished touch of the silver Wonderware jacket pins worn by delegates at the gala dinner, the organisers showed just why X-Change has earned a reputation among many as the blue-ribbon event of its kind on the African continent.
Under the conference's quirky tagline "Impossible is just a temporary state of mind", keynote speaker Ravi Gopinath, VP software business at Schneider Electric, mapped out the strategy and opportunities for the company's rapidly evolving technology portfolio. He stressed that the vision for the software business is to conceive and augment value in all areas of the organisation's offerings for the key industry verticals in which it operates, such as power and infrastructure.
Given that end user technology consumption preferences are now heavily focused on speedy configuration, ease of deployment, intuitive user interfaces and interoperable systems, Schneider Electric has recognised that it needs to build and maintain real-time control information platforms in such a way that every piece of technology adds measurable value in the quest to drive down total cost of ownership.
Gopinath identified the requirement to leverage system platforms and plant information in ways that simplify design and deliver improved process performance as a key aspect. This is the domain of the IIoT, or 'going digital', as it has come to be known.
But how does this direct a software development strategy? In Schneider Electric's case, it identified the asset lifecycle and the operations lifecycle as two plant 'loops' that could be optimised through the intelligent deployment of digital technology. To advance clients along the digital migration, Gopinath described how his team has to identify access points for new value creation in both of these loops. Enter Prometheus and InTouch OMI (operations management interface), the star attractions at X-Change 2017.
In a manufacturing environment ever more influenced by a younger generation of tech-savvy operators, Prometheus and InTouch OMI symbolise the future direction of industrial software at Schneider Electric.
Prometheus is an engineering tool that allows plant designers to configure systems from a collection of objects and interconnects, versus having to design them from the ground up. The persuasion of a younger generation that demands software tools with the same look and feel as the consumer products they use is obvious in the menu structures and drag-and-drop functionality. But underneath it all the benefits are profound. Control system designers now have access to a universal configuration solution that can program anything from an IIoT embedded controller to a RTU, PLC or DCS, and even the HMI. Not only that, but when a change is made in one place, all the application instances are synchronously updated. In a nutshell, Prometheus puts the power to program and maintain a plant's processes squarely in the hands of the people that best understand those processes.
InTouch OMI, on the other hand, is how process visualisation looks when it has been redefined by the millennial generation of operators that is slowly edging out its baby boomer predecessors. It has all the zoom and rotational functionality of a modern smartphone app, but perhaps its most impressive feature is the scalability. The visualisation engine has been designed to automatically adapt to the viewing device, a handy operational benefit in an era where personnel from different divisions want to view the same information on different devices, and from different perspectives.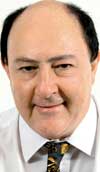 The X-Change 2017 invite promised an introduction to a new era in Scada/HMI solutions. Prometheus and InTouch OMI made good on this and demonstrated how, influenced by a new generation of engineers and operators, industrial software can look just as cool as its consumer counterpart. Add the breakout sessions, the Collaboration Expo, the networking opportunities and the entertainment, and you get a celebration of technology that over delivered in every respect – thumbs up to the organisers.
Steven Meyer
Editor: SA Instrumentation & Control
Credit(s)
Further reading:
From the editor's desk: Isolation economy could quicken the pace of 4IR adoption
November 2020, Technews Publishing (SA Instrumentation & Control) , News
The coronavirus pandemic has highlighted a problem that the manufacturing industry was already uncomfortably aware of – its traditional ecosystems are too cumbersome to cope with the variety of choice 
...
Read more...
---
Pepperl+Fuchs continues Its Digital Event Series and invites you to its second Online Summit
October 2020, Pepperl+Fuchs , News
Pepperl+Fuchs invites you to its second Online Summit: register now, free of charge, to gain access to this fully digital event, which will be held from 17-19 November.
Read more...
---
Cummins ships 800 QSK60 engines to China for use in data centres
November 2020 , News
Cummins has shipped 800 QSK60 series engines to China, where they will be installed in data centres to help communities stay connected through the reopening of the economy.
Read more...
---
Rockwell Automation and Microsoft expand partnership
November 2020, Rockwell Automation , News
Partnership aims to empower manufacturers with agility, intelligence, and scale to deliver digital transformation initiatives, from the cloud to the edge.
Read more...
---
Hager automation solution from EM keeps Noka Camp in luxury
November 2020, ElectroMechanica , News
A smart Hager KNX home automation system has been supplied by ElectroMechanica for the Noka Camp luxury cliff-top lodge in the Lapalala Game Reserve.
Read more...
---
Gas control products for Covid-19
November 2020, Fluid Systems Africa , News
Fluid Systems Africa (FSA) is the authorised distributor for Gas Control Equipment (GCE) in Africa, and supplies a wide range of healthcare and high-purity products. The global spread of Covid-19 
...
Read more...
---
Michael Brown now offering control courses to individuals
November 2020, Michael Brown Control Engineering , News
Michael Brown is now offering training courses to individuals via online Zoom sessions. The first session of the Part 1 practical control course – Troubleshooting and Loop Tuning – will commence on Monday 1 February 2021.
Read more...
---
Hybrid Automation celebrates 15 years
November 2020, Hybrid Automation , News
Hybrid Automation specializes in the design, development, manufacture, installation and commissioning of industrial automation systems.
Read more...
---
Africa Automation Technology Fair announces new 2021 dates
November 2020, Reed Exhibitions , News
The Africa Automation Technology Fair will now take place from 7-9 September 2021 at The Ticketpro Dome in Johannesburg, South Africa.
Read more...
---
Digital transformation is key to energy efficiency across sub-Saharan Africa
November 2020, Schneider Electric South Africa , News
The findings of the Global Digital Transformation Benefits Report, which was initially released in 2019, were validated by Schneider Electric's customers in the Middle East and Africa throughout 2020.
Read more...
---