printer friendly version
Alwyn Rautenbach talks on solar power and the Assmang Khumani project
December 2013
Electrical Power & Protection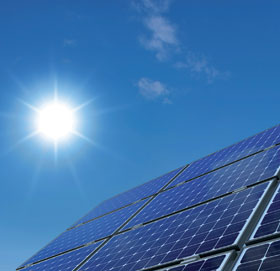 SA Instrumentation and Control speaks to Iritron's managing director about photovoltaic solutions and their suitability for industrial projects in southern Africa.
Photovoltaic solar power in perspective
"The price of solar panels has come down over the last few years opening the door a little wider for certain renewable energy applications," outlines Rautenbach at the beginning of our discussion on the viability of photovoltaic panels as an alternative energy source for industry. "But one must remember that the cost of a solar installation in an industrial project is also significantly influenced by tie-in into the grid, which can add significantly to the upfront costs. Looking purely at the solar panels with grid-tie inverters and structures, this cost probably ranges between R18 and R25 per kW. Working on R25, this means that for a 100 kW plant the equipment alone would cost about two and a half million rand."
He stresses that this will almost double once the engineering and hidden costs associated with security, health and safety, mine specifications and foundation requirements are added. These have a significant effect on the ROI of the project, which is also influenced by whether the end-user decides to participate in the Eskom rebate programme or not. When all is said and done, it seems that a 100 kW photovoltaic installation will cost the customer about five million rand at today's prices. The kicker of course, is that the future cost of fuel associated with this 100 kW goes to zero. Based on the current cost of electricity this gives an ROI of about three years, which is quite high, but after that the user essentially has the benefit of a free system. Of course, this depends heavily on the future price of electricity, which, it seems, is unlikely to drop anytime soon.
While there are many reasons that solar systems could be considered for applications in remote rural locations, Rautenbach believes one of the key drivers for industry is the pressure that Eskom is putting on mines and factories to improve their energy efficiency. In the case of a mine, the typical plant-wide efficiency initiatives that are undertaken do make the plant a lot more energy effective, but eventually it becomes a game of diminishing returns. This is where renewable sources like solar can make a difference, particularly to supply the energy required to power things like the office infrastructure and machines. "What you must remember though," he cautions, "is that a 100 kW photovoltaic system requires almost one hectare of panels. What we really need is for the suppliers to get the efficiency up and the prices down; this is what will open up the application possibilities. I believe we will see this happening out of China in the future. Chinese manufacturers have the potential to dominate a market like this through their high volume low margin manufacturing approach. Of course this will take time and the quality must be there too, so for now, smaller systems are what we feel comfortable recommending to our industrial client base.
The renewable energy project at Assmang Khumani
About five years ago, Assmang Khumani approached Iritron to conduct a survey on the new Khumani plant to determine the overall efficiency of the mine, particularly how management could get closer to the commitment it had given to save energy. "Khumani is a relatively new operation, so built using the latest technology it is already energy optimal for the most part," explains Rautenbach. "Initially, we bounced ideas around to see if Eskom will look at consumption across the entire Assmang operation. This with a view to being able to push production where it was needed and so compensate for operations that were down, say for maintenance. We gave this idea up after a few deadends that we reached, and so the final brief to Iritron remained to conduct the survey on the Khumani site in isolation."
It's a kind of magic
Literally translated, the brief to Iritron was 'investigate the plant's current electricity consumption and then make a proposal outlining where meaningful saving can be achieved'. One of the biggest challenges it faced was identifying a benchmark to use to judge the effectiveness of the solution it would ultimately propose – there simply was not another comparable local project at that time. "We were new to this in the market and knew we had to master the technology before we could contribute to the project," says Rautenbach. "We had to start from basic principles and investigated various systems before we selected the technology that was eventually applied to this project."
It was after Iritron met with a solar panel distributor in Miami that the penny finally dropped: it was possible for a manufacturer to meet most of its ancillary energy requirements using electricity generated from solar panels. "We always knew that once we could generate the electricity we would understand it," states Rautenbach. "Now that we had identified our method, we could start looking for the specific areas we were going to electrify using our alternative power source."
Here comes the sun
Air conditioning was identified as one of the biggest auxiliary consumers of electricity in this particular Assmang environment, office machines and PCs were identified as other examples of power hungry devices. Armed with its new knowledge about the viability of solar as a supply for basic office requirements – lighting, HVAC, kitchens, washing machines and hot water – the Iritron team recommended a 100 kW project to evaluate the effectiveness of the solar farm concept. "Our client was delighted," says Rautenbach. "This is exactly what Assmang required to demonstrate its commitment to reduced dependence on grid-based electricity supply." He estimates the saving for Assmang as 1 MW per day, but is reluctant to commit to a specific ROI due to confidentiality issues. He smiles though when we ask if two and a half years would be in the ballpark.
After the initial investment the ongoing operating costs are low, very little maintenance is required and this mainly involves cleaning, general electrical maintenance and ensuring the air conditioning in the inverter rooms is functioning properly – important to keep the power electronics cool in the high ambient temperatures found in the region. There are some interesting supply permutations though, for instance when the washing machines are not being used then the plant is over generating. This can also happen during spring and autumn when the demand for cooling (or heating) is less severe. "We considered the worst case though," says Rautenbach. "We went for a 100 kW plant because once you consider efficiency then you no longer generate at the rated power, a 100 kW plant probably only gives about 90 kW on the grid."
This of course raises the question of future expansion. Rautenbach says that this is not a problem with systems like the one at Assmang, because there is space available to house the extra solar panels that would be required, something other potential adopters of the technology would do well to remember.
The initial project took 14 months from inception to handover, but Iritron should be able to improve significantly on this with such a successful implementation under its belt. "We are going to be expanding our footprint further into the renewable energy market," concludes Rautenbach. "The Northern Cape with its excess of sunshine has been identified for future solar projects and our experience there leaves us in an ideal position to compete for them."
For more information contact Alwyn Rautenbach, Iritron, +27 (0)12 349 2919, alwyn.rautenbach@iritron.co.za, www.iritron.co.za
Credit(s)
Further reading:
Compact and powerful energy monitoring unit
Opto Africa Holdings Electrical Power & Protection Fieldbus & Industrial Networking
The RIO EMU's slim form factor is ideal for 'just one more thing' retrofit jobs thanks to DIN-rail and panel-mount options.
Read more...
---
Vacuum circuit breaker with thermal monitoring
Schneider Electric South Africa Electrical Power & Protection
The EasyPacT EXE offers IoT sensors and digital connectivity for a simpler, more sustainable and safer experience for panel builders, facility managers and OEMs.
Read more...
---
Valmet automation system chosen for waste-to-energy plant
Valmet Automation News Electrical Power & Protection
The new plant in Warsaw, Poland, will process 305 000 tons of municipal solid waste per year to produce electricity and district heating
Read more...
---
Smart manufacturing will power the battery gigafactory of the future
Rockwell Automation Electrical Power & Protection
Electric vehicles' role in the decarbonisation of mobility requires gigafactories that can produce batteries in high volumes, at high speeds and with consistently high quality.
Read more...
---
Upskilling will be critical to alternative energy production projects
Electrical Power & Protection
One of the challenges for this sector is that jobs are typically project-based, which means they involve fixed-term contracts.
Read more...
---
Propelling green hydrogen toward large-scale African commercialisation
Electrical Power & Protection
RTS Africa Engineering, a founding member of the African Hydrogen Partnership, believes the industry is on the cusp of pricing diesel and petrol out of the market.
Read more...
---
Data logger for energy surveys, load studies
Comtest Electrical Power & Protection
In conjunction with Fluke's infrared cameras, the energy logger can enhance energy surveys by quickly identifying opportunities for energy savings, both electrically and thermally.
Read more...
---
DIN-rail mounted DC/AC inverter
Phoenix Contact Electrical Power & Protection
Three devices can be connected in parallel to create a three-phase grid; they communicate with each other in real time, thereby synchronising the 120° phase shift.
Read more...
---
Pyranometer for monitoring small-scale PV installation efficiency
GHM Messtechnik SA Electrical Power & Protection Maintenance, Test & Measurement, Calibration
The device's classification level under the ISO 9060:2018 standard guarantees accuracy, reliability, precision and compliance with reference standards.
Read more...
---
IP67 power supplies with IO-Link for field installation
Turck Banner Electrical Power & Protection
Turck Banner's compact PSU67 power supply units ensure energy-efficient, decentralised power supply in modular systems.
Read more...
---