printer friendly version
SAIMC: Durban branch
October 2016
SAIMC

Members attending the site visit.
A site visit to uShaka Marine World was organised by Chairman, Hennie Prinsloo, for 30 August and the limited places were filled almost immediately the notice went out. Attendees were not disappointed by the content of the tour and a most interesting morning was had by all.
Everything from the important aspect of ozone generation and control, temperature control (heat exchangers with PLC controlled 3 way control valves); sand filter backwashes (PLC controlled); Actuated valves and scada monitoring from the control room was covered in great detail and of course seeing these technologies in action and in a different application added even more value and interest. The tour ended with a short detour through the aquarium to see the other side of the business.
The September technology meeting of the Durban branch drew the record number of 59 people attending, with everybody (particularly the younger members and visitors) keen to know more about the Bloodhound SSC project. Swagelok, who is one of the international sponsors of this project, kindly sponsored the meeting and managing director Bill Peet took us through his presentation which covered:
• Bloodhound project overview using the Bloodhound material covering the educational promotion etc.
• General Bloodhound project update.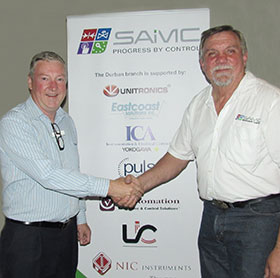 Bill Peet of Swagelok (left) being thanked by chairman Hennie Prinsloo after the presentation.
Bill gave the meeting an interesting and entertaining presentation in which he placed emphasis on one of the prime purposes of the Bloodhound SSC project being that of attracting more young talent into science, technology, engineering and mathematics (often referred to as STEM) where there is a widespread shortage. He informed the meeting that there was evidence that involving schools in the United Kingdom with the Bloodhound project has resulted in the number of students choosing to study STEM subjects increasing by ten percent. He showed the meeting several videos, amongst which were:
• Testing the wheels up to rotation speeds in excess of 1300 rpm, showing the rim temperature rising to 980°C just due to friction with the air.
• Communications tests performed at Hakskeen Pan in the Northern Cape in which simulated speed differentials of 1000 mph (1610 km/h) were done, using a jet aircraft and high performance car.
• Live testing the Nammo hybrid rocket motor in a test rig, the vital requirement being that the rocket motor can be shut down instantaneously in the event of a high- speed emergency.
• The driver, Andy Green's, tailored cockpit and controls. Andy Green gave a quick rundown on the numerous controls and information systems together with their emergency backup facilities.
The project had suffered some delays due to financial constraints but it is hoped that another major sponsor has been found and that a global announcement can be made shortly. The current plan is that the Bloodhound SSC will be brought to South Africa next year and make a series of test runs on the Hakskeen Pan during October 2017. After a series of runs in which the speed will be increased to approximately 1290 km/h the car will be returned to Bristol for any changes that may be found necessary from the test run results. It will then return again for an assault on the target land speed of 1000 mph.
An astute businessman, Bill is passionate about the development of the engineering industry in South Africa and education at grassroots level and his involvement in this project reflects this passion and a most interesting evening was had by all.
Credit(s)
Further reading:
SAIMC: Vaal branch
December 2019, SAIMC , SAIMC
At the last technology evening, Robert de Scande from SICK Automation gave a presentation on the subject of IO-Link. IO-Link offers new options for communication between the system control and field levels: 
...
Read more...
---
SAIMC: Durban branch
December 2019, SAIMC , SAIMC
Technology evening
At the last technology evening, Beckhoff Automation's Gareth Taylor (sales engineer, Durban) presented on the topic 'Open PC-based control technology in a world of modular process 
...
Read more...
---
SAIMC: Secunda branch
December 2019, SAIMC , SAIMC
At the technology evening on 10 October, Jacques Parrott, from SICK Automation SA gave a presentation on 'Measurement of green house gas emissions', which also touched on the issue of carbon tax. The 
...
Read more...
---
SAIMC: Johannesburg branch
December 2019, SAIMC , SAIMC
The October technology evening was hosted by Extech Safety Systems. Sales director Gary Friend presented an interesting take on the relationship between new technological advances, and the never-ending 
...
Read more...
---
SAIMC: From the President's desk
December 2019, SAIMC , SAIMC
2019 has been a year of many achievements by our members. Although the SAIMC might not be the organisation with the most members, the unselfish and hard-working team have certainly achieved more than 
...
Read more...
---
SAIMC: From the President's desk
November 2019, SAIMC , SAIMC
The end of the year is almost upon us. Have you taken the opportunity to ask yourself what has really changed for you this year? In some areas we have seen significant and exponential change. Automation 
...
Read more...
---
SAIMC: Tshwane branch
November 2019, SAIMC , News
Industry expert talks about importance of continuous learning
Learning from industry experts is a vital component of any student's training. Such an expert is Thabo Lekgowane, a robotics engineer from 
...
Read more...
---
SAIMC: Obituary - Eugene Sithole
November 2019, SAIMC , SAIMC
It is with deep sadness that the SAIMC heard of the death of dear friend and esteemed colleague Eugene Sithole, who passed away suddenly on 7 September.    Thanduxolo Eugene Sithole was born on 13 September 
...
Read more...
---
SAIMC: Johannesburg branch
November 2019, SAIMC , SAIMC
Why use wires?
   At the technology evening on 11 September, Rudi Erasmus of Phoenix Contact walked us through when and why wireless communication is preferred to cabled communication.    Communicating 
...
Read more...
---
SAIMC: Vaal branch
November 2019, SAIMC , SAIMC
This month's presentation at the Vaal branch covered the basic principles and fundamentals of SIL. It included the common misconceptions about SIL, risks, accidents, processes, random and systemic failures 
...
Read more...
---