printer friendly version
The changing face of valve manufacturing in South Africa
October 2016
News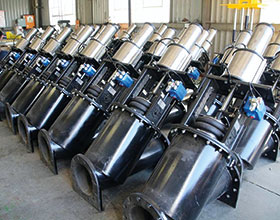 "Manufacturing in South Africa in the current climate is not for the faint hearted," says Mike Sessions, chief executive officer at eDART. "Material costs are high, skills at all levels are scarce, labour laws and health and safety regulations are stringent and restrictive, and the volatility of the Rand makes long-term planning a challenging exercise.
"Many of our local customers from industries such as mining, oil and gas, sugar and pulp and paper, are all operating at low levels of production and those that service SOEs and municipalities face a different set of problems but the end result is similar – smaller order books and lower margins. The sourcing of low-tech products such as valves from the Far East, due to cheaper costs, makes competition extremely fierce, yet despite this, the eDART Slurry Valve Company continues to achieve market growth and expand in this tough climate because we manufacture products of good quality coupled with our proven expertise in providing practical long lasting solutions."
Changing times
Launched in 2006, eDART Slurry Valve Company is a local valve manufacturer that has grown to become a significant force in the market employing over 60 people. The successful strategy behind eDART's continued growth has been based in designing and producing bespoke specialised valves for a niche market – slurry control valves for flotation plants – and getting involved with the process to prove that better level control results in greater productivity for the mineral processing plant.
In the past, when new plants were built the emphasis was on the advantages to the OEMs of handing over the manufacture of the valves to a specialist company resulting in easier installation and reduced commissioning times. Sessions says that as the market has altered in recent years the focus has changed to working more with end-user mines and to initiating the idea of improved performance of existing plants through the use of better level control valves.
The key to the company's success has been the merging of various skills within the management team towards this common objective. Traditionally, most valve companies have just supplied products to their customers – selecting the most appropriate type of valve for the application. Control valve companies usually go further by selecting the most suitable sizes of valves as well.
The eDART team
"The knowledge eDART has acquired of our customers' processes enables us to offer holistic solutions rather than just the valves. When this knowledge is combined with the ability to design and develop innovative products then a winning formula is the result. Our projects department comprises four project engineers with extensive process engineering and instrumentation knowledge. Our design department is manned by three design engineers plus a computerised fluid dynamics specialist," adds Sessions.
"Technical director Richard Rule heads up the company's project division. His instrumentation background and process knowledge enables us to offer clients advice on plant design to enable the control valves to perform under optimum conditions," he continues.
The design and engineering department, run by Oliver Sessions, is constantly adding new valves to the company's range ensuring that the designs follow a modular pattern so that spares are easily identifiable for future maintainability.
New products
New products are the lifeblood of the company. A range of poppet samplers was first to be added to the valves, coming from the need to measure in order to control. The company now offers sampling systems to suit a variety of applications. A unique solution to the control of two valves working in parallel to each other resulted in a dual valve controller where a single signal is split into two for optimum control.
More recently the company has built on its established reputation as a slurry control valve company by adding in other on/off and manual slurry valves to its offering – the C-Tech knife gate valves and Red Roc pinch valves.
Advantages for project houses
Ten years on, eDART now consists of a group of companies making these different valves and actuators, and a sales and marketing company called Afrivalve which offers a wide range of valves to complement those manufactured in-house. According to Sessions, this capability is advantageous when working with project houses because it enables eDART to provide a complete valve solution, rather than just slurry valves.
"The future is uncertain and there is no room for complacency in the market place," he concludes. "The companies that succeed will be those that are able to adapt to the new conditions. The ability to adapt, adjust and innovate is at the core of the eDART ethos."
For more information contact Mike Sessions, eDART, +27 (0)21 863 2852, mikes@edart.co.za, www.edart.co.za
Further reading:
From the editor's desk: AI in manufacturing and a virtual exhibition booth
October 2020, Technews Publishing (SA Instrumentation & Control) , News
Artificial intelligence (AI) is seen by many as the core of the Fourth Industrial Revolution (4IR), yet its vision is not fundamentally new. The ideas have been around since the mid 1950s, but progress 
...
Read more...
---
Endress+Hauser strengthens presence in the Middle East
October 2020, Endress+Hauser South Africa , News
Endress+Hauser is strengthening the Group's presence on the Arabian Peninsula with the establishment of Endress+Hauser Middle East.
Read more...
---
BMG launches online shopping platform
October 2020, Bearing Man Group t/a BMG , News
BMG has announced the launch of the company's new online shopping platform - BMG Online - which makes doing business in the industrial sector even easier.
Read more...
---
WearCheck moves to Westville
October 2020 , News
Condition monitoring specialist, WearCheck, recently relocated its head office and main laboratory from Pinetown to Westville, just outside Durban.
Read more...
---
Skyriders inspection at pulp and paper plant
October 2020 , News
Online teaser: When a pulp and paper producer required inspection of its fire-water reticulation system, it turned to rope access specialist Skyriders.
Read more...
---
Trafo supplies skid-mounted dry-type transformer
October 2020 , News
In a specialised application on a coal mine, Trafo Power Solutions recently supplied a dry-type transformer mounted on a mobile skid.
Read more...
---
OPC Foundation welcomes Emerson to its board of directors
September 2020 , News
Emerson has joined the OPC Foundation Field Level Communications (FLC) initiative to drive a holistic approach to sensor and device level communications across process and factory automation.
Read more...
---
Siemens Energy MEA Energy Week conference draws world-class line-up
September 2020 , News
Siemens Energy & partners are holding a major Middle East and Africa-focused virtual conference, entitled "Shaping the Energy of Tomorrow", from 19-21 October.
Read more...
---
BMG launches online shopping platform
September 2020, Bearing Man Group t/a BMG , News
BMG has announced the launch of the company's new online shopping platform - BMG Online - which makes doing business in the industrial sector even easier.
Read more...
---
SJC Creative wins Media Communications Specialist Award
September 2020 , News
SJC Creative, a specialised B2B and industrial media communications consultancy, was recently awarded the Media Communications Specialist Award 2020, Gauteng.
Read more...
---