printer friendly version
From the editor's desk: A vision of tomorrow's manufacturing
July 2014
News
Wikipedia defines Industrie 4.0 as a project in the high-tech strategy of the German government to promote the computerisation of traditional industries such as manufacturing. The goal is the intelligent factory, characterised by adaptability, resource efficiency and ergonomics, as well as the integration of customers and business partners in the value creation process.
The vision is to take an Internet down to the lowest possible level on the production floor. In other words, an Internet of Things in which every sensor, actuator and piece of raw material has its own IP address and is designed to contribute intelligently in an automated self-optimising network harmony.
Factories with networked machines and products already exist today. However, in the Industrie 4.0 vision, these self-contained systems will be connected together in unified network production architectures. All devices, machines and materials will be equipped with sensors and communication technology and interconnected to form the 'cyber-physical' systems at the core of the fourth industrial revolution. The idea is that they communicate with, and control one another, in ways that collaboratively drive production efficiency.
In the future, factories are envisaged to consist of standardised intelligent modules. These will combine and interconnect in ways that make the physical devices active elements of the business processes through the autonomous control philosophy of the device-to-process concept. Some of the more ambitious forecasters predict that tomorrow's manufacturing machines might not even be owned by the organisations wanting to produce the products, or for that matter, even be located anywhere near them.
If the product 'knows' about all process steps, and machines work through components on order. Does it even matter who owns the machines?
What is envisaged is something analogous to the server farms located all around the globe and owned and operated by the IT majors. Any organisation with mass storage requirements simply rents space on these servers and its data is backed-up and always available on demand. The entire burden associated with purchasing, maintaining and operating these servers is effectively removed and replaced by a fixed expense, dependent only on the amount of storage space required. In the manufacturing case, it will be production capacity that is located near every strategic geographical market and the producers will simply rent capacity wherever it happens to be most cost effective for them to do so.
For industry this means highly flexible and resource friendly mass production that can rapidly adapt to changing market needs in a future of ever shortening product lifecycles.
Siemens, for example, has already demonstrated a bottling plant for liquids that shows how the components of an intelligent factory can be brought together using today's technology. Each bottle is tagged with an RFID chip that stores the exact description of how it is to be processed. It knows which liquid, and in what volume, must be filled, which lid must be used for sealing and which label must be applied for identification.
At each production station, the bottle communicates directly with the machine giving instructions on how it is to be processed. At the end, another machine checks that the bottle has in fact been produced according to the desired specification.
Greg Gorbach has more in this month's ARC Advisory Group column in 'Industrie 4.0 and the Industrial Internet of Things'.
Africa's first Automation Fair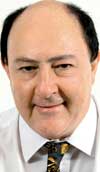 SAIMC president Vinesh Maharaj writes in this issue about plans to replace the industry's biennial Process Expo with something far more ambitious and wide ranging. The SAIMC and the IIG got together with élancommunications recently to discuss the future of Process Expo. The resultant brainstorming sessions exceeded everyone's expectations as an exciting and ambitious new concept emerged. The first African Automation Fair will be held next year at the Coca-Cola Dome in Johannesburg, where the organising committee plans to attract exhibitors and delegates from all over the continent. Africa's premier Automation and Control Exhibition is a visionary idea, very much in line with the go-big or go-home mentality evident in SAIMC thinking today. The Fair will bring the industry's top people together in an educational technology showcase that will help elevate the C&I profession to the status it deserves in the world's most underdeveloped regions. See 'SAIMC: From the President's desk' for more and be sure to send us your feedback.
Steven Meyer
Editor: SA Instrumentation & Control
Credit(s)
Further reading:
From the editor's desk: Is additive manufacturing poised to go mainstream?
March 2021, Technews Publishing (SA Instrumentation & Control) , News
As digital manufacturing technology pushes its way further towards the production floor, additive manufacturing (3D printing) is emerging as a viable option to complement the more traditional methods 
...
Read more...
---
Female talent switches on to engineering careers with ABB
September 2021, ABB South Africa , News
ABB's Sustainability Strategy incorporates driving social progress, equality and diversity to create safe, fair and inclusive working environments and support community building.
Read more...
---
MESA Africa – call for papers 2021
September 2021, MESA Africa NPC , News
We invite you – the manufacturing community – to submit papers showcasing your success stories and inspiring ideas, coping under restrictions, and illustrating this year's theme: The Art of the Possible: Manufacturing Without Limits.
Read more...
---
Hazardous locations seminar and cable gland training
September 2021 , News
The courses equip artisans and engineers with the skills needed to gain maximum benefit from Pratley's electrical products.
Read more...
---
Endress+Hauser integrates concentration measurement specialist
September 2021, Endress+Hauser South Africa , News
SensAction was founded in 2008 and has been part of the Endress+Hauser Group since 2017.
Read more...
---
Omron joins The Valuable 500
September 2021, Omron Electronics , News
The Valuable 500 aims to get leaders of multinational companies to bring about changes in business, society and the economy so that persons with disabilities can realise their true potential.
Read more...
---
Endress+Hauser honours its inventors
September 2021, Endress+Hauser South Africa , News
More than 500 inventors gathered virtually for Endress+Hauser's 21st Innovators' Meeting.
Read more...
---
Neles to acquire the valve and pump businesses of Flowrox
September 2021, Neles South Africa , News
Neles has signed an asset purchase agreement to acquire the valve and pump businesses of the Finland-based technology company, Flowrox.
Read more...
---
Bosch Holdings celebrates 60 years
September 2021 , News
In 1961, it was inconceivable for the founders of Bosch Holdings to have known that 60 years later, the company would have expanded into a global operation.
Read more...
---
Danfoss completes acquisition of Eaton's hydraulics business
September 2021, Danfoss , News
Danfoss has officially finalised its US$3,3 billion acquisition of Eaton's hydraulics business, following confirmation of all necessary regulatory approvals and closing conditions.
Read more...
---