printer friendly version
SAIMC: Vaal branch
May 2014
SAIMC

In March the Vaal branch was fortunate to have its Technology Evening sponsored by WIKA Instruments when general manager, Ralf Hesse, gave a presentation on multipoint thermocouple systems and furnace tube-skin measurement.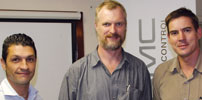 WIKA technical assistant Maurilio Correia (left), Ralf Hesse and Vaal branch chairman Eben Grobbelaar.
Even though WIKA has a world of experience with temperature measurement and a large range of supporting products, in 2012 it saw an opportunity to expand its product range and improve service delivery to clients by acquiring Gayesco, a specialist in the field of reactor and skin-point temperature measurement.
The Gayesco systems are specifically developed for chemical and petrochemical customers and the design is usually done together with process licencers like Lummus or UOP, who may specify the product as a recommendation, a best practice, a preferred product or an equivalent. Traditional reactor bed installations consist of bundles of thermowells to measure temperature gradients in the catalyst. These systems normally provide a localised group of measurements and usually have slow response to change due to the large thermowell wall thicknesses. The effectiveness of such measurements is not optimal and catalyst damage may occur in areas that are not covered by measurement points.
Gayesco developed the radial thermocouple systems during the 1980s to offset the shortcomings of the traditional measurement techniques. First installations were done in 1988 and most of these systems are still running. In the radial thermocouple system, a large number of thermocouples enter a reactor flange and are routed along pre-manufactured runners towards the specified distributed measuring points within the reactor beds. Having fast response accurate measuring points improves the lifespan of catalysts and gives process engineers more reliable data for the control of the reactor. As many as 72 thermocouples have been connected through one flange already, only limited by the flange size.
The second part of the presentation covered skin-temperature measurement of boiler tubes in furnaces, the intent being to extend tube life and prevent catastrophic failures. Both subjects are seen as critical for the efficient and safe operation of furnace installations. Traditionally skin temperature measurement was done by inserting a thermocouple into a contact block welded to a boiler tube. Mounting of the contact block requires specialised welding procedures and these installations are prone to failure due to direct flame impingement and corrosion.
Gayesco provides two options for improvement. The Refractopad consists of a weld-pad and a thermocouple shield that can be installed to protect against flame impingement and corrosion. The second option is a further refinement and called the Extractopad. It provides an extractable thermocouple installation that allows for replacement of a failed thermocouple without additional welding. It consists of a guide tube and a heat shield with moulded insulation for maximum thermocouple protection.
Both of these solutions showed the commitment of an organisation to engineering reliabile solutions for a specific industry. The branch thanks WIKA for sharing this well received presentation.

Members at the branch kick-off braai.
Vaal branch Technology Evenings are usually held on the first Thursday of every month at the Iscor Bowling club in Vanderbijlpark. If you or your company are interested in joining us as a visitor or speaker, please contact Dirk van der Walt at dirk.vanderwalt@proconics.co.za
Credit(s)
Further reading:
SAIMC: From the office of the CEO
June 2021, SAIMC , SAIMC
It was interesting to see the comments around Cuban engineers being imported to do engineering work in South Africa. This brings me to the Identification of Engineering Work and Professional Registration 
...
Read more...
---
SAIMC: Vaal branch
June 2021, SAIMC , SAIMC
Steam turbine control was the subject of the last technology evening presented by Moore Process Controls. A steam turbine is a device that extracts thermal energy from pressurised steam and uses it 
...
Read more...
---
SAIMC: Zambia branch
June 2021, SAIMC , SAIMC
SAIMC Zambia held customer training sessions via Zoom with VEGA Controls of South Africa, presented by Chris Van den Heever.    The sessions tackled were as follows:   
1. Radar basics on Vegapuls 64: applications 
...
Read more...
---
SAIMC: Durban branch
June 2021, SAIMC , SAIMC
'IIoT Ecosystem – from sensors to digital services' was the topic of the May technology evening. Held via zoom and open to all branches throughout the country, it attracted record attendance from an attentive 
...
Read more...
---
SAIMC: Cape Town branch
June 2021, SAIMC , SAIMC
n integrated geared unit that combines the recently launched Nord IE5+ synchronous motor and a single-stage helical gear unit offers optimum system efficiency.
Read more...
---
SAIMC: From the office of the CEO
May 2021, SAIMC , SAIMC
In my last letter, I discussed the lack of skills available to operate and maintain our infrastructure. This month, I present a more specific look at the critical skills required in manufacturing, which 
...
Read more...
---
SAIMC: Durban branch
May 2021, SAIMC , SAIMC
The branch held its April (virtual) technology evening on 7 April where SAIMC CEO, Johan Maartens, discussed the new skills trust fund initiative: how it works, how we will all benefit from it and how 
...
Read more...
---
SAIMC: Cape Town branch
April 2021, SAIMC , SAIMC
We had an interesting presentation last month given by Allan Pead from Microsoft on the open source platform from Microsoft Azure Sphere – a secure IoT platform.       Allan is currently an Xamarin 
...
Read more...
---
SAIMC: Johannesburg branch
April 2021, SAIMC , SAIMC
The technology evening was once again hosted virtually and this time it was the turn of Albert Louw from ifm electronic, presenting on the topic: Systems for mobile machinery. One could ask the question, 
...
Read more...
---
SAIMC: Durban branch
April 2021, SAIMC , SAIMC
Members and visitors were treated to a Zoom presentation that had the understated title: Introduction to ultrasonic flow measurement, by Marco Lopes of NIC KZN. Marco was ably backed up by Howard Lister, 
...
Read more...
---