printer friendly version
Interface measurement in desalters
November 2019
Level Measurement & Control
Interface measurements in desalters are often regarded as non-critical, even though every drop of oil to be refined passes through the desalter. As refineries try to maximise their margins, so-called opportunity crudes are often used. These generally contain increased levels of sulphur, oil sands, bitumen, heavy oils and oils with high TAN. This can lead to problems with the proper operation of the desalter. In addition, refineries are increasingly confronted with stricter environmental regulations. The efficient level control of water/emulsions/oil layers in the desalter ensures that salts and minerals are effectively removed and that environmental requirements are met. Therefore, more and more operators are turning to radiometry as a highly reliable and accurate measurement solution for this application.
If a clearly defined interface is formed, different technologies can be used for interface measurement. If a larger emulsion layer is formed, for example, when using opportunity crudes with a significant density gradient change from oil to water, the measurement with alternative technologies can lead to errors. These cannot determine the height of the emulsion layer and always assume only one separation layer (or interface). This can lead to misinterpretations with the level read as either too high or too low.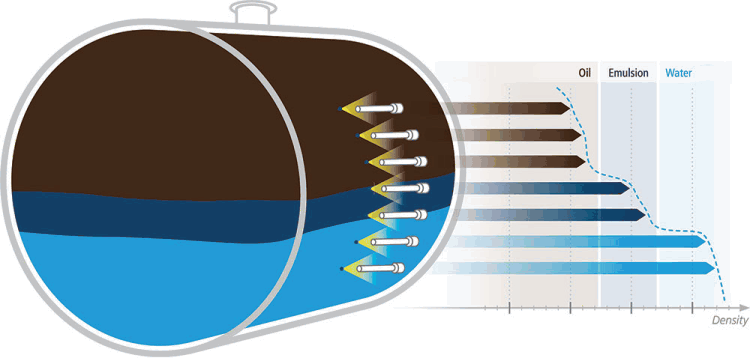 EmulsionSENS from Berthold – optimum control of the desalting process
In addition to controlling water and brine levels, the EmulsionSENS interface measuring system from Berthold Technologies allows users to monitor the gradient change in density to ensure that the water content in the area of the electrostatic grids stays within defined limits, preventing short circuits. In addition, the emulsion layer can be kept continuously at the desired level with the help of an EmulsionSENS, which leads to a significant reduction of the 'emulsion breaker chemicals'.
Thus the probability of upsets is reduced and throughput in the desalter is maximised, which saves energy and money in the long term through highest degrees of accuracy and process stability.
Credit(s)
Further reading:
New compact radar sensor
April 2020, VEGA Controls SA , Level Measurement & Control
A new era in radar level measurement began a few years ago when Vegapuls sensors based on 80 GHz technology were introduced. Thanks to the more precise focusing of the radar beam, the sensor virtually 
...
Read more...
---
Digital innovations using the vibronics measuring principle
February 2020, Endress+Hauser , Level Measurement & Control
Continuous optimisation and increasingly automated processes are shaping the history of process automation, as well as that of industrialisation.
Read more...
---
High-speed level measurement
February 2020, Morton Controls , Level Measurement & Control
Morton Controls in partnership with Anderson-Negele has introduced the innovative NSL-F level sensor based on a modular device platform. The new platform strategy used with this sensor is based on a building-block 
...
Read more...
---
Capacitive level limit switch
February 2020, Morton Controls , Level Measurement & Control
The Capanivo level limit switch can be used in most solids and liquids as a full or empty detector. The robust, glass reinforced PPS (polyphenylene sulphide) sensor is suitable for food applications while 
...
Read more...
---
Rotary paddle switch with rope extension for point level measurement in silos
February 2020, Morton Controls , Level Measurement & Control
Limit detection is required in most silos and containers to avoid overfilling or unnecessary downtime. The sensor needs to deal with an assortment of process conditions within a wide range of industries. 
...
Read more...
---
Digital float switch
January 2020, WIKA Instruments , Level Measurement & Control
As its first instrument of this kind, WIKA has launched a float switch with a PNP/NPN output signal. The model GLS-1000 detects the level of liquids with an accuracy of 1 mm or less. The digitised float 
...
Read more...
---
Level measurement in silos
January 2020, Morton Controls , Level Measurement & Control
UWT has taken a traditional method of content measurement in silos and storage hoppers and remastered it to enable seamless integration with modern-day control systems and PLCs. The UWT NivoBob continuous 
...
Read more...
---
Radiometric solutions in refineries
November 2019, Mecosa , Level Measurement & Control
Berthold Technologies' radiometric instruments for non-contacting level and density measurement are widely used in the oil refining industry, where customers include Exxon Mobil, Sinopec, Shell, BP, Conoco 
...
Read more...
---
Level monitoring of groundwater
October 2019, WIKA Instruments , Level Measurement & Control
Much of our drinking water is extracted from subterranean resources. Water that falls to the surface of the Earth drains not only into rivers and lakes, much of it will permeate into subterranean reservoirs. 
...
Read more...
---
Ultrasonic sensor for remote water level measurement
October 2019, Instrotech , Level Measurement & Control
Instrotech has available the Senix ToughSonic CHEM range of ultrasonic sensors, in service around the world in some of the most demanding and corrosive industrial environments. They measure a wide variety 
...
Read more...
---