printer friendly version
Saryx helps Transnet achieve ROI through scada modernisation
November 2019
System Integration & Control Systems Design
Saryx Engineering has set the bar high in terms of scada modernisation and standardisation. So much so that the company won 'Best Control & Information Implementation' in recognition of a project with client Transnet Freight Rail in Saldanha, earlier this year at the IS3 X-Change Conference.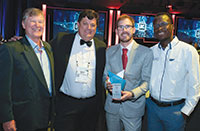 Left to right: Steven Jeffery (IS3), Roland Verwey (Saryx Engineering), Phillip Nel (Transnet Freight and Rail) and Mandhla Matshazi (IS3) at the awards ceremony.
The task: to replace Transnet's GE iFix system in parallel with System Platform without introducing downtime or interfering with operational performance.
To put things into perspective, the Saldanha-Sishen Railway is 861 km in length, seeing approximately 38 trains per week. The length of each train is 3,9 km, with 342 wagons, and five to eight locomotives, making them among the longest freight trains in the world.
With the enormity of such a loading operation, one of the main requirements for this project was to achieve zero downtime while the upgrade project took place. In addition, the learning curve from the old system to the new needed to be minimal in terms of operator training.
Key aspects of the project included:
• Move from RS-232 serial technology to Modbus TCP.
• Replace current desktop PC with industrial server technology.
• Move all scada views to terminal server technology.
• Achieve high system availability.
How did System Platform assist?
• Moved to object-based design for standardisation of graphics and tags.
• ISA 95 was implemented to the system which manages the object configuration and alarming resolution.
• Wonderware Insight implementation improved data analysis for engineering staff.
• System Platform is virtual server compliant.
The most significant advantage established from the object-oriented design was that it exposed inconsistent or irregular field values, which varied from site to site. This was very difficult to pick up in the old tag-based system design.
The old system had reached end of life
The old system shared the same computer as the CS90 system. The issue was that the CS90 had the capability to upgrade to a newer Windows version, but the iFix did not. The iFix had operational interference on the CS90 system, and vice versa, because they shared the same client computers with multiple screen cards. In-house support and system knowledge had been lost due to staff retiring.
Saryx installed a temporary Motorola interface to mirror the data to both old and new system. With this, Saryx could compare the old and new status to ensure all signals were correct. The iFix system could now be decommissioned without causing downtime. A rollback option was available if required to minimise operational impact and the operational staff had a sneak preview of the system before it went live. To their surprise, not much had changed in terms of screen navigation. Because of this, the engineering staff developed confidence in the new system while it is working in parallel with the old.
Network design was simple as follows:
• Control network with redundant terminal and data acquisition servers.
• Scada network linked to the terminal client.
• Motorola network separate from the scada network to ensure the least amount of collision domains.
• Insight installed.
• Skelta BPM for automation of data to CASDAM system for Transnet.
• Alarm Advisor which assists the maintenance staff with the alarms.
Prior to the upgrade, the systems had a generator overview, loop status, generator status, and an operator overview. Post upgrade, in addition to the above, a template was used to get standards across all screens in the HMI. The object graphics are embedded instead of redrawn, and grid snapping ensures that all graphics align correctly.
Operators and managers can now interrogate the alarms and events from the scada, while managers have an overview into the system performance. Wonderware Insight gives managers the ability to 'google' for the tags they need analytics on, instead of using the filter and navigating options in the query and trend tools. After adding the historians, easy clicks transform how the data is viewed. In addition, the scada now offers 'Flight of Sight' graphics, which is important for operational staff.
Credit(s)
Further reading:
Loop Signatures 12: Digital controllers – Part 4: The I term
Michael Brown Control Engineering Editor's Choice System Integration & Control Systems Design
Generally, as PLCs sometimes do not handle PIDs well, I always do some tests on them to check on the operation of their control loops.
Read more...
---
Risk assessments accelerate Booyco PDS adoption
Editor's Choice System Integration & Control Systems Design
As mines systematically assess the risks related to their trackless mining machinery, they increasingly see the value in proximity detection systems.
Read more...
---
Control loop: Case History 182 - A temperature cascade control loop that didn't work
Michael Brown Control Engineering Editor's Choice System Integration & Control Systems Design
The problems encountered in a heater outlet temperature control in a petrochemical refinery were causing considerable difficulties for the operators. Here is another wonderful example of the power of cascade control, even with a really bad control element.
Read more...
---
The role of 'green' packaging in sustainable manufacturing
Omron Electronics System Integration & Control Systems Design
Sustainability in the packaging industry is one of the key aspects in fighting the plastic waste issue and, ultimately, climate change.
Read more...
---
Working hand in hand to meet automotive OEMs' strict requirements
Turck Banner Sensors & Transducers System Integration & Control Systems Design
The LASE Group, producer of machines and assembly cells for the automotive industry, places trust in its close collaboration with Turck Multiprox.
Read more...
---
PC-based control for seed treatment
Beckhoff Automation System Integration & Control Systems Design
The cost and consumption reports generated by the production control system open up new ways of managing and analysing data.
Read more...
---
Cobot boosts production by 15%
Omron Electronics System Integration & Control Systems Design
Topcustom, an Italian producer of custom-made bathroom sinks, has recently transformed part of its operations by deploying a collaborative robot (cobot) from Omron. The new cobot is being used to automate 
...
Read more...
---
Integrated control and software solutions for operational efficiency and traceability
Schneider Electric South Africa System Integration & Control Systems Design
Actionable insight from integrated operations has the potential to transform business and improve risk management.
Read more...
---
Omron and FlexLink design collaborative palletiser
Omron Electronics System Integration & Control Systems Design
The cobot solution, with its small footprint and active safety equipment, enables the handling of up to 8 boxes per minute without the need for fencing or laser scanners.
Read more...
---
Control loop: Case History 181 - Understand the basics of the components in the loop
Michael Brown Control Engineering Editor's Choice System Integration & Control Systems Design
To my amazement I find that people seem to think that because these days we are using 'smart' transmitters, the basic rules can be ignored.
Read more...
---