printer friendly version
Saryx helps Transnet achieve ROI through scada modernisation
November 2019
System Integration & Control Systems Design
Saryx Engineering has set the bar high in terms of scada modernisation and standardisation. So much so that the company won 'Best Control & Information Implementation' in recognition of a project with client Transnet Freight Rail in Saldanha, earlier this year at the IS3 X-Change Conference.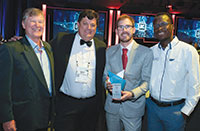 Left to right: Steven Jeffery (IS3), Roland Verwey (Saryx Engineering), Phillip Nel (Transnet Freight and Rail) and Mandhla Matshazi (IS3) at the awards ceremony.
The task: to replace Transnet's GE iFix system in parallel with System Platform without introducing downtime or interfering with operational performance.
To put things into perspective, the Saldanha-Sishen Railway is 861 km in length, seeing approximately 38 trains per week. The length of each train is 3,9 km, with 342 wagons, and five to eight locomotives, making them among the longest freight trains in the world.
With the enormity of such a loading operation, one of the main requirements for this project was to achieve zero downtime while the upgrade project took place. In addition, the learning curve from the old system to the new needed to be minimal in terms of operator training.
Key aspects of the project included:
• Move from RS-232 serial technology to Modbus TCP.
• Replace current desktop PC with industrial server technology.
• Move all scada views to terminal server technology.
• Achieve high system availability.
How did System Platform assist?
• Moved to object-based design for standardisation of graphics and tags.
• ISA 95 was implemented to the system which manages the object configuration and alarming resolution.
• Wonderware Insight implementation improved data analysis for engineering staff.
• System Platform is virtual server compliant.
The most significant advantage established from the object-oriented design was that it exposed inconsistent or irregular field values, which varied from site to site. This was very difficult to pick up in the old tag-based system design.
The old system had reached end of life
The old system shared the same computer as the CS90 system. The issue was that the CS90 had the capability to upgrade to a newer Windows version, but the iFix did not. The iFix had operational interference on the CS90 system, and vice versa, because they shared the same client computers with multiple screen cards. In-house support and system knowledge had been lost due to staff retiring.
Saryx installed a temporary Motorola interface to mirror the data to both old and new system. With this, Saryx could compare the old and new status to ensure all signals were correct. The iFix system could now be decommissioned without causing downtime. A rollback option was available if required to minimise operational impact and the operational staff had a sneak preview of the system before it went live. To their surprise, not much had changed in terms of screen navigation. Because of this, the engineering staff developed confidence in the new system while it is working in parallel with the old.
Network design was simple as follows:
• Control network with redundant terminal and data acquisition servers.
• Scada network linked to the terminal client.
• Motorola network separate from the scada network to ensure the least amount of collision domains.
• Insight installed.
• Skelta BPM for automation of data to CASDAM system for Transnet.
• Alarm Advisor which assists the maintenance staff with the alarms.
Prior to the upgrade, the systems had a generator overview, loop status, generator status, and an operator overview. Post upgrade, in addition to the above, a template was used to get standards across all screens in the HMI. The object graphics are embedded instead of redrawn, and grid snapping ensures that all graphics align correctly.
Operators and managers can now interrogate the alarms and events from the scada, while managers have an overview into the system performance. Wonderware Insight gives managers the ability to 'google' for the tags they need analytics on, instead of using the filter and navigating options in the query and trend tools. After adding the historians, easy clicks transform how the data is viewed. In addition, the scada now offers 'Flight of Sight' graphics, which is important for operational staff.
For more information contact Saryx Engineering Group, 086 099 5105, saryx@saryx.co.za, www.saryx.com
Credit(s)
Further reading:
Tailor-made intralogistics solutions harness scalable control and drive technology
January 2020, Beckhoff Automation , System Integration & Control Systems Design
RO-BER Industrieroboter of Kamen, Germany, develops automation solutions based on area and linear gantry robots for intralogistics. These solutions, including the new Twin-Gantry robot system, are characterised 
...
Read more...
---
Festo's digitalised product world
January 2020, Festo , System Integration & Control Systems Design
HoloLens, mobile phones, 3D printing and smart glasses – the gadgets that captured the public imagination in the blockbuster movie 'Back to the Future' over 30 years ago have now become a reality, all thanks to digitalisation.
Read more...
---
Electromechanical motion products for the machines of today
January 2020, Parker Hannifin Sales Company South , System Integration & Control Systems Design
Engineers from the older generation will remember the days when machine design had to be based around catalogued electromechanical actuators.
Read more...
---
Siemens contributes to Coca-Cola Beverages Africa's digitalisation vision
January 2020 , System Integration & Control Systems Design
The Nairobi Bottler's Embakasi Plant based in Nairobi, Kenya, a fully owned subsidiary of Coca-Cola Beverages Africa (CCBA), received a Totally Integrated Automation (TIA) training rig from Siemens Digital 
...
Read more...
---
PC-based control decorates plastic lids and containers
December 2019, Beckhoff Automation , System Integration & Control Systems Design
In-mold labelling (IML) is ideally suited to meet today's customer requirements in the plastics industry, especially in the packaging segment.
Read more...
---
Project-based learning challenges the modern engineering student
December 2019, Test Dynamics , System Integration & Control Systems Design
Projects that inherently challenge students to use innovative design thinking often involve interacting with an unknown process or device. Students are encouraged to understand the unknown through theory, 
...
Read more...
---
FieldEcho: the future of integrated IO-Link technology
December 2019, SICK Automation Southern Africa , System Integration & Control Systems Design
Integrated IO-Link technology that enables full data accessibility and transparency across all platforms is here with the FieldEcho from SICK Automation. IO-Link is an increasingly used manufacturer-independent 
...
Read more...
---
AI module improves industrial production
December 2019, Rockwell Automation , System Integration & Control Systems Design
Industrial workers can now use the data from their equipment more easily to predict production issues and improve processes with their existing automation and control skill set. The new FactoryTalk Analytics 
...
Read more...
---
DRH ensures clients remain at the forefront of bulk measurement with Bindicator range
December 2019 , System Integration & Control Systems Design
DRH Components was started in Durban in 2015 when Rob Hare and Kay Goutham retired from CHI Control (now Eaton), after four decades of service. The company has offices in Durban and Pretoria. Venture 
...
Read more...
---
All-rounders EHL handles projects from conceptualisation to completion
December 2019, EHL Consulting Engineers , System Integration & Control Systems Design
EHL is an engineering, procurement and construction management (EPCM), and engineering, procurement and construction services (EPCS) company that began operating in 1980. Manager of automation at EHL, 
...
Read more...
---