printer friendly version
Saryx helps Transnet achieve ROI through scada modernisation
November 2019
System Integration & Control Systems Design
Saryx Engineering has set the bar high in terms of scada modernisation and standardisation. So much so that the company won 'Best Control & Information Implementation' in recognition of a project with client Transnet Freight Rail in Saldanha, earlier this year at the IS3 X-Change Conference.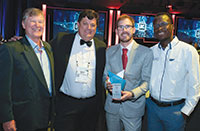 Left to right: Steven Jeffery (IS3), Roland Verwey (Saryx Engineering), Phillip Nel (Transnet Freight and Rail) and Mandhla Matshazi (IS3) at the awards ceremony.
The task: to replace Transnet's GE iFix system in parallel with System Platform without introducing downtime or interfering with operational performance.
To put things into perspective, the Saldanha-Sishen Railway is 861 km in length, seeing approximately 38 trains per week. The length of each train is 3,9 km, with 342 wagons, and five to eight locomotives, making them among the longest freight trains in the world.
With the enormity of such a loading operation, one of the main requirements for this project was to achieve zero downtime while the upgrade project took place. In addition, the learning curve from the old system to the new needed to be minimal in terms of operator training.
Key aspects of the project included:
• Move from RS-232 serial technology to Modbus TCP.
• Replace current desktop PC with industrial server technology.
• Move all scada views to terminal server technology.
• Achieve high system availability.
How did System Platform assist?
• Moved to object-based design for standardisation of graphics and tags.
• ISA 95 was implemented to the system which manages the object configuration and alarming resolution.
• Wonderware Insight implementation improved data analysis for engineering staff.
• System Platform is virtual server compliant.
The most significant advantage established from the object-oriented design was that it exposed inconsistent or irregular field values, which varied from site to site. This was very difficult to pick up in the old tag-based system design.
The old system had reached end of life
The old system shared the same computer as the CS90 system. The issue was that the CS90 had the capability to upgrade to a newer Windows version, but the iFix did not. The iFix had operational interference on the CS90 system, and vice versa, because they shared the same client computers with multiple screen cards. In-house support and system knowledge had been lost due to staff retiring.
Saryx installed a temporary Motorola interface to mirror the data to both old and new system. With this, Saryx could compare the old and new status to ensure all signals were correct. The iFix system could now be decommissioned without causing downtime. A rollback option was available if required to minimise operational impact and the operational staff had a sneak preview of the system before it went live. To their surprise, not much had changed in terms of screen navigation. Because of this, the engineering staff developed confidence in the new system while it is working in parallel with the old.
Network design was simple as follows:
• Control network with redundant terminal and data acquisition servers.
• Scada network linked to the terminal client.
• Motorola network separate from the scada network to ensure the least amount of collision domains.
• Insight installed.
• Skelta BPM for automation of data to CASDAM system for Transnet.
• Alarm Advisor which assists the maintenance staff with the alarms.
Prior to the upgrade, the systems had a generator overview, loop status, generator status, and an operator overview. Post upgrade, in addition to the above, a template was used to get standards across all screens in the HMI. The object graphics are embedded instead of redrawn, and grid snapping ensures that all graphics align correctly.
Operators and managers can now interrogate the alarms and events from the scada, while managers have an overview into the system performance. Wonderware Insight gives managers the ability to 'google' for the tags they need analytics on, instead of using the filter and navigating options in the query and trend tools. After adding the historians, easy clicks transform how the data is viewed. In addition, the scada now offers 'Flight of Sight' graphics, which is important for operational staff.
For more information contact Saryx Engineering Group, 086 099 5105, saryx@saryx.co.za, www.saryx.com
Credit(s)
Further reading:
A good combination for the primaries and metals industry
November 2019, Endress+Hauser , System Integration & Control Systems Design
Endress+Hauser?s measurement devices for flow, level, pressure, temperature and liquid analysis.
Read more...
---
Four key factors to consider when choosing devices for the control cabinet
November 2019, RJ Connect , System Integration & Control Systems Design
Drawing from over 30 years of experience in providing reliable products for industrial control cabinets, Moxa has identified the following four key considerations for choosing the best control cabinet 
...
Read more...
---
Standardisation of ABInBev automation on three Tanzanian breweries
November 2019, Process Dynamics , System Integration & Control Systems Design
Process Dynamics has a long history within the brewing industry. The company has completed a number of projects for SABMiller and when the company was bought by Anheuser-Busch InBev (ABInBev) in 2015, 
...
Read more...
---
VinFast deploys Siemens technology to deliver cars ahead of schedule
November 2019, Siemens Digital Industries , System Integration & Control Systems Design
VinFast, Vietnam's first volume car manufacturer, has successfully produced its first cars ahead of schedule using Siemens' portfolio of integrated software and hardware. By deploying its portfolio, Siemens 
...
Read more...
---
The complexity of water management in mines
October 2019, Endress+Hauser , System Integration & Control Systems Design
Industries across the globe are encouraged to reuse water as much as possible, and therefore a 'zero liquid discharge' policy has already been implemented by various companies in different sectors.
Read more...
---
PC-based control platform optimises water treatment product dosing
October 2019, Beckhoff Automation , System Integration & Control Systems Design
Clean water is vital in both consumer and commercial areas, including numerous industrial applications, such as mining, petroleum refining and groundwater remediation, in addition to residential applications
Read more...
---
Rockwell Automation walks the Connected Enterprise talk
October 2019, Rockwell Automation , System Integration & Control Systems Design
The Connected Enterprise is Rockwell Automation's vision for seamless integration across all divisions of the organisation to enable more efficient decision making through access to the power of information based on real-time data.
Read more...
---
Omniflex eases mine water compliance
October 2019, Omniflex Remote Monitoring Specialists , System Integration & Control Systems Design
Water licences carry a 'Burdon of Proof' that the licence holder will not harm the environment or the water system through its activities. This covers the use of water from the system and the responsible 
...
Read more...
---
Smart Press Kit from Bosch Rexroth
October 2019, Tectra Automation , System Integration & Control Systems Design
Bosch Rexroth is setting new standards for fast and efficient pressing and joining applications with its innovative new modular Smart Press Kit. Designed to meet future industrial requirements by providing 
...
Read more...
---
Emerson expands asset management coverage
October 2019, Emerson Automation Solutions , System Integration & Control Systems Design
Emerson has expanded AMS Device Manager with HART-IP support, making it easier to connect with devices and control systems and potentially eliminate hundreds of thousands of dollars in project hardware 
...
Read more...
---