printer friendly version
The power of data
October 2019
IT in Manufacturing
We can collect this data, but are we able to get to it? This is key to using equipment information to make informed business decisions that can help lower maintenance costs, optimise production, and reduce support and travel expenses.
Two of ProSoft's solutions released this year show users how to access the data they need to add value.
Making data-driven decisions
The gateway brings together three major industrial automation protocols – OPC UA, EtherNet/IP, and Modbus TCP/IP. This gateway to the IIoT sends production information to the MES or ERP. From there, it can be acted upon to make the changes necessary to achieve corporate goals. The benefits of analysing equipment information include reduced maintenance, energy and overall operating costs.
The gateway works by enabling fast data transfers from EtherNet/IP and Modbus devices to OPC UA clients, thanks to an OPC UA server connection. The EtherNet/IP and Modbus TCP/IP equipment can also communicate with each other. The gateway enables 10 simultaneous OPC UA sessions, which is ideal for larger applications.
By connecting equipment that use these two protocols to the MES, one takes the first step to streamlined access and analysis of data that can help to optimise resources.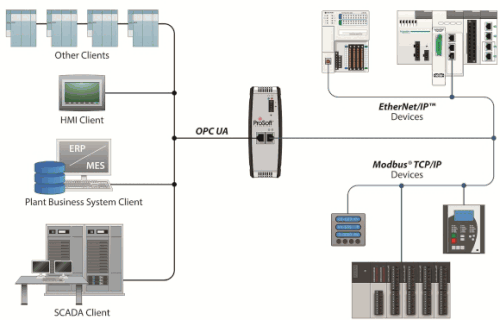 Access historical data
You're at your desk, it's almost time to go home, and you find out you need to go on-site for an issue with a piece of equipment. You're not quite sure what the problem is, and now you're looking at a later end to the day and hoping you can troubleshoot the issue quickly.
For applications that involve remote access equipment, the data logger avoids costly network enhancements, storing 16 million time-stamped records.
OEMs can also benefit from using the data logger. The module's records can indicate whether equipment was tampered with or if the maintenance schedule was followed, helping to determine if a warranty claim is valid. Knowledge gleaned from devices can help to improve a company's Overall Equipment Effectiveness (OEE). Studying how equipment performed in real-time applications can help determine if a design can be tweaked.
For more information contact Bob Petrie, Throughput Technologies, +27 11 705 2497, bob@throughput.co.za, www.throughput.co.za
Credit(s)
Further reading:
Navigate the fourth industrial revolution with PricewaterhouseCoopers
November 2019 , IT in Manufacturing
Using the building blocks of 4IR to transform business processes into manufacturing advantages requires a holistic approach.
Read more...
---
Artificial intelligence in manufacturing – a practical and simplified view
November 2019, Altron Bytes Systems Integration , IT in Manufacturing
Looking at and interpreting data generated during the manufacturing process to find ways to reduce waste, improve quality and increase yield is not new. However, the increased use of digital technologies 
...
Read more...
---
Intelligent data glasses support production
November 2019, Siemens Digital Industries , IT in Manufacturing
Augmented Reality (AR) has arrived in the workplace: for the last three years, a consortium of six companies and institutions chaired by Siemens has been researching the use of augmented reality (AR) 
...
Read more...
---
Siemens launches report on Dawn of Digitalisation and its Impact on Africa
October 2019, Siemens Digital Industries , IT in Manufacturing
Africa needs a digitalisation strategy to compete in the global economy.
Read more...
---
Integrating IT with Operations Technology - a CIO perspective
October 2019, Absolute Perspectives , IT in Manufacturing
Digitisation projects, spurred on by Industry 4.0 and technological advances, have opened up many possibilities to create new value.
Read more...
---
Real-time data increases metal recovery at Peñasquito mine
November 2019 , IT in Manufacturing
At a recent OSIsoft User Conference in California, ARC Advisory Group had an opportunity to learn about a related project at Newmont Goldcorp's flagship Peñasquito gold, silver, zinc, and lead mine in 
...
Read more...
---
Securing and managing devices the modern way
October 2019 , IT in Manufacturing
Organisations of all types and sizes are bringing vast numbers of devices into their IT infrastructure and networks. Moreover, these devices are not only smartphones, wearables and tablets because the 
...
Read more...
---
Reliable gas production
September 2019, Siemens Digital Industries , IT in Manufacturing
Energy supplier uses Siemens technology for optimum information exchange.
Read more...
---
Automotive supplier relies on Siemens PLM solution
September 2019, Siemens Digital Industries , IT in Manufacturing
Küster Automotive is an internationally active family-run company and a part of Küster Holding. A full-service supplier, Küster manufactures components for the automotive industry. For its production 
...
Read more...
---
Top tips to help you implement 4IR projects that deliver value
September 2019 , Editor's Choice, IT in Manufacturing
In the just over 10 years I have spent working on IT projects in the manufacturing space, the amount of new fads and IT jargon that has to be adopted has reached the heavens, and ascended into other realms. 
...
Read more...
---