printer friendly version
Cummins stirs interest in pump-engine product line
October 2019
News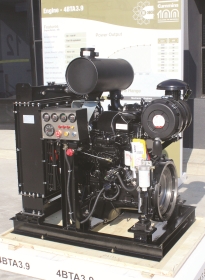 Cummins recently hosted a highly successful seminar in both Dubai and at its Power Hub in Waterfall City, Johannesburg, to introduce end users and OEMs to its range of high-quality engines for the pumps segment. Here applications include agriculture and irrigation, dewatering and firefighting.
Cummins' engines are ideal for the pump segment, focusing mainly on mechanical engines from 50 to 2700 hp. Sales and earthmoving segment leader, Bo Fu explained: "Our scope of supply also extends to ancillary equipment such as radiators, variable or fixed speed drives, different pump certifications and diverse engine ratings.
"Our ultimate goal was to showcase to customers the full range of products we can support. In this instance, we focused on the packaged engine, which is a complete power solution with a mechanical or electronic engine sourced from plants in India and China to be able to offer customers competitive pricing and lead times."
"At both events our aim was to emphasise the total support we can offer our end users," stressed pump engines segment leader, Mohamed Othman. "While our engines took centre stage, our value proposition extends to the possibility of our customers becoming reference points and business partners in their respective areas. Cummins' extensive footprint in the AME region, including regional distribution centres in South Africa and Ghana, means we are able to offer full aftermarket support anywhere in the region."
While many competitors are offering more advanced electronic engines for the pump segment, Othman pointed out that Cummins has decided to provide mechanical engines due to their robustness, user-friendliness, ease of maintenance and improved uptime. In addition, the mechanical control panel gives operators leverage in operating the engines much more efficiently. "The main advantage of mechanical engines is that they do not incur any downtime as a result. In addition, operators are trained either by us or the pump OEMs themselves," he added.
Such was the success of the seminars that the Dubai event, in particular, attracted enquiries from existing OEM customers, some of whom were interested in volume orders. The packaged engines on display ranged from 120 to 360 hp as an illustration of the diversity of Cummins' product range.
"Our strategy to break into the pump segment is not to introduce innovation in the sense of new product developments, but to reassure our customers that we can supply fit-for-market solutions that make a lot more sense in terms of the harsh operating conditions in Africa," concluded Othman.
Further reading:
From the editor's desk: Is additive manufacturing poised to go mainstream?
Technews Publishing (SA Instrumentation & Control) News
As digital manufacturing technology pushes its way further towards the production floor, additive manufacturing (3D printing) is emerging as a viable option to complement the more traditional methods 
...
Read more...
---
Obituary: Steven James Meyer
January 1957 - January 2022
Technews Publishing (SA Instrumentation & Control) News SAIMC
It is with deep sadness and shock that we announce the sudden death of SA Instrumentation & Control Editor, Steven Meyer. Steven joined Technews in October 2007 in the position of Deputy Editor. His 
...
Read more...
---
ESG certified as Level 2 contributor to B-BBEE
News
Invicta Holdings Limited's Engineering Solutions Group (ESG) has achieved recognition as a Level 2 contributor to B-BBEE.
Read more...
---
Abrasive Flow Solutions celebrates its first year of business
News
Abrasive Flow Solutions (AFS) – specialists in the design and manufacture of slurry related valves – celebrates its first year of business.
Read more...
---
Microsatellite production gets a boost in Stellenbosch
TANDM Technologies News
Dragonfly Aerospace is investing in a 3000 square metre design and manufacturing facility in Techno Park, Stellenbosch.
Read more...
---
Danfoss doubles down on energy efficiency
Danfoss News
Danfoss encourages decision makers to act at COP26.
Read more...
---
Zest supplies SA's new gas helium project
Zest WEG Group Africa News
Zest WEG is supplying locally manufactured transformers, switchgear and substations to South Africa's onshore natural gas and helium project, Tetra4.
Read more...
---
Emerson announces commitment to venture capital initiative
Emerson Automation Solutions News
Emerson Ventures to focus on disruptive discrete automation solutions, environmental sustainability technologies and industrial software.
Read more...
---
Valve & Automation's new Secunda Valve Repair Centre
Valve & Automation News
On 1 November 2021, Valve & Automation's Secunda Valve Repair Centre opened at 18 Kingfisher Street, Ext 57, Secunda, Mpumalanga.
Read more...
---
SECO Process Instrumentation appointed East Rand agent for Yokogawa
SECO Process Instrumentation News
SECO Process Instrumentation, a consulting company in the fields of instrumentation, moisture analysers, pneumatics and VSD solutions, has recently been appointed as the East Rand agent for Yokogawa.
Read more...
---