printer friendly version
Productivity Master points the way to digitalisation
September 2019
System Integration & Control Systems Design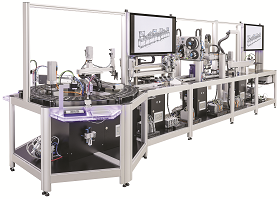 The Productivity Master, a modular demonstration system for producing personalised USB memory sticks from Festo, shows how automation technology will evolve along the value chain when combined with digitalisation. Thanks to software, everything fits perfectly, from the mechanical and electric systems to the intelligence. The Festo automation platform provides an integrated and practical system to link all Festo engineering tools, components and solutions in hardware and software.
The demonstration system personalises USB memory sticks in four steps. The electric products, the mechanical systems for the axes, the electrics and the software are organised into a complete automation platform with seamless connectivity. This saves users an enormous amount of time, from planning to commissioning, and they gain maximum process reliability since everything fits together with Industry 4.0 as standard.
Four fully connected stations
Visitors to the demonstration create the production order at the first station by registering with their name and perhaps a picture. A QR code identifies the visitors at the machine. A vision sensor SBSI from Festo registers the visitors and starts the production order. This is followed by stock management. This complete mechatronic solution, made up among other things of a planar surface gantry (EXCM in size 40) for fast picking and placing of the USB memory stick, offers all the options from stock management and workpiece handling to the cloud.
The USB memory stick is then transported, printed, turned over and then passed on. The work steps involved at the second station are holding, moving, handling, positioning and identifying the workpiece, as well as identifying, separating, gripping and applying labels. Fast transfer to a label printer is carried out at station 3 by a highly dynamic linear gantry (EXCT with dynamic servo motors EMMT-AS and servo drives CMMT-AS). The rotation functions are carried out by electric rotary drives (ERMH).
The process is completed in station 4 where files are uploaded to the USB memory stick. This involves holding the workpiece, turning and carefully positioning the cap and press-fitting delicate parts. This is done using the attractively priced electric cylinders (EPCO) and rotary drives (ERMO). The personalised USB memory sticks are then handed out to the visitors.
Seamless connectivity and engineering tools
The machine was planned in record time. The state-of-the-art and standardised Festo engineering environment proved useful here. Projects, Festo's lifecycle management platform, simplifies project planning and the management of digital twins. This enables design engineers and developers worldwide to work collaboratively. With the Festo HGO (handling guide online), users can select and size 1D, 2D and 3D gantries in just three steps, including planar surface and linear kinematics.
For more information contact Kershia Beharie, Festo, 086 003 3786, kershia.beharie@festo.com, www.festo.co.za
Credit(s)
Further reading:
SCiBOTRON's quality culture the key to success
May 2020 , System Integration & Control Systems Design
The company was founded on lean principles and quickly grew into a QSE (Qualifying Small Enterprise). Ricardo Paddy, managing director and founding member, attributes one of the reasons for the company's 
...
Read more...
---
HMIs improve operations and maintenance collaboration
June 2020, Emerson Automation Solutions , System Integration & Control Systems Design
It is essential that operators and maintenance engineers work together to resolve issues quickly, before they affect plant performance. However, coordinating actions between these departments can be challenging.  
...
Read more...
---
Experience digitalisation at the Festo Virtual Exhibition
June 2020, Festo South Africa , News
Festo is breaking new ground with its first-ever Virtual Exhibition scheduled to take place from the 15-16 July. Visitors will get to experience digitalisation as never before. This exhibition will be 
...
Read more...
---
SLE5 series label sensor
June 2020, Turck Banner , System Integration & Control Systems Design
The small infrared light spot of Banner's new SLE5 can quickly detect the gap between opaque labels on clear or opaque backing. The 5 mm slot width and 50 mm slot depth allow precise detection of a wide 
...
Read more...
---
Festo TechTalk: Energy efficiency thanks to smart products
July 2020, Festo South Africa , IT in Manufacturing
This year's TechTalk focused on smart products that help companies to produce energy efficiently, educational measures that empower employees for lifelong learning as well as for the digital working world 
...
Read more...
---
PC-based control technology for process automation
May 2020, Beckhoff Automation , System Integration & Control Systems Design
Progress is not based on the innovative creation of buzzwords. Unfortunately, the development of enabling technologies in recent decades did not help to raise process automation to an advanced level. 
...
Read more...
---
Improved production capacity and efficiency
May 2020, Omron Electronics , System Integration & Control Systems Design
Automation with robotics increases production of chocolate by 40%.
Read more...
---
PC-based control for Covid-19 rapid testing production lines
June 2020, Beckhoff Automation , System Integration & Control Systems Design
The rapid testing equipment production lines made by Ginolis in Qulunsalo, Finland, have proven themselves in the market for almost a decade. Because of the coronavirus pandemic, previously delivered 
...
Read more...
---
PCS Global keeps Dairymaid production on track
May 2020, PCS Global , System Integration & Control Systems Design
Commonly known as 'the smile maker', Dairymaid's ice cream has been a favourite in many South African households for the past three decades. Keeping the factory running and ensuring the quality of the 
...
Read more...
---
The efficient and easy to configure DALI-2 lighting solution
May 2020, Beckhoff Automation , System Integration & Control Systems Design
The TwinCAT 3 Lighting Solution, which is easy and convenient to configure via Excel files, simplifies all work steps from engineering to maintenance. All typical lighting controls are integrated in the 
...
Read more...
---