printer friendly version
Automotive supplier relies on Siemens PLM solution
September 2019
IT in Manufacturing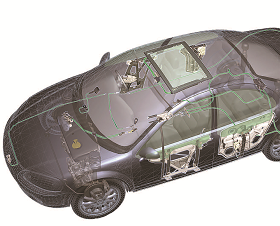 Küster Automotive is an internationally active family-run company and a part of Küster Holding. A full-service supplier, Küster manufactures components for the automotive industry. For its production to comply with Spice (software process mprovement and capability determination) Level 2, Küster relies on Polarion ALM (application lifecycle management) from the PLM (product lifecycle management) specialists, Siemens PLM Software.
This way, Küster not only adheres to the standard, but also benefits from integration in the OEM supply chain, a focal element of its production. The automotive supplier must ensure that its production complies with this international standard, also known as ISO/IEC 15504-5, for evaluation of its corporate processes. Original equipment manufacturers (OEMs) also require Küster to have specifications available in the Requirements Interchange Format (RIF) and in a system enabling change management.
The specifications ensure that metadata can be exchanged between software tools from different manufacturers. To comply with these requirements, Küster was keen to find a standardised solution guaranteeing immediate RIF compatibility for its requirements management. Its hopes were answered with the Polarion ALM system from Siemens PLM Software.
One solution with a raft of benefits Polarion enables rapid implementation of all traceability and reporting requirements for Spice Level 2, and can also be extended to include testing and quality assurance. The web-based Polarion architecture used reduces both implementation and maintenance costs. The use of a certain feature, LiveDoc documents, which is exclusive to Polarion, makes it a simple matter to transition desktop documents and their management processes to the online environment, which is always up to date.
"Polarion ALM requirements management has proven that it complies easily with Automotive Spice Level 2," explains Christian Posluschni, team leader electronics/software development at Küster. "The depth and breadth of traceability required is easy to establish. The same system that supports our Automotive Spice compliance also supports us as a part of the OEM supply chain. The ability to use RIF (and soon, ReqIF, RIF successor) to read requirements from OEMs online and manage all the requirements, theirs and ours, is of great benefit to us.
"With Polarion, it was even possible to optimise other tools the company already had in place, such as TortoiseSVN for version control. Further fields of application are in the pipeline."
Taken overall, the team at Küster is impressed first and foremost by the fact that Polarion meant procuring and implementing just a single package instead of several piecemeal solutions. The rollout went smoothly after only a few training sessions, and continuous improvement of the system is taken care of by regular updates. "As requirements demand, Polarion RE and Polarion QA are being used," says Posluschni.
Polarion QA is used for test management, but there is more to come as the company has concrete plans to introduce automatic integration of test results, which are currently collected manually.
For more information contact Jennifer Naidoo, Siemens Digital Industries, +27 11 652 2795, jennifer.naidoo@siemens.com, www.siemens.co.za
Credit(s)
Further reading:
Predictive analytics for artificial lifts
September 2020, Emerson Automation Solutions , IT in Manufacturing
Machine learning and artificial intelligence applications in artificial lift systems have seen a growth in importance recently and are no longer a nice to have, but essential tools for well optimisation.
Read more...
---
Making Machine-as-a-Service a reality
September 2020, RJ Connect , IT in Manufacturing
Using cloud-based software, machine builders can access their machines anytime, allowing connections to be set up to link the machine builders and their clients.
Read more...
---
Validation goes digital
September 2020, Siemens Digital Industries , IT in Manufacturing
CVal allows customers in the pharmaceutical industry to produce digital, auditable plant documentation through efficient data handling across all disciplines using a central database and object orientation.
Read more...
---
The Eight Commandments to digitising your shop floor workforce
September 2020 , IT in Manufacturing
Digitise your shop floor workforce and bundle insights, examples and lessons learned from PwC's experience in digital transformation into eight practical commandments.
Read more...
---
The digital twin explained
August 2020, Yokogawa South Africa , IT in Manufacturing
The digital twin defined
A digital twin is a virtual, digital copy of a device, system, or process that accurately mimics actual performance in real time, is executable, can be manipulated, and allows 
...
Read more...
---
Automation and digitalisation offer competitive edge in volatile markets
August 2020, Siemens Digital Industries , News
The current situation creates major challenges for industrial companies worldwide and shows that digitalised and highly automated production is more important than ever when it comes to gaining a competitive 
...
Read more...
---
Aguru trials Safe-Trace Contact Tracing at Adcock Ingram
August 2020 , IT in Manufacturing
Aguru Business Solutions (Aguru), a company specialising in automation and digital transformation advisory and project management services, has successfully completed a Proof of Concept (PoC) trial of 
...
Read more...
---
The Fourth Industrial Revolution
July 2020 , IT in Manufacturing
Read more...
---
Smart engineering directly in the cloud
June 2020, Beckhoff Automation , IT in Manufacturing
PC-based control is an open, central control platform that integrates a full range of machine functionality and optimally supports the implementation of highly efficient IoT-based automation strategies. 
...
Read more...
---
Siemens South Africa joins forces with the National Ventilator project community in response to the COVID-19 pandemic
June 2020, Siemens Digital Industries , News
Siemens has been a long-standing partner of the Council for Scientific and Industrial Research (CSIR) in South Africa and have cooperated in various field of research, including manufacturing and mining. 
...
Read more...
---