printer friendly version
Nick Denbow's European report: Ex-rated site inspection video camera transmits remotely
August 2019
Editor's Choice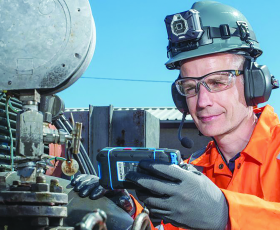 Librestream and ecom, a brand of the Pepperl+Fuchs group, announced a major collaboration at the Offshore Technology Exhibition in Houston in May. This joint development aims to ease and improve safety inspections and on-site work in any zoned hazardous locations, using their Onsight Cube-Ex wearable camera.
In a video example of a site inspection on a newly installed pressure gauge, the work instructions are initiated on a conventional communications device by scanning the bar coded tag. This takes the operator through the initial stages, and then calls for initiation of the Onsight Cube video camera, which links to his phone system, and contacts the office based technician. The technician can then see the gauge, and control the camera, even initiating a thermal imaging mode to read temperatures. Should anything need a further check, the technician can link the video by phone to the design engineer or equipment supplier, who can see the Ex-area site images on their smartphones. Any action is then agreed, or the equipment installation approved, and the video and phone records are retained on the system.
Unique wearable inspection tool
Librestream and ecom worked together to design, build, and certify this unique inspection tool for oil, gas and petrochemical plant workers in Ex-rated environments. By providing products that support safety, efficiency, and collaboration in the oil and gas industry, the Cube-Ex can ensure that work inside and outside hazardous areas is safer, more flexible, and more efficient than ever.
Using the Cube-Ex, workers in a process facility, a petrochemical plant or an oil and gas facility can safely inspect processes and analyse complex assets. By pairing the Cube-Ex with the intrinsically safe ecom 4G/LTE smartphone, Smart-Ex or tablet Tab-Ex, workers can remotely control the camera, view HD video and thermal imaging, or capture and annotate pictures or recordings from a safe distance. The Cube-Ex provides flexibility for workers to wear securely on a hardhat for hands-free inspections, attach to a monopod for hard to reach locations, or mount on or near equipment to enable viewing from afar.
"The Cube adds a new dimension to the traditional wearable category and delivers critical information to these digital workers," stated Kerry Thacher, CEO, Librestream. "With ecom, we partnered with the clear leader in intrinsically safe hardware to bring the world's first multi-purpose wearable with thermal imaging to the hazardous location market." ecom will also offer the product under the brand 'ecom Ex-Camera Cube 800'. Roolf Wessels, managing director, of ecom added: "We've seen strong demand from customers for a companion device that brings thermal and wearable camera capabilities to hazardous location inspections. With Librestream, we shared a common vision to outfit workers with new digital tools. By adding the Cube 800 Ex-camera to our mobile worker ecosystem, our customers gain a valuable and unique tool that can improve safety and overall efficiency."

The Onsight Cube is also suitable for use in aircraft inspections and for industries where intrinsic safety is not required such as sewage plants, pumping stations and industrial and manufacturing locations. Deliveries of both intrinsically safe and industrial versions commenced in June, from the Librestream plant in Winnipeg, Canada.
Nick Denbow spent thirty years as a UK-based process instrumentation marketing manager, and then changed sides – becoming a freelance editor and starting Processingtalk.com. Avoiding retirement, he published the INSIDER automation newsletter for 5 years, and then acted as their European correspondent. He is now a freelance Automation and Control reporter and newsletter publisher, with a blog on www.nickdenbow.com
Further reading:
Loop Signatures 1: Introduction to the Loop Problem Signatures series
May 2020, Michael Brown Control Engineering , Editor's Choice
Over the years I have had many requests to write a book giving more detailed explanations of some of the problems I have encountered in my work on practical loop optimisation. I am by nature and inclination 
...
Read more...
---
From the editor's desk: The virtual business assistant
May 2020, Technews Publishing (SA Instrumentation & Control) , Editor's Choice
Have you ever wished someone would automate the daily grind of routine tasks and set you free to focus on the more engaging aspects of your job?
Read more...
---
From the editor's desk: The virtual business assistant
June 2020, Technews Publishing (SA Instrumentation & Control) , Editor's Choice
Enter robotic process automation (RPA), a disruptive workplace technology that uses software "robots" to mimic many of the repetitive interactions human beings have with their computers. It performs such 
...
Read more...
---
Case History 172: Interesting controls in a copper extraction plant.
June 2020, Michael Brown Control Engineering , Editor's Choice
In my 30 years devoted to optimising controls in industrial process plants in many countries, I thought that I had seen all the possible process dynamics that one would encounter. Imagine my surprise 
...
Read more...
---
The emergence of a new future in the energy sector
April 2020 , Editor's Choice
Adaptively complex and persistent challenges in Africa are driving the need for a new future in the energy sector. Lack of access to energy, (more than 600 million people in Africa with no access to energy) 
...
Read more...
---
Case History 171: Instability in a metallurgical plant
March 2020, Michael Brown Control Engineering , Editor's Choice
I have written several articles about the unique problems I have encountered, specifically in the mining processing industry. This article is about some experiences in a mining operation where recently 
...
Read more...
---
Case History 170
January 2020 , Editor's Choice
As mentioned in earlier articles, the integral (or I term) in the controller is a brilliant thing. It is an extremely elegant and simple solution for eliminating offset in control. However, like everything 
...
Read more...
---
Case History 169: Tuning a very difficult temperature control loop
November 2019 , Editor's Choice
As I have mentioned in previous articles, Greg McMillan, one of the world's top control experts, has said that he finds temperature control loops generally the worst optimised processes as most people 
...
Read more...
---
Beyond Capex and Opex
November 2019 , Editor's Choice
How do we finance IT? We identify a need, we test the waters with a PoC (proof of concept), then we get the green light after we prove the value. We know roughly how much it will cost by looking at the 
...
Read more...
---
The technology landscape: insights from 2019 conferences
November 2019, SAIMC , Editor's Choice
Industry leaders and governmental agencies across the globe recognise technology as the cornerstone for economic development. President Cyril Ramaphosa famously posited: "The clear implication for South 
...
Read more...
---