printer friendly version
Open-source cloud IoT in a box
Technews Industry Guide: Industrial Internet of Things & Industry 4.0
IT in Manufacturing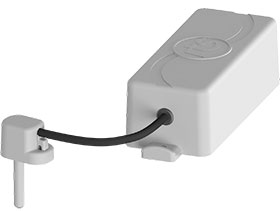 biTid has galvanised the IoT software sector by bringing to market a scalable, open-source IoT cloud platform, developed in South Africa. The platform source code is freely available for download from github and the company strives to keep up with the latest technologies, currently using node.js, angular, mongoDB and Kubernetes, all running on Linux.
Equipped with this platform, biTid offers its services as an out-sourced model based on customised service level agreements, as it becomes your trusted IoT advisor.
Cloud platform features
The architecture allows every aspect to be accessible via well documented Restful APIs, allowing for seamless integration. Data, reports, mimics and alert profiles are shared between users and apps via the OAUTH2 standard. All aspects of the platform make use of this sharing model and APIs are granted access. Firewalling and end to end encryption are also implemented.
The open-source platform provides dashboarding, web-based and traditional scada, Mapping (including geo-fencing), and Android and iOS Apps. Data is presented live on the web via webSockets, eliminating the need for continuous page refreshing. It integrates seamlessly into Google Big Query and Google Sheets, which have AI and machine learning capabilities. A reporting app allows users to easily wrap these data sources into your own branded interface.
Alerts and device management
Alerts are received via push notification to a smartphone app. The alerting module integrates with Slack.com allowing for easy management of alerting groups.
Being hardware agnostic, a variety of functionality has been implemented using Sigfox, LoRa, RF and GSM technologies. The Device Management app monitors hardware health, and manages scaling and naming of I/O, while the Genus app manages IoT installations using GPS coordinates and date stamp to locate devices.
Other features include:
• No licensing fees.
• White label platform and apps to promote your brand.
• Host on any cloud provider such as AWS, Google or on premise.
• One programming language – javascript.
• biTid undertakes to integrate legacy hardware/sensors into the platform at no cost.
For more information contact Shane Bowyer, biTid, +27 82 886 3782, shane@bitid.co.za, www.bitid.co.za
Further reading:
The Fourth Industrial Revolution
July 2020 , IT in Manufacturing
Read more...
---
Smart engineering directly in the cloud
June 2020, Beckhoff Automation , IT in Manufacturing
PC-based control is an open, central control platform that integrates a full range of machine functionality and optimally supports the implementation of highly efficient IoT-based automation strategies. 
...
Read more...
---
Creating specific SensorApps
June 2020, SICK Automation Southern Africa , IT in Manufacturing
Create individual SensorApps without programming skills and solve new automation tasks easily. Starting at the end of the year, this will all be possible in the SICK AppStudio, part of the SICK AppSpace 
...
Read more...
---
Mobile robots speed production at new smart factory
July 2020, Omron Electronics , IT in Manufacturing
A dozen industrial robots, each in individual workstations or cells, perform different steps in the manufacturing process. However, to attain the high efficiency, safety, and convenience of a modern 
...
Read more...
---
The administration of digital twins
July 2020, SICK Automation Southern Africa , IT in Manufacturing
In order to access the virtual representation of the sensor and its data, SICK Automation uses LiveConnect to deliver a standardised connection from an edge gateway to SICK Asset Hub. This visualises 
...
Read more...
---
How IIoT solutions can help your plant go digital
July 2020, Endress+Hauser South Africa , IT in Manufacturing
Everyone is talking about the new normal, a shift that is forcing companies to adopt a digital strategy, one way or another, in order to remain relevant and competitive in these unprecedented times. Many 
...
Read more...
---
Fast IT rack launched in South Africa
July 2020, Rittal , IT in Manufacturing
Introducing a new generation of IT racks
Conceived as a universal modular system, the VX IT has been designed for all common applications and its versatility makes it suitable for use as a network and 
...
Read more...
---
Engineering 4.0: Automatic dashboard generation
July 2020, Beckhoff Automation , IT in Manufacturing
Many machine builders and systems integrators looking to transform their business models have identified machine and plant process data as being a core fundamental. When it comes to tailoring new data-driven 
...
Read more...
---
Completing the remote maintenance circle
July 2020, Throughput Technologies , IT in Manufacturing
What do the world's machine builders want from a next generation remote maintenance solution? Secomea has been listening to thousands of them and has spotted a pattern. In this collective vision the 
...
Read more...
---
Tools keep HVACR professionals on the cutting edge
June 2020, Danfoss , IT in Manufacturing
Danfoss has announced that Refrigerant Slider, its popular P/T calculation app that has over 2 million downloads, will transform into Ref Tools, an essential, all-in-one mobile app for air conditioning 
...
Read more...
---