printer friendly version
Big Data enabled by Omniflex IIoT solutions
Technews Industry Guide: Industrial Internet of Things & Industry 4.0
Fieldbus & Industrial Networking
Omniflex specialises in 'out-of-the-box' remote monitoring solutions based on years of industrial plant networking experience, from last mile connection to mainstream Ethernet backbones. The Teleterm range specifically addresses the remote outstation issue by providing a programmable platform of IEC61131 languages, for control and networking options from low grade cable to radio and GSM infrastructure. Wireless distributed PLCs with inherent data acquisition capability are an attractive proposition against cable-based systems.
HMI systems can link easily with SQL databases, Use MQTT and OPC UA to integrate into larger MES system with links to big data. Visualisation can be wireless also, through the use of WiFi and a tablet for a portable operator interface or management tool linking into the system without having to use fixed desktop computers. Remote site visualisation is achieved the same way, using a tablet and remote Teleterm devices and local routers integrating via the Internet.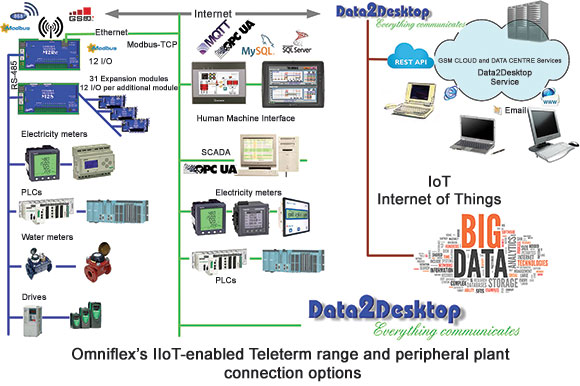 What to look for in an IIoT solution
1. Security from hackers.
2. Interoperability with existing legacy devices (PLC and scada etc.).
3. Scalability: add to the solution easily.
4. Precision and accuracy: industrial grade measurements.
5. Programmability: process local data at front end.
6. Low latency response to system changes.
7. Reliability: industrially hardened products for harsh conditions.
8. Resilience: failure mode coverage.
9. Automation: function as a connected automation block, not just data acquisition.
10. Serviceability: plug-and-play replacement, service and support.
Features of the Omniflex solution
Wireless capabilities: licence-free band radio RTUs and wireless PLCs; WiFi and HMI solutions; GSM IIoT RTUs and PLC units; repeater solutions; Internet-based monitoring; and email, SMS and data transmission.
Teleterm Features: flexible mixed configurable I/O (analog and digital); Ethernet and wireless ports; programmable serial port; local logging on SD cards; DIN rail mounting: 9-30 VDC powered; and Modbus/Modbus TCP as standard.
Big data connectivity: MQTT capable; SQL database compatible; OPC UA compatible; and REST API interface.
For more information contact Ian Loudon, Omniflex Remote Monitoring Specialists, +27 31 207 7466, sales@omniflex.com, www.omniflex.com
Credit(s)
Further reading:
Adding mobile network visibility
January 2020, RJ Connect , Fieldbus & Industrial Networking
A high-speed railway operator built a fibre Ethernet backbone for data transmission between its operational management centre and railway stations to ensure high network availability. The customer used 
...
Read more...
---
The importance of up-to-date alarm annunciators
January 2020, Omniflex Remote Monitoring Specialists , IS & Ex
At 1.23 pm on Sunday, 24 July 1994, twenty-six people were injured when an explosion erupted through an oil refinery in an otherwise quiet corner of South Wales in the United Kingdom. The site was occupied 
...
Read more...
---
ETG officially supports EtherCAT G
December 2019 , Fieldbus & Industrial Networking
The Technical Committee of the EtherCAT Technology Group (ETG) has accepted EtherCAT G as an addition to the EtherCAT standard. Moving forward, EtherCAT G, which extends EtherCAT technology to 1 and 10 
...
Read more...
---
Time synchronise your key remote sites
November 2019, Omniflex Remote Monitoring Specialists , Sensors & Transducers
Managing processes where root cause identification is rapidly identified can generate substantial savings though improved productivity and implementation of planned preventive maintenance schedules. Knowing 
...
Read more...
---
Omniflex eases mine water compliance
October 2019, Omniflex Remote Monitoring Specialists , System Integration & Control Systems Design
Water licences carry a 'Burdon of Proof' that the licence holder will not harm the environment or the water system through its activities. This covers the use of water from the system and the responsible 
...
Read more...
---
Interference-free Ethernet media converter
October 2019, Phoenix Contact , Fieldbus & Industrial Networking
The new FL MC EF 660 SCRJ media converter from Phoenix Contact enables the connection of cost-effective polymer and HCS/PCF fibre technology. The optical transmission of data via fibre optics is free 
...
Read more...
---
I/O solutions with Profinet redundancy
October 2019, Turck Banner , Fieldbus & Industrial Networking
Turck's Simple IO-Link Device Integration, SIDI for short, simplifies the handling of IO-Link. As its first fieldbus module with Profinet S2 system redundancy, the company has introduced the TBEN-L5-8IOL. 
...
Read more...
---
Tektronix simplifies automotive Ethernet testing with new software
October 2019, Comtest , Fieldbus & Industrial Networking
Tektronix has released two new software packages that greatly simplify Automotive Ethernet testing, debug and protocol decode, for use with its 5 and 6 series mixed-signal oscilloscopes (MSO). Using the 
...
Read more...
---
How fieldbus systems are really selected
September 2019 , Fieldbus & Industrial Networking
The majority of users do not actively select their fieldbus at all – they select the control system vendor and whatever bus system this vendor provides will 'do the job.
Read more...
---
Fibre optic distributor for network expansion on demand
September 2019, Jasco Trading t/a Webb Industries , Fieldbus & Industrial Networking
Jasco's Webb Industries has introduced Telegärtner's new, modular rail-mount fibre optic distributor, which can be extended according to actual needs. The stackable modules allow quick and easy additions 
...
Read more...
---