printer friendly version
Digitalisation drives compressed air system development
Technews Industry Guide: Industrial Internet of Things & Industry 4.0
IT in Manufacturing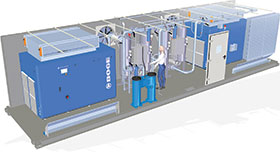 German company, Otto Boge (Boge), develops compressed air systems for which it offers an extensive portfolio of components, machines and complete plants. To increase the efficiency of its production, Boge has digitalised all its processes end-to-end with software solutions from Siemens PLM Software. This has enabled it to reduce its requirement for costly prototypes, simplified its quality control and release procedures and opened up whole new business models. Using new cooperation methods, digitalisation has allowed Boge to supply its customers with compressed air in the role of a service provider. It is used in the foam canons deployed by the fire department, ventilation systems for patients in hospitals and in offshore refineries.
Founded in 1907, Boge develops and builds the compressed air systems needed to supply this important resource in its own factories. The plants come in a variety of forms, such as complete compressed air units built into maritime containers, can encompass as many as 45 000 parts, and are exported to 120 countries. The company has been using CAD systems for its design work since the 1980s, and since the early 2000s, its design engineers have added Solid Edge from Siemens PLM Software to their design armoury.
The modules at a glance
Today, Solid Edge is not only used to design Boge's own piping system (AIRficient) as a method of measuring the air tightness and efficiency of important components. Boge also calls on the modular Solid Edge 'construction kit', comprising around 65 000 CAD components, when planning large-scale assemblies. Standard components can be added from libraries, and data from suppliers can be imported using the STEP (Standard for the Exchange of Product model data) format. As plant construction entails using a particularly high proportion of parts from subcontractors, Boge makes increasing use of synchronous technology from Solid Edge, which enables third-party geometries to be processed with ease, and then inserted into an assembly. All team members involved in the project who are not necessarily based in the same office are able to access the big picture of an assembly at any time as they work on the different components. This reduces the likelihood of errors during the initial assembly.
Direct link to the ERP system
Using the integrated FEM (Finite Element Method) module Solid Edge Simulation, it is immediately possible to check the correct dimensioning of components. This not only increases accuracy but also reduces the need for costly and time-consuming prototype production. Viewing models along the process chain simplifies many of the production steps such as quality inspection and final release. Through the direct integration of solid edge into the ERP system via the Engineering Control Centre, all relevant data, documents and processes can be managed and controlled over the entire product life cycle. To ensure that the software functions reliably, Siemens partner Solid System Team (SST) implemented the Smap3D PLM interface, which allows all processes taking place between development, purchasing, sales and production to be digitalised.
Focus on service
The advance of digitalisation has prompted Boge to explore new avenues in terms of its business models. The company is now offering its customers compressed air supplies in the role of service provider. The cooperation between SST and Boge is based on a similar footing. "Instead of being a reseller, we see ourselves as a provider of complete solutions and services along the value chain," said Torsten Hartinger, project manager at SST.
"Because of our master services agreement with SST, we no longer have to have many competencies available in their entirety," added Boge IT manager, Torsten Spork. "Instead we can concentrate on strategic alignment in the direction of digitalisation and innovation."
The latest Boge innovation takes the form of the new S-4 models. Thanks to the new digital design tools, this fourth generation of the S series is easy to maintain and also highly economical in terms of energy consumption.
For more information contact Jennifer Naidoo, Siemens Digital Industries, +27 11 652 2795, jennifer.naidoo@siemens.com, www.siemens.co.za
Credit(s)
Further reading:
The Fourth Industrial Revolution
July 2020 , IT in Manufacturing
Read more...
---
Smart engineering directly in the cloud
June 2020, Beckhoff Automation , IT in Manufacturing
PC-based control is an open, central control platform that integrates a full range of machine functionality and optimally supports the implementation of highly efficient IoT-based automation strategies. 
...
Read more...
---
Siemens South Africa joins forces with the National Ventilator project community in response to the COVID-19 pandemic
June 2020, Siemens Digital Industries , News
Siemens has been a long-standing partner of the Council for Scientific and Industrial Research (CSIR) in South Africa and have cooperated in various field of research, including manufacturing and mining. 
...
Read more...
---
Siemens and Bentley Systems build digital twin for Indonesian petrochemical complex
June 2020, Siemens Digital Industries , News
Siemens and Bentley Systems will develop the first petrochemical digital twin in Indonesia for Chandra Asri, the country's largest integrated petrochemical complex. With over 27 year footprint, the latter 
...
Read more...
---
Creating specific SensorApps
June 2020, SICK Automation Southern Africa , IT in Manufacturing
Create individual SensorApps without programming skills and solve new automation tasks easily. Starting at the end of the year, this will all be possible in the SICK AppStudio, part of the SICK AppSpace 
...
Read more...
---
Mobile robots speed production at new smart factory
July 2020, Omron Electronics , IT in Manufacturing
A dozen industrial robots, each in individual workstations or cells, perform different steps in the manufacturing process. However, to attain the high efficiency, safety, and convenience of a modern 
...
Read more...
---
The administration of digital twins
July 2020, SICK Automation Southern Africa , IT in Manufacturing
In order to access the virtual representation of the sensor and its data, SICK Automation uses LiveConnect to deliver a standardised connection from an edge gateway to SICK Asset Hub. This visualises 
...
Read more...
---
How IIoT solutions can help your plant go digital
July 2020, Endress+Hauser South Africa , IT in Manufacturing
Everyone is talking about the new normal, a shift that is forcing companies to adopt a digital strategy, one way or another, in order to remain relevant and competitive in these unprecedented times. Many 
...
Read more...
---
Fast IT rack launched in South Africa
July 2020, Rittal , IT in Manufacturing
Introducing a new generation of IT racks
Conceived as a universal modular system, the VX IT has been designed for all common applications and its versatility makes it suitable for use as a network and 
...
Read more...
---
Engineering 4.0: Automatic dashboard generation
July 2020, Beckhoff Automation , IT in Manufacturing
Many machine builders and systems integrators looking to transform their business models have identified machine and plant process data as being a core fundamental. When it comes to tailoring new data-driven 
...
Read more...
---