printer friendly version
Festo Automation Suite
Technews Industry Guide: Maintenance, Reliability & Asset Optimisation 2019
IT in Manufacturing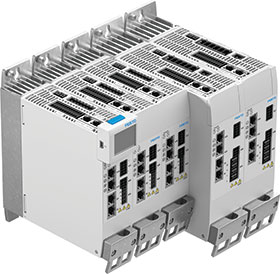 Three functions, one software: the PC-based Festo Automation Suite software combines the parameterisation, programming and maintenance of components in one program. It enables the entire drive package, from the mechanical system to the controller, to be commissioned in just a few intuitive steps.
The free Festo Automation Suite is the main software of the constantly expanding Festo Automation Platform, entering the automation market with numerous new products and solutions from mechanical systems to the cloud. With this software, the parameterisation of servo drives and integration into the control program take no time at all.
Complete connectivity
The software is an important part of the Festo philosophy of complete connectivity i.e. the ability to connect a workpiece completely to the cloud, from its mechanical connections and electrical interfaces to commissioning and controller programming. This simplifies the work of every machine builder and automation engineer when it comes to integrating the mechanical and electric technology, including the control levels and interfaces, with other hardware and software.
The basic functionalities of all Festo components are included in advance. To customise the software, plug-ins or add-ons can be installed directly via the program. Just enter the equipment type or part number and the software will find and install the relevant modules.
Device description data, manuals and application descriptions can be downloaded conveniently from the software without having to open a web browser every time. The overall control concept permits the problem-free commissioning of various devices. These are added to the product and connected to each other via drag and drop functionality.
Only five steps to a ready-to-use drive system
The plug-in of the servo drive CMMT-AS makes configuration and parameterisation child's play, as the integrated commissioning assistant reliably and conveniently leads to a completely functional drive system in just five steps.
Together with the automation system CPX-E, integration into the control system is quick and easy. Where 100 mouse clicks and keyboard operations were once required, only two now suffice. The software automatically integrates all required driver modules into the user program and calculates all important parameters in the background. Optionally, the Codesys add-on enables the further programming of motion control and robotics functions.
Breakthrough in digitalisation
Festo is driving digitalisation forward and helping its customers to enter the age of Industry 4.0. The company is combining its extensive knowledge of industrial applications with the latest developments in information technology to realise online applications for industrial automation practice. Festo is also using digital communication to support its customers throughout the Digital Customer Journey. This guides customers reliably and comprehensively through the Festo portfolio, from information procurement and configuration through ordering and delivery to commissioning and maintenance, and even to the technical training offerings of Festo Didactic.
For more information contact Kershia Beharie, Festo, 086 003 3786, kershia.beharie@festo.com, www.festo.co.za
Credit(s)
Further reading:
Yokogawa's Smart Terminal Automation Solution
April 2019, Yokogawa South Africa , IT in Manufacturing
Yokogawa has accumulated more than two decades of experience in the automation of such terminals and supplied its Terminal Automation Solution to suit varying customer needs.
Read more...
---
Listening to the Voice of the Machine
April 2019, Parker Hannifin Sales Company South , IT in Manufacturing
The value of discrete IoT.
Read more...
---
Measurement data on the lookout for artificial intelligence
April 2019, Phoenix Contact , IT in Manufacturing
In the global race for competitive prices, it is the most efficient processes that win the race.
Read more...
---
IoT-enabled field services improve industrial asset availability
Technews Industry Guide: Maintenance, Reliability & Asset Optimisation 2019 , IT in Manufacturing
Today, many equipment manufacturers are reclaiming the service relationship from the distribution channels with a modern field service management system and remote monitoring.
Read more...
---
Understanding how predictive analytics tools benefit power utility management
Technews Industry Guide: Maintenance, Reliability & Asset Optimisation 2019, IS³ - Industry Software, Solutions & Support , IT in Manufacturing
This paper reviews how predictive analytics tools can be applied to both utility operations and maintenance.
Read more...
---
Seamless acquisition and analysis of plant data
Technews Industry Guide: Maintenance, Reliability & Asset Optimisation 2019, Beckhoff Automation , IT in Manufacturing
TwinCAT Analytics supports the ability to investigate machine optimisation and facilitate predictive maintenance.
Read more...
---
Faster results with a digital twin
April 2019, Siemens Digital Industries , IT in Manufacturing
High tech company Grenzebach's portfolio includes the simulation of material flow in complex plants in the glass industry. To achieve this, Grenzebach uses Siemens' simulation solutions. Together, the 
...
Read more...
---
Mining in the Industry 4.0 era
April 2019 , IT in Manufacturing
Pitram from Micromine can assist mining operations to automate and boost efficiency.
Read more...
---
Stepping carefully into the Fourth Industrial Revolution
April 2019 , IT in Manufacturing
Rapid advances in technology and artificial intelligence in the mining industry raise issues like data protection, intellectual property ownership and legal liability. In the current absence of specific 
...
Read more...
---
Paving the way to digitalisation in oil and gas
April 2019, RJ Connect , IT in Manufacturing
Oil and gas are still indispensable fuels for the global economy, and exploring for new sources of oil and gas remains a lucrative and attractive endeavour. New oil platforms, rigs and pipelines are constantly 
...
Read more...
---