printer friendly version
Hoses and fittings for water blasting
April 2019
Pressure Measurement & Control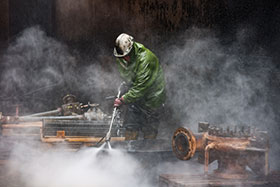 Water blasting is the use of water with high pressure and high speed to clean and treat various surfaces. It can also be used to cut through different solid materials like steel and concrete. The advantage with water cutting compared to laser cutting is that the heat generated is transported away by the water, hence it works for sensitive materials where a laser cannot be used.
The high pressure is achieved by an engine and a pump. When the water passes through a small nozzle or orifice it attains the speed that makes it effective for blasting. If needed the water can include additives like detergent chemicals or abrasives. However, in many applications plain clean water can be used, which makes it an environmentally friendly method.
The equipment for water blasting consists of a motor, pump, water tank, valves, hoses and nozzles. Since the pressure rating is up to 6000 bar, the requirements for the included components are high. It should in some applications also withstand extreme temperatures and abrasives, and also work in harsh environments with abrasion, seawater, ozone, chemicals and extreme temperatures.
WOMA has been producing water jetting equipment for more than 50 years for removal, cleaning and cutting, and can supply stationary as well as mobile units. These are delivered all over the world.
WOMA relies on Parker hoses
WOMA relies on Parker hoses and fittings when building the equipment. The choice of Parker components is based on Parker's reputation for high quality and the fact that WOMA delivers products worldwide, so it is an essential requirement that the hoses and fittings are globally available. The hoses that WOMA uses are Blastopac 1.25 cm rubber hoses and Blueline 1.25 cm thermoplastic hoses with pressure rating up to 6000 bar. This meets the requirements of the global specification DIN EN 1829/2.
Parker Blueline hose range
Blueline is Parker's series of thermoplastic ultra-high pressure hoses. These hoses have up to 35% less weight compared to rubber hoses, which greatly facilitates daily work. They are resistant to many chemicals and abrasion in tough environments, which guarantees a long service life. The Blueline series with the hose types 2388N and 2580N provides a coherent series together with the matching fittings from Parker Polyflex. Another advantage of Parker hoses is their worldwide availability.
Parker Blastopak
Parker Blastopak hose is a completely new hose range with improved performance for water blasting applications. The high performance is a result of the design, with four or six spirals that meet the requirements of water jetting and blasting applications. With its high working pressure from 800 bar in size 16 up to 1100 bar in size -4 to -12, flexibility combined with dedicated interlock fittings ensures superior performance and safety.The safety factor burst/working pressure of 2,5:1 allows the hose to meet the requirements of global specification DIN EN 1829/2 (impulse) in all common hydraulic applications.
WOMA–certified distributor
WOMA is a certified distributor of Parker's ultra-high pressure hoses and fittings, with a facility in Durban. In this facility, hoses and fittings are assembled in order to serve the South African market. Its presence in South Africa gives WOMA an advantage over its competitors.
"We have supplied Parker's Thermoplastic and Blastopak products with our unit builds for over 25 years. It gives us a sense of security that enables us to guarantee the quality of our products to our customers, with aftersales service beyond the norm," says WOMA's Andrew Stocks. "With our longstanding service to the industry, coupled with a vast knowledge and experience gained over this long period, WOMA is rightly perceived as a reliable partner, together with our experience, knowledge and proximity to our customers. We are also quick to respond to customer requests and we can deliver both components and spare parts in a short time period."
For more information contact Lisa de Beer, Parker Hannifin SA, +27 11 961 0700, lisa.debeer@parker.com, www.parker.com/za
Credit(s)
Further reading:
Why does water hammer affect pressure gauges and transmitters?
October 2019, SA Gauge , Pressure Measurement & Control
Water hammer is a high pressure surge or wave created by the kinetic energy of moving fluid when it is rapidly forced to stop or change direction, altering the liquid's velocity. Rapid stopping or starting 
...
Read more...
---
Tough OEM pressure switch from WIKA
October 2019, WIKA Instruments , Pressure Measurement & Control
The PSD-4-ECO pressure switch from WIKA is designed for harsh ambient conditions, and is optimised for OEM integration. With a diameter of 29 mm, the model is very slim and through the arrangement of 
...
Read more...
---
Hygienic pressure transmitter
September 2019, ASSTech Process Electronics + Instrumentation , Pressure Measurement & Control
The pressure transmitter Jumo Taros S46 H – available locally from ASSTech – is designed according to the hygienic requirements for precision measurement and longevity. The high-level protection type 
...
Read more...
---
Electronic pressure gauges for Ex areas
September 2019, Instrotech , Pressure Measurement & Control
Instrotech now offers Keller's range of intrinsically safe electronic pressure gauges for use in areas subject to gas explosion risks. The type approvals are compliant with the ATEX Explosion Protection 
...
Read more...
---
Parker enhances H Series ISO valve portfolio
September 2019, Parker Hannifin Sales Company South , Pneumatics & Hydraulics
Parker Hannifin has added an expanded range of features and capabilities to its H Series ISO valve platform as part of its global focus on factory automation. Designed with a new universal manifold, the 
...
Read more...
---
How the latest pneumatics can reduce plant costs
August 2019, Parker Hannifin Sales Company South , Pneumatics & Hydraulics
The implementation of predictive maintenance has become a high-held ambition for many modern plants, a strategy that avoids the costs of both reactive and scheduled preventative maintenance by only deploying maintenance routines exactly when needed; namely, shortly before a pneumatic component is predicted to fail.
Read more...
---
PS17 differential pressure ­transmitter
August 2019, Vepac Electronics , Pressure Measurement & Control
Differential pressure transmitters are used for regulating HVAC systems and for monitoring filters. The devices can also monitor under and overpressures in cleanrooms or mini-environments. halstrup-walcher, 
...
Read more...
---
The dream team for heat and condensate
August 2019, VEGA Controls SA , Pressure Measurement & Control
An innovative duo of ceramic and metallic measuring cells from VEGA optimises pressure measurement in a distillation process at BASF.
Read more...
---
Staying ahead of industrial cyber-security threats
July 2019, Parker Hannifin Sales Company South , IT in Manufacturing
The consequences of cyber attacks on businesses can be huge, operation downtime, loss of productivity, proprietary information loss, diminished reputation among customers, business partners and investors and disruption of services.
Read more...
---
Pressure sensors for Industry 4.0
Technews Industry Guide: Industrial Internet of Things & Industry 4.0, Turck Banner , Pressure Measurement & Control
Turck's new pressure sensors of the PS+ series offer complete access to sensor parameters via IO-Link.
Read more...
---