printer friendly version
Hoses and fittings for water blasting
April 2019
Pressure Measurement & Control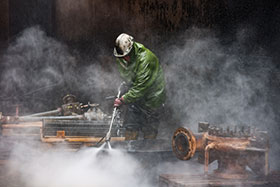 Water blasting is the use of water with high pressure and high speed to clean and treat various surfaces. It can also be used to cut through different solid materials like steel and concrete. The advantage with water cutting compared to laser cutting is that the heat generated is transported away by the water, hence it works for sensitive materials where a laser cannot be used.
The high pressure is achieved by an engine and a pump. When the water passes through a small nozzle or orifice it attains the speed that makes it effective for blasting. If needed the water can include additives like detergent chemicals or abrasives. However, in many applications plain clean water can be used, which makes it an environmentally friendly method.
The equipment for water blasting consists of a motor, pump, water tank, valves, hoses and nozzles. Since the pressure rating is up to 6000 bar, the requirements for the included components are high. It should in some applications also withstand extreme temperatures and abrasives, and also work in harsh environments with abrasion, seawater, ozone, chemicals and extreme temperatures.
WOMA has been producing water jetting equipment for more than 50 years for removal, cleaning and cutting, and can supply stationary as well as mobile units. These are delivered all over the world.
WOMA relies on Parker hoses
WOMA relies on Parker hoses and fittings when building the equipment. The choice of Parker components is based on Parker's reputation for high quality and the fact that WOMA delivers products worldwide, so it is an essential requirement that the hoses and fittings are globally available. The hoses that WOMA uses are Blastopac 1.25 cm rubber hoses and Blueline 1.25 cm thermoplastic hoses with pressure rating up to 6000 bar. This meets the requirements of the global specification DIN EN 1829/2.
Parker Blueline hose range
Blueline is Parker's series of thermoplastic ultra-high pressure hoses. These hoses have up to 35% less weight compared to rubber hoses, which greatly facilitates daily work. They are resistant to many chemicals and abrasion in tough environments, which guarantees a long service life. The Blueline series with the hose types 2388N and 2580N provides a coherent series together with the matching fittings from Parker Polyflex. Another advantage of Parker hoses is their worldwide availability.
Parker Blastopak
Parker Blastopak hose is a completely new hose range with improved performance for water blasting applications. The high performance is a result of the design, with four or six spirals that meet the requirements of water jetting and blasting applications. With its high working pressure from 800 bar in size 16 up to 1100 bar in size -4 to -12, flexibility combined with dedicated interlock fittings ensures superior performance and safety.The safety factor burst/working pressure of 2,5:1 allows the hose to meet the requirements of global specification DIN EN 1829/2 (impulse) in all common hydraulic applications.
WOMA–certified distributor
WOMA is a certified distributor of Parker's ultra-high pressure hoses and fittings, with a facility in Durban. In this facility, hoses and fittings are assembled in order to serve the South African market. Its presence in South Africa gives WOMA an advantage over its competitors.
"We have supplied Parker's Thermoplastic and Blastopak products with our unit builds for over 25 years. It gives us a sense of security that enables us to guarantee the quality of our products to our customers, with aftersales service beyond the norm," says WOMA's Andrew Stocks. "With our longstanding service to the industry, coupled with a vast knowledge and experience gained over this long period, WOMA is rightly perceived as a reliable partner, together with our experience, knowledge and proximity to our customers. We are also quick to respond to customer requests and we can deliver both components and spare parts in a short time period."
For more information contact Lisa de Beer, Parker Hannifin SA, +27 11 961 0700, lisa.debeer@parker.com, www.parker.com/za
Credit(s)
Further reading:
Listening to the Voice of the Machine
April 2019, Parker Hannifin Sales Company South , IT in Manufacturing
The value of discrete IoT.
Read more...
---
New pressure sensor with IO-Link
April 2019, ifm - South Africa , Pressure Measurement & Control
Besides continuous process value monitoring via IO-Link, the new PV type pressure sensor from ifm electronic offers two switching outputs. It also features a compact design with G ¼ process connection 
...
Read more...
---
New pressure switch for process industry
April 2019, WIKA Instruments , Pressure Measurement & Control
WIKA has released a new pressure switch with high switch differential adjustability for the process industry. The model PSM-700 mechanical pressure switch has been designed for control and monitoring 
...
Read more...
---
New Schneider Electric pressure transmitters with FoxCal Technology
March 2019, EOH Process Automation Solutions , Pressure Measurement & Control
Through its Foxboro brand, Schneider Electric continues to provide high-quality instrumentation to customers through the introduction of a multi-tiered pressure transmitter line. The new transmitters 
...
Read more...
---
Compact pressure sensor module
March 2019, WIKA Instruments , Pressure Measurement & Control
With the extremely compact MPR-1 piezo sensor module, WIKA has expanded its portfolio of integrative pressure measurement devices for OEM applications with standardised output signals. With a diameter 
...
Read more...
---
Quality in aftermarket fuel filters
March 2019, Parker Hannifin Sales Company South , Motion Control & Drives
When it comes to replacing the fuel filter element on a light commercial vehicle, such as the Ford Transit, Parker Racor ensures the job is simple, fast and foolproof, thanks to a patented compound bayonet 
...
Read more...
---
Safety exhaust valve for emergency stop
March 2019, Parker Hannifin Sales Company South , IS & Ex
Parker Hannifin has introduced a new safety exhaust valve that rapidly exhausts compressed air in the event of a fault condition or when a machine has an emergency stop. The P33 is designed for two-channel 
...
Read more...
---
Unobtrusive approach to digitalisation
February 2019, Parker Hannifin Sales Company South , IT in Manufacturing
As Industry 4.0 continues to unfold, increasing numbers of manufacturers, big and small, are seeking the best opportunities to increase the automation of their industrial processes and improve productivity. 
...
Read more...
---
Global partnerships for automotive support
January 2019, Parker Hannifin Sales Company South , Motion Control & Drives
Parker Hannifin is a global leader in motion control components and system solutions serving industrial, mobile and automotive markets. Specialising in hydraulics, pneumatics, electromechanics, fluid 
...
Read more...
---
Compact differential pressure transmitter
January 2019, Vepac Electronics , Pressure Measurement & Control
The Halstrup Walcher P 34 series differential pressure transmitter is designed for pressure monitoring applications in cleanrooms, laboratories, pharmaceutical plants and operating theatres as well as 
...
Read more...
---