printer friendly version
Live insight into production processes
March 2019
IT in Manufacturing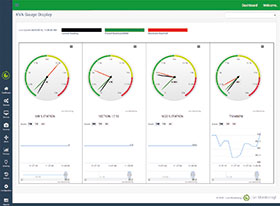 Live Monitoring is a local South African software house that develops MES as well as asset monitoring and energy efficiency systems to provide a competitive edge through cost effective live insight into production processes.
All manufacturing industries face increasingly difficult trading conditions due to a depressed economy, in South Africa this is compounded by rising input costs, especially electricity and labour. In order for them to remain globally competitive therefore, they need to ensure maximum output value from assets and equipment.
ProduMax and PowaMon
ProduMax and PowaMon have been successfully deployed on the shop floor in a number of manufacturing industries. This is especially the case in injection moulding, printing, carpeting and textiles, where clients have indicated they have improved production efficiency by more than 11% and managed to get ROI in a matter of months.
ProduMax is a tool that helps to improve manufacturing efficiencies, reduce downtime and visualise production data. While PowaMon is a live energy consumption data collector, billing, alert and reporting engine, which helps companies visualise their power consumption, set goals and be alerted of issues.
ProduMax enables manufacturers to monitor their production process in real-time. This enables the operators and management to view their efficiency visually and adjust or report on issues as they occur. The data is logged for historical analysis and reporting, which enables the bridging of manufacturing processes between the shop floor and the management processes, an often overlooked link in manufacturing. The ProduMax system also has an alert engine that warns users of events such as machine downtime or performance problems. This allows the timely correction and improves production output before it affects downstream processes.
PowaMon is a specialised module of the LiveMon asset monitoring platform, which collects data from a range of sensors and devices, and is easily extendable when required. PowaMon is also designed to collect data from smart meters installed onsite or remotely. Alerts can be set using the LiveMon core to be sent via SMS or email if data is out of thresholds i.e. low power factor correction etc.
PowaMon and ProduMax enable powerful web services, which allow further data integration and interrogation utilised to produce real data on power consumed per item produced. They allow the fine details to be examined to determine the impact of energy efficiency projects and identify wasted energy usage. Visualisation enables power draw to be monitored against the impact on time of use tariffs for the reduction of consumption during peak periods.
Recent enhancements to the platforms include the Mobile HMI for ProduMax, where users and managers can view and operate the Produmax or LiveMon solution via a tablet or mobile device. Currently biometric integration is being added to allow for positive operations identification and tracking via data streamed into an analytical engine.
Live Monitoring vision
Even though the current LiveMon platform is already IP-based and can be hosted in a virtual environment, Live Monitoring has secured the first round of funding to develop a proof of concept solution that will see the ProduMax, GreenMon and LiveMon functionality built into an IIoT cloud-based solution coupled with dedicated modular sensors for a full end-to-end cloud hosted system that includes a platform for sharing knowledge and ideas.
For more information contact Roger Fraser, Live Monitoring, +27 82 465 9472, admin@livemonitoring.co.za, www.livemonitoring.co.za
Credit(s)
Further reading:
Reliable gas production
September 2019, Siemens Digital Industries , IT in Manufacturing
Energy supplier uses Siemens technology for optimum information exchange.
Read more...
---
Automotive supplier relies on Siemens PLM solution
September 2019, Siemens Digital Industries , IT in Manufacturing
Küster Automotive is an internationally active family-run company and a part of Küster Holding. A full-service supplier, Küster manufactures components for the automotive industry. For its production 
...
Read more...
---
Top tips to help you implement 4IR projects that deliver value
September 2019 , Editor's Choice, IT in Manufacturing
In the just over 10 years I have spent working on IT projects in the manufacturing space, the amount of new fads and IT jargon that has to be adopted has reached the heavens, and ascended into other realms. 
...
Read more...
---
Digitisation requires new skills
September 2019, Schneider Electric South Africa , IT in Manufacturing
Smart grid investments by municipal and public power utilities typically focus on electric distribution and customer systems. The expected benefits include lower costs, better customer service and more 
...
Read more...
---
Industry 4.0: Manufacturing Executing Systems
September 2019, S4 Integration , IT in Manufacturing
Industry 4.0 is set to lead the way for digitisation of manufacturing processes. Manufacturing Executing Systems (MES) are a critical component of Industry 4.0 as they act as an enabler for end-to-end 
...
Read more...
---
Safety and cybersecurity convergence goes beyond safety systems
August 2019 , IT in Manufacturing
However, the scope of safety and cybersecurity goes well beyond process safety systems alone. Across the industrial and infrastructure worlds, an increasing number of end users are adopting more sophisticated 
...
Read more...
---
Mobile app configures level transmitters
August 2019, Emerson Automation Solutions , IT in Manufacturing
Emerson has added the Radar Master app for the AMS Trex Device Communicator, making it easier for field technicians to configure Rosemount radar level transmitters. Radar level devices are critical to 
...
Read more...
---
Yapper: pet food goes digital
August 2019 , IT in Manufacturing
Over the past decade, there has been an increase of the 'pet humanisation' trend, which continues to capture the entire world. Pet owners are caring for and spending on their pets as they would do for 
...
Read more...
---
Artificial intelligence in packaging
August 2019, Beckhoff Automation , IT in Manufacturing
Beckhoff Automation's Benjamin Bruns explains how the company has incorporated machine ­learning as a natural extension of its control platform.
Read more...
---
Tracking, genealogy and FIFO solution at Sumitomo Rubber
August 2019, Altron Bytes Systems Integration , IT in Manufacturing
Sumitomo Rubber South Africa (SRSA), manufacturer of the popular Dunlop, Sumitomo and Falken tyre brands, is a division of Sumitomo Rubber Industries (SRI), headquartered in Kobe, Japan. SRI is ranked 
...
Read more...
---