printer friendly version
Dry-type transformers for water project
March 2019
Electrical Power & Protection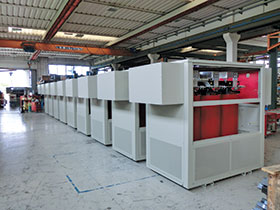 Dry-type transformer specialist Trafo Power Solutions has secured an order for 13 custom-designed cast resin units for Rand Water's large Zuikerbosch Wastewater Treatment Works near Vereeniging.
The water purification and sedimentation facilities at the plant will reportedly provide an additional 600 Ml per day to the system at a project value of R3 billion, as part of efforts to meet growing water demand in Gauteng due to steady population migration into the province.
The transformers being provided by Trafo Power Solutions range in size from 100 kVA to 1 600 kVA and have been modified to include earth fault and surge protection. This is in addition to the standard temperature protection features.
"The key advantages of dry-type transformers in this kind of application are their inherent safety and their ease of installation," says Trafo Power Solutions managing director, David Claassen. "The units can be installed inside built substations rather than having to be placed outdoors with their own civils and infrastructure."
Unlike conventional oil-cooled transformers, the dry-type units do not carry the risk of oil leaks or spillage and hence do not require special mitigation measures to protect the environment. The technology's relative safety also makes them more versatile in terms of the locations in which they may be housed. The units are self-extinguishing and flame-retardant by nature, allowing them to be categorised as 'F1' in terms of international fire ratings.
"The transformers represent state-of-the-art technology from a leader in cast resin transformer products, Hammond Power Solutions (HPS), which has been developing this field for over a century," says Claassen. "We have sourced our custom-designed units from the group's manufacturing facilities in Italy, which boast state-of-the-art expertise and equipment."
While dry-type transformers have been around since the early 1900s, they are becoming increasingly popular in a variety of applications as the price differential compared to conventional transformers is no longer that significant.
For more information contact David Claassen, Trafo Power Solutions, +27 11 325 4007, david@trafo.co.za, www.trafo.co.za
Further reading:
Contactless energy transfer system for an automotive assembly line extension
April 2019, SEW-Eurodrive , Electrical Power & Protection
The Movitrans contactless energy transfer system from SEW-Eurodrive, in conjunction with its Movipro SDC decentralised drive, position and application controller, has played a critical role in an assembly 
...
Read more...
---
VSDs drive cost saving in pumping systems
April 2019, Zest WEG Group , Electrical Power & Protection
WEG variable speed drives (VSDs) offer the agricultural sector the ability to reduce the operating cost on automated water collection systems with a reduction in motor energy consumption when the motor 
...
Read more...
---
Power module with load sharing
April 2019, Accutronics , Electrical Power & Protection
TDK Corporation has announced the introduction of the DRM40 series of DIN rail mount redundancy modules. Two 10 30 V DC inputs are rated at 20 A each and the output at 40 A. A 150% peak load capability 
...
Read more...
---
Cummins technology and innovation
April 2019 , Electrical Power & Protection
Powering a world that's always on
At the recent Middle East Electricity (MEE) exhibition held at the Dubai World Trade Centre, visitors could discover a range of the latest power products, systems and 
...
Read more...
---
Stakeless earth ground loop testing
April 2019, Comtest , Electrical Power & Protection
Testing the grounding components of equipment in hard to reach spaces, including areas that are indoors or fully paved and do not permit driving auxiliary test stakes, is always challenging. Comtest is 
...
Read more...
---
Let there be light
March 2019, RJ Connect , Electrical Power & Protection
Fuel cell system helps channel electricity to rural community.
Read more...
---
Convection cooled 600 W AC-DC supplies
March 2019, Accutronics , Electrical Power & Protection
TDK Corporation has announced the introduction of the GXE600 series of 600 W AC-DC power supplies, certified to the IEC 60601-1 medical safety standard as well as IEC 62368-1. In a 1U high package, these 
...
Read more...
---
Converters for building technology
March 2019, Siemens Digital Factory & Process Indust. & Drives , Electrical Power & Protection
Siemens presented a new converter series at last year's SPS IPC Drives. The converters of the new Sinamics G120X series are especially suited for use in pump and fan applications in industries such as 
...
Read more...
---
EM supplies smart building solutions
March 2019, ElectroMechanica , Electrical Power & Protection
The latest Hager smart solutions for automated building control have been supplied by ElectroMechanica (EM) of Cape Town for Swarovski Lighting's new showroom in Green Point. The leading supplier specified 
...
Read more...
---
Compact motor starter with protection
March 2019, Vepac Electronics , Electrical Power & Protection
The new motor starter Christian P-4.0 from Tele is designed for motors up to 4 kW @ 400 V, and includes five functions in one compact unit, requiring only 22,5 mm width. This intelligent instrument offers 
...
Read more...
---