printer friendly version
Let there be light
March 2019
Electrical Power & Protection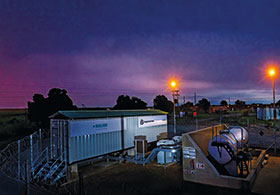 Like many developing countries, South Africa faces an acute power shortage, and the lack of reliable access to electricity is an impediment to economic growth, investment, and development.
Originally designed as a backup power system for telecommunication stations in remote areas, the ME2Power fuel cell has transformed its role into the main power generator for small communities. Chung-Hsin Electric & Machinery's (CHEMs) fuel cell mini-grid system uses platinum as a catalyst and is fuelled by methanol. It generates mostly water as a by-product.
This approach has now become an alternative sustainable energy solution for off-grid communities after completing a two-year pilot run in Naledi Trust community in South Africa. "The government of South Africa is considering a rollout of similar plants in rural areas where the cost of electrification via an expansion of the national power grid is too costly, or technically prohibited," said Amy Liao, director of CHEM's Hydrogen Department.
Improving remote maintenance costs and metrics
CHEM's 5 kW ME2 fuel cell system is integrated into a complete hybrid off-grid energy solution. It includes a battery bank and inverter operating within a micro-grid. A mixture of water and liquid methanol is piped through to these fuel cells where an electrochemical process converts it into hydrogen gas, which is used to generate electricity.
"The theft of the solar PV panels is a common phenomenon in South Africa," explained Liao. "The government of South Africa was eager to find an alternative solution to the problem. Weighing 295 kg, the ME2Power system makes itself a hard target."
The system provides a total of 15 kW of electric power and generates a peak of 70 kW with the support of batteries. It is sufficient to power the 34 households in the Naledi Trust community. Monthly delivery of liquid methanol fuel to an external storage tank enables uninterrupted primary power to these homes.
"It takes a lot of manpower to conduct inspections and manage the logistics of fuel delivery," said Liao. "As all systems are located at remote places, it was a challenge for us to improve our maintenance metrics without a network."
3G helps gain real-time insight
To solve this problem, CHEM integrated Moxa's cellular remote I/O into the fuel cell system. The I/O features dynamic IP access that provides reliable 3G cellular connectivity. CHEM's fuel cell system is currently the only one that offers a remote monitoring function.
"Deploying IIoT technology, fuel cell systems distributed at scattered locations can be fully monitored via a mobile phone. Control sites can check the condition of systems, including power consumption, voltage, power supply time, methanol level and unit sensors, anytime."
In addition to collecting data from sensors at remote sites, Moxa's patented Click&Go Plus If-Then-Else control logic allows CHEM to configure SMS alarms to deliver real-time notifications for handling issues as soon as they arise. "This report by exception approach requires far less bandwidth than traditional polling methods," said Joseph Chang, special assistant of the chairman's office, CHEM.
The IIoT gives rise to Machine-as-a-Service
In addition to saving time and cost on inspections, CHEM can now organise the logistics of fuel delivery and onsite troubleshooting more efficiently. Data from field sites is collected and transmitted to the scada-based control and monitoring centre located in Taiwan.
"This allows us to work more efficiently with our local service provider," explained Chang. "When the scada system receives an abnormal status report, we can immediately inform the local service providers to dispatch maintenance personnel for instant onsite troubleshooting."
"Fuel cell system costs are higher than a diesel-powered generator," added Liao. "In the past, this meant that customers facing budget restrictions did not usually consider purchasing fuel cell systems. But now that the IIoT has transformed our business model, we are transitioning from selling a product to offering Machine-as-a-Service. Rather than relying on a one-time sale, we are charging customers based on machine use and service. This business transformation helps us to generate a new revenue stream in aftermarket services by strengthening our core business in parts, repair, and maintenance. By analysing the collected data, we can help customers improve the efficiency and stability of their operations, and provide predictive maintenance services."
"IIoT technology is also helping our customers to measure their energy usage and manage their budget," concluded Chang. "Consumers can now pay according to actual power generated and consumed. "We will continue to enhance our remote monitoring and control system to improve service quality for customers. As a member of Moxa's Solution Partner Alliance program, CHEM is working hard to integrate GPS into its next generation fuel cell system."
Credit(s)
Further reading:
Paving the way to digitalisation in oil and gas
April 2019, RJ Connect , IT in Manufacturing
Oil and gas are still indispensable fuels for the global economy, and exploring for new sources of oil and gas remains a lucrative and attractive endeavour. New oil platforms, rigs and pipelines are constantly 
...
Read more...
---
Contactless energy transfer system for an automotive assembly line extension
April 2019, SEW-Eurodrive , Electrical Power & Protection
The Movitrans contactless energy transfer system from SEW-Eurodrive, in conjunction with its Movipro SDC decentralised drive, position and application controller, has played a critical role in an assembly 
...
Read more...
---
VSDs drive cost saving in pumping systems
April 2019, Zest WEG Group , Electrical Power & Protection
WEG variable speed drives (VSDs) offer the agricultural sector the ability to reduce the operating cost on automated water collection systems with a reduction in motor energy consumption when the motor 
...
Read more...
---
Power module with load sharing
April 2019, Accutronics , Electrical Power & Protection
TDK Corporation has announced the introduction of the DRM40 series of DIN rail mount redundancy modules. Two 10 30 V DC inputs are rated at 20 A each and the output at 40 A. A 150% peak load capability 
...
Read more...
---
Cummins technology and innovation
April 2019 , Electrical Power & Protection
Powering a world that's always on
At the recent Middle East Electricity (MEE) exhibition held at the Dubai World Trade Centre, visitors could discover a range of the latest power products, systems and 
...
Read more...
---
Stakeless earth ground loop testing
April 2019, Comtest , Electrical Power & Protection
Testing the grounding components of equipment in hard to reach spaces, including areas that are indoors or fully paved and do not permit driving auxiliary test stakes, is always challenging. Comtest is 
...
Read more...
---
Rugged panel computers and displays for tough environments
April 2019, RJ Connect , Industrial Computer Hardware
With the thousands of different monitors available on the market today, you might wonder why industrial users can't find a suitable monitor for their industrial applications. The reason is simple: The 
...
Read more...
---
Convection cooled 600 W AC-DC supplies
March 2019, Accutronics , Electrical Power & Protection
TDK Corporation has announced the introduction of the GXE600 series of 600 W AC-DC power supplies, certified to the IEC 60601-1 medical safety standard as well as IEC 62368-1. In a 1U high package, these 
...
Read more...
---
Moxa's power grid upgrade through easily configurable Modbus gateway
March 2019, RJ Connect , Fieldbus & Industrial Networking
Smart grid is an electrical grid that uses digital communication technology to monitor the status of power consumption and power quality in real time. By using this information, engineers can adjust the 
...
Read more...
---
Dry-type transformers for water project
March 2019 , Electrical Power & Protection
Dry-type transformer specialist Trafo Power Solutions has secured an order for 13 custom-designed cast resin units for Rand Water's large Zuikerbosch Wastewater Treatment Works near Vereeniging. The 
...
Read more...
---