printer friendly version
Let there be light
March 2019
Electrical Power & Protection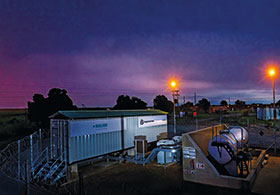 Like many developing countries, South Africa faces an acute power shortage, and the lack of reliable access to electricity is an impediment to economic growth, investment, and development.
Originally designed as a backup power system for telecommunication stations in remote areas, the ME2Power fuel cell has transformed its role into the main power generator for small communities. Chung-Hsin Electric & Machinery's (CHEMs) fuel cell mini-grid system uses platinum as a catalyst and is fuelled by methanol. It generates mostly water as a by-product.
This approach has now become an alternative sustainable energy solution for off-grid communities after completing a two-year pilot run in Naledi Trust community in South Africa. "The government of South Africa is considering a rollout of similar plants in rural areas where the cost of electrification via an expansion of the national power grid is too costly, or technically prohibited," said Amy Liao, director of CHEM's Hydrogen Department.
Improving remote maintenance costs and metrics
CHEM's 5 kW ME2 fuel cell system is integrated into a complete hybrid off-grid energy solution. It includes a battery bank and inverter operating within a micro-grid. A mixture of water and liquid methanol is piped through to these fuel cells where an electrochemical process converts it into hydrogen gas, which is used to generate electricity.
"The theft of the solar PV panels is a common phenomenon in South Africa," explained Liao. "The government of South Africa was eager to find an alternative solution to the problem. Weighing 295 kg, the ME2Power system makes itself a hard target."
The system provides a total of 15 kW of electric power and generates a peak of 70 kW with the support of batteries. It is sufficient to power the 34 households in the Naledi Trust community. Monthly delivery of liquid methanol fuel to an external storage tank enables uninterrupted primary power to these homes.
"It takes a lot of manpower to conduct inspections and manage the logistics of fuel delivery," said Liao. "As all systems are located at remote places, it was a challenge for us to improve our maintenance metrics without a network."
3G helps gain real-time insight
To solve this problem, CHEM integrated Moxa's cellular remote I/O into the fuel cell system. The I/O features dynamic IP access that provides reliable 3G cellular connectivity. CHEM's fuel cell system is currently the only one that offers a remote monitoring function.
"Deploying IIoT technology, fuel cell systems distributed at scattered locations can be fully monitored via a mobile phone. Control sites can check the condition of systems, including power consumption, voltage, power supply time, methanol level and unit sensors, anytime."
In addition to collecting data from sensors at remote sites, Moxa's patented Click&Go Plus If-Then-Else control logic allows CHEM to configure SMS alarms to deliver real-time notifications for handling issues as soon as they arise. "This report by exception approach requires far less bandwidth than traditional polling methods," said Joseph Chang, special assistant of the chairman's office, CHEM.
The IIoT gives rise to Machine-as-a-Service
In addition to saving time and cost on inspections, CHEM can now organise the logistics of fuel delivery and onsite troubleshooting more efficiently. Data from field sites is collected and transmitted to the scada-based control and monitoring centre located in Taiwan.
"This allows us to work more efficiently with our local service provider," explained Chang. "When the scada system receives an abnormal status report, we can immediately inform the local service providers to dispatch maintenance personnel for instant onsite troubleshooting."
"Fuel cell system costs are higher than a diesel-powered generator," added Liao. "In the past, this meant that customers facing budget restrictions did not usually consider purchasing fuel cell systems. But now that the IIoT has transformed our business model, we are transitioning from selling a product to offering Machine-as-a-Service. Rather than relying on a one-time sale, we are charging customers based on machine use and service. This business transformation helps us to generate a new revenue stream in aftermarket services by strengthening our core business in parts, repair, and maintenance. By analysing the collected data, we can help customers improve the efficiency and stability of their operations, and provide predictive maintenance services."
"IIoT technology is also helping our customers to measure their energy usage and manage their budget," concluded Chang. "Consumers can now pay according to actual power generated and consumed. "We will continue to enhance our remote monitoring and control system to improve service quality for customers. As a member of Moxa's Solution Partner Alliance program, CHEM is working hard to integrate GPS into its next generation fuel cell system."
Credit(s)
Further reading:
Next-generation IIoT gateway solutions are transforming manufacturing
Technews Industry Guide: Industrial Internet of Things & Industry 4.0, RJ Connect , Fieldbus & Industrial Networking
Smart manufacturing and digital transformation, coupled with edge intelligence, are enabling manufacturers to increase productivity, reduce downtime, and increase product quality.
Read more...
---
High-performance rackmount computers for Industry 4.0
Technews Industry Guide: Industrial Internet of Things & Industry 4.0, RJ Connect , IT in Manufacturing
With more and more companies implementing IIoT applications, the demand to connect hundreds or thousands of devices to industrial automation systems has increased dramatically. Moxa's DA-720, a high-performance 
...
Read more...
---
Guaranteed power protection
July 2019, Schneider Electric South Africa , Electrical Power & Protection
During energy month, it may be time to assess what equipment in your office or data centre is critical to keep online. Adopting smart uninterruptible power supply (UPS) technology has become the preferred 
...
Read more...
---
Quick transformer turnaround for KZN mine
July 2019 , Electrical Power & Protection
When a mining company in KwaZulu-Natal experienced a transformer failure recently, it was hoping for a quick solution. The mine got one from dry-type transformer specialist Trafo Power Solutions. It took 
...
Read more...
---
UPS for industrial networks
July 2019, Phoenix Contact , Electrical Power & Protection
The new Quint DC UPS uninterruptible power supply can be integrated into established networks, and continues to supply systems without interruption even in the event of a mains failure. It can be integrated 
...
Read more...
---
Smart Grid solutions enhance utility revenue collection
July 2019, Schneider Electric South Africa , Electrical Power & Protection
At African Utility Week in Cape Town, Johan Pretorius, business development manager, Schneider Electric South Africa, presented a paper on 'The Impact of Revenue Collection on Non-Technical Losses'. "The 
...
Read more...
---
Leonardo fitted with backup power by Zest WEG Group
July 2019, Zest WEG Group , Electrical Power & Protection
As Sandton anticipates the completion this year of the Leonardo, the top end mixed-use skyscraper being constructed by Aveng-Grinaker LTA, Level 1 BBBEE-rated Zest WEG Group has supplied generator sets 
...
Read more...
---
UPS with integrated power supply and USB interface
June 2019, Phoenix Contact , Electrical Power & Protection
Supplying critical DC loads safely, increased system availability, confined spaces, and tough ambient conditions present system designers and operators with a variety of challenges.
Read more...
---
Power analysis and energy saving evolved
June 2019, HellermannTyton , Electrical Power & Protection
Advanced power and energy consumption analysis is now available using a smartphone or tablet. The TPQA820 is a true RMS, self-powered 3-phase power quality analyser used to analyse and record the most 
...
Read more...
---
Zest helps farmers find good 'ground'
June 2019, Zest WEG Group , Electrical Power & Protection
According to Zest WEG Group, there are misconceptions around what constitutes 'earth' and 'neutral' connections, and not understanding the differences can create serious problems when connections are 
...
Read more...
---