printer friendly version
Compact soft starters for control of three-phase motors
February 2019
Electrical Power & Protection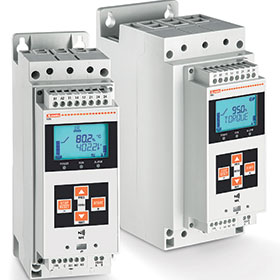 Soft starters limit the inrush current, improving overall stability of the power supply and reducing transient voltage drops, which may affect other loads in a network. They are ideal for applications demanding high-performance in terms of control and protection during motor start-up and operation.
Soft starters can avoid pressure surges and prevent water hammer in pump applications. Conveyor belt systems can be started smoothly, avoiding jerks and other stresses on drive components. Fans, or other systems with belt drives, can be started slowly to avoid belt slipping.
"The new ADXL series from Lovato, distributed by ElectroMechanica (EM), comprises modern, state-of-the-art, compact soft starters for three-phase motors from 7.5 to 160 kW, in four frame sizes," explains EM product manager, Jaap Grobler. "They allow control of starting, stopping, monitoring, and protection, with integrated functionality for an extremely efficient starting solution. A bypass facility is provided on all sizes, which operates when the start-up function has completed, thus reducing power losses and saving energy."
Wide operating voltage in a compact design
A wide operational voltage range of 208 to 600 V AC, a compact design and advanced functionality make the ADXL series a highly efficient solution for most industrial applications. Two-phase control during motor starting and stopping, combined with torque control during operation, provides optimised ramping characteristics.
This ensures smooth start and stop functionality, significantly increasing lifespan of connected motors and power transmission devices. Hence the ADXL series is an excellent choice for pumping applications where water hammer is normally a problem. Kick-start functionality delivers high torque only during the initial starting period, permitting motors to be started when initial torque is insufficient to overcome friction.
The ADXL series is equipped with built-in electronic overload protection, protecting the motor from overheating. No additional overload device is required, saving space and installation time. A backlit LCD icon language-neutral display is incorporated on the fascia for quick and easy configuration and visualisation of all measurements and status parameters.
Alarms and text can be displayed in any of six languages. Icons indicate default application set-up in use, while graphic bars indicate the motor and internal thyristor temperatures, and an alphanumeric display shows texts and measurements as well as the current status of the starter.
Input and output functions are pre-configured to the most common settings, but can be easily overridden to adapt the soft starter to specific application needs. The series incorporates two counters, dedicated to the number of start-ups and motor operating hours, to set possible thresholds for potential maintenance purposes.
Set-up is easy, as the soft starters are supplied pre-configured for most common applications such as centrifugal pumps, fire-fighting pumps, conveyer belts, fans, mixers, and general purpose. Selecting the required application automatically updates the parameter programming.
Programming can be done via the front four button controls, together with the Icon display, or via a front-mounted optical port that can be configured to connect to a computer via USB or WiFi using optional accessories, or simply via NFC (near field communication), using compatible smartphone or tablets, even with the starter turned off.
All starters are equipped to receive a dedicated RS-485 Modbus communication card, permitting constant monitoring of all starter measurements, or to connect to an optional remote keypad with display to view the measurements, or to perform the set-up on the front of the enclosure.
For more information contact Karen Zotter, ElectroMechanica, +27 11 249 5000, karenz@em.co.za, www.em.co.za
Credit(s)
Further reading:
UPS with integrated power supply and USB interface
June 2019, Phoenix Contact , Electrical Power & Protection
Supplying critical DC loads safely, increased system availability, confined spaces, and tough ambient conditions present system designers and operators with a variety of challenges.
Read more...
---
Power analysis and energy saving evolved
June 2019, HellermannTyton , Electrical Power & Protection
Advanced power and energy consumption analysis is now available using a smartphone or tablet. The TPQA820 is a true RMS, self-powered 3-phase power quality analyser used to analyse and record the most 
...
Read more...
---
Zest helps farmers find good 'ground'
June 2019, Zest WEG Group , Electrical Power & Protection
According to Zest WEG Group, there are misconceptions around what constitutes 'earth' and 'neutral' connections, and not understanding the differences can create serious problems when connections are 
...
Read more...
---
BMG enhances efficiency of solar tracking system
June 2019, Bearing Man Group t/a BMG , Electrical Power & Protection
BMG has extended the supply of Varvel gearboxes for small and medium power applications to include customised worm gearboxes for installation in photovoltaic solar tracking systems. "As part of BMG's 
...
Read more...
---
RS Components introduces new Power over Ethernet injectors
June 2019, RS Components SA , Electrical Power & Protection
RS Components has announced availability of a new selection of Power over Ethernet (PoE) single-port mid-span power injectors manufactured by Phihong, a leader in advanced power solutions and a specialist 
...
Read more...
---
Residual circuit breaker with overcurrent protection
Africa Automation Fair 2019 Preview , Electrical Power & Protection
Entek Electric's RCBO models KBL-6 and KBL-10 are used to protect electrical circuits with a high level of reliability in industrial machines or residential buildings. Both models are widely in demand 
...
Read more...
---
New automated drive analyser
Africa Automation Fair 2019 Preview, Comtest , Electrical Power & Protection
Fluke's new MDA-500 Series is designed to easily test and troubleshoot typical problems on three-phase and single-phase inverter type motor drive systems. These are on exhibit at Stands F22-F23. The on-screen 
...
Read more...
---
Miniature circuit breaker
Africa Automation Fair 2019 Preview , Electrical Power & Protection
On show at Stand J04, Entek Electric's MCB models KB-6 and KB-10 are used to protect electrical circuits with a high level of reliability in industrial machines or residential buildings. Both models are 
...
Read more...
---
DIN rail main AC-DC supply
Africa Automation Fair 2019 Preview, Accutronics , Electrical Power & Protection
The DRF960-24-1 DIN rail main AC-DC supply from TDK-Lambda is on show at Stand D06. The output is adjustable from 24–28 V using either the front panel potentiometer or an external source to compensate 
...
Read more...
---
Contactless energy transfer system for an automotive assembly line extension
April 2019, SEW-Eurodrive , Electrical Power & Protection
The Movitrans contactless energy transfer system from SEW-Eurodrive, in conjunction with its Movipro SDC decentralised drive, position and application controller, has played a critical role in an assembly 
...
Read more...
---