printer friendly version
Seapro appointed authorised distributor of Cla-Val for SADC
February 2019
News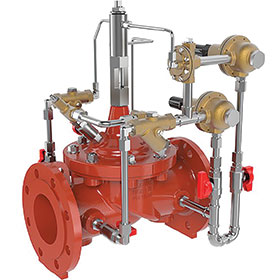 Cla-Val recently appointed Seapro South Africa as its sole agent for the SADC region and also awarded Seapro the right to produce components and assemble valves in South Africa, having appointed a local foundry to cast products to Cla-Val's high standards and specifications. Products will be manufactured under licence and will carry both Cla-Val and Seapro SA branding.
Control valves can save water
South Africa is a water-scarce country and safeguarding the commodity is therefore essential. "Reducing consumption is the right thing to do, but water authorities could also implement other options that could have immediate results, without relying on the actions of individual households, industry and business," says Seapro SA managing director, Pat Stander. "Pressure management is a key parameter that allows water distribution systems to operate at peak while reducing water loss. Using existing system control valves along with technology that is economical and easily accessible can do much to protect water resources."
Local presence, international excellence
Cla-Val has been active in South Africa for more than 40 years, with many city councils, municipalities, water boards and power-generating plants in the region using its control valves.
Using aggressive research and development, and implementing lessons from 80 years of demanding real-world use, the company has created technologically advanced electronic and hydraulic control systems, able to meet the challenges of increasingly complex and diverse applications. In addition, the electronic products can be used to communicate systems performance data using a variety of IT platforms, including the Internet, scada, GSM/cellphone and satellite.
With DTI compliance now in place, Seapro SA with the backing of Cla-Val Switzerland has both the products and technical expertise to assist city councils, municipalities, and water and irrigation boards with their control valve requirements, as well as water loss and water demand management programmes.
For more information contact Pat Stander, Seapro South Africa, +27 11 397 1126, pat@seaprosa.co.za, www.seaprosa.co.za
Further reading:
From the editor's desk: 4IR could solve South Africa's youth unemployment problem
July 2019, Technews Publishing (SA Instrumentation & Control) , News
From 4-6 June, Africa Automation Fair 2019 attracted some 4500 visitors and 131 exhibitors from seven countries, including Australia, China, Germany, South Africa, South Korea, Switzerland and Taiwan. 
...
Read more...
---
Africa Automation Fair 2019 wraps up with strong growth
July 2019, Reed Exhibitions , News
Key event reflects SA's growing interest in IIoT/4IR.
Read more...
---
4IR in South Africa: SAIMC involved from day one.
Technews Industry Guide: Industrial Internet of Things & Industry 4.0 , News
The Fourth Industrial Revolution (4IR), also known as Industry 4.0, has necessitated that countries develop new policies, strategies and innovation plans to enable an inclusive whole-of-society approach 
...
Read more...
---
Announcing MESA's 2019 award winners
July 2019, MESA Africa NPC , News
MESA International has announced this year's winners of the 12th Annual Outstanding Contribution Award. A new Innovative Service award was also announced in honour of long time community member, Tom Bruhn. 
...
Read more...
---
Robin Briggs appointed managing director of BMG
July 2019, Bearing Man Group t/a BMG , News
Robin Briggs has a passion for strategy and a commitment to driving successful business growth in South Africa's industrial sector. He brings to BMG a wealth of product knowledge, a thorough understanding 
...
Read more...
---
Arca receives prestigious award
July 2019 , News
Arca has been awarded the quality label 'Innovative through Research' for the year 2018/2019 by the German Association for the Promotion of Science and Education (Stifterverband für die Deutsche Wissenschaft). 
...
Read more...
---
PoolSense: set to change the face of pool maintenance forever
Technews Industry Guide: Industrial Internet of Things & Industry 4.0 , News
The automatic pool cleaner changed the face of pool cleaning forever, but maintaining the quality of the water has remained a difficult and expensive task. PoolSense is about to change this. An unobtrusive 
...
Read more...
---
Sensear appoints Extech Safety Systems as authorised distributor in sub-Saharan Africa
July 2019, Extech Safety Systems , News
Extech has partnered with Sensear to distribute its products in sub-Saharan Africa. Sensear is a global leader in digital communication and active listening headsets and earplugs for use in high noise 
...
Read more...
---
R&C Instrumentation receives accreditation from Fluke
July 2019, R&C Instrumentation , News
R&C Instrumentation is pleased to announce that the company has received accreditation from Fluke Process Instruments for its Infrared Temperature Calibration facility. This facility is housed in a climate-controlled 
...
Read more...
---
Test Dynamics launched to represent National brands
July 2019, Test Dynamics , News
Test Dynamics has been appointed to provide continued representation of the National Instruments brand following a decision by National Instruments to pursue a distribution model in southern Africa.
...
Read more...
---