Seapro appointed authorised distributor of Cla-Val for SADC
February 2019
News

printer friendly version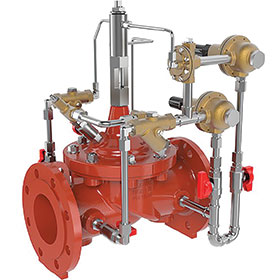 Cla-Val recently appointed Seapro South Africa as its sole agent for the SADC region and also awarded Seapro the right to produce components and assemble valves in South Africa, having appointed a local foundry to cast products to Cla-Val's high standards and specifications. Products will be manufactured under licence and will carry both Cla-Val and Seapro SA branding.
Control valves can save water
South Africa is a water-scarce country and safeguarding the commodity is therefore essential. "Reducing consumption is the right thing to do, but water authorities could also implement other options that could have immediate results, without relying on the actions of individual households, industry and business," says Seapro SA managing director, Pat Stander. "Pressure management is a key parameter that allows water distribution systems to operate at peak while reducing water loss. Using existing system control valves along with technology that is economical and easily accessible can do much to protect water resources."
Local presence, international excellence
Cla-Val has been active in South Africa for more than 40 years, with many city councils, municipalities, water boards and power-generating plants in the region using its control valves.
Using aggressive research and development, and implementing lessons from 80 years of demanding real-world use, the company has created technologically advanced electronic and hydraulic control systems, able to meet the challenges of increasingly complex and diverse applications. In addition, the electronic products can be used to communicate systems performance data using a variety of IT platforms, including the Internet, scada, GSM/cellphone and satellite.
With DTI compliance now in place, Seapro SA with the backing of Cla-Val Switzerland has both the products and technical expertise to assist city councils, municipalities, and water and irrigation boards with their control valve requirements, as well as water loss and water demand management programmes.
For more information contact Pat Stander, Seapro South Africa, +27 11 397 1126, pat@seaprosa.co.za, www.seaprosa.co.za
Further reading:
From the editor's desk: Printing the future
February 2019, Technews Publishing (SA Instrumentation & Control) , News
3D printing – aka additive manufacturing – is the process by which material is solidified layer-on-layer to produce physical objects based on computerised models. While the idea is almost 40 years old 
...
Read more...
---
Siemens and MineSense to develop real-time ore grade measurement solution
February 2019, Siemens Digital Factory & Process Indust. & Drives , News
With ore grades declining, plus added pressures such as rising energy costs and water restrictions, it is increasingly difficult for mining companies to fulfil customer demand by delivering material on 
...
Read more...
---
ABB to power Europe's largest electric car battery factory
February 2019, ABB South Africa , News
LG Chem has selected ABB to provide a substation for Europe's largest electric car battery factory in Poland. Key equipment supplies include transformers, surge arrestors and gas insulated switchgear 
...
Read more...
---
Emerson selected as Industrial IoT company of the year
February 2019, Emerson Automation Solutions , News
Emerson has been named the 'Industrial IoT Company of the Year' by IoT Breakthrough for the second year in a row. The honour recognises Emerson's innovation and leadership in driving IIoT technologies 
...
Read more...
---
New efforts bring hope for Industry 4.0-ready SA workforce
February 2019, Reed Exhibitions , News
Industry 4.0 – smart new automation tools and technologies – are rapidly changing the face of manufacturing and industry around the world. Without a concerted effort to change industry processes and infrastructure, 
...
Read more...
---
Klaus Endress turns 70
February 2019, Endress+Hauser , News
Klaus Endress, current President of the Supervisory Board of the Endress+Hauser Group, who also served for many years as CEO, celebrated his 70th birthday on 9 December 2018. He was born in 1948, the 
...
Read more...
---
Adrian Buddingh joins Rittal South Africa as managing director
February 2019, Rittal , News
Effective as of 1 January, Rittal South Africa is pleased to welcome Adrian Buddingh as the subsidiary's new managing director. Buddingh's engineering expertise, knowledge of the industry and passion 
...
Read more...
---
IoT.nxt delivers results at schools in the USA
February 2019, IoT.nxt , News
Energy cost savings are already being realised at several schools in Florida, USA, that chose IoT.nxt's solution to deliver energy optimisation and reduce consumption. Since installation started in September, 
...
Read more...
---
IS³ - Industry Software, Solutions and Support extends portfolio to AVEVA's Engineer, Construct and Procure Software Solutions
February 2019, IS³ - Industry Software, Solutions & Support , News
IS³ has recently signed an extension to the contract with AVEVA, which now extends its portfolio to include AVEVA's Engineer, Construct and Procure Software Solutions. AVEVA is a global leader in engineering 
...
Read more...
---
Trialling of dry sorter coal-beneficiation solution targeted for 2019
February 2019 , News
Mounting stress on South Africa's water resources, combined with growing concerns about the environmental impact of mining operations, make Aury Africa's dry sorting technology ideal for environmentally-conscious 
...
Read more...
---