printer friendly version
Trialling of dry sorter coal-beneficiation solution targeted for 2019
February 2019
News
Mounting stress on South Africa's water resources, combined with growing concerns about the environmental impact of mining operations, make Aury Africa's dry sorting technology ideal for environmentally-conscious mining houses. The company aims to bring its first dry separator to South Africa for trial at a coal mine in 2019, reveals business development manager, George Sturgeon.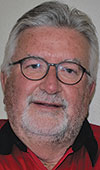 Sydney Parkhouse.
The Telligent Dry Separator (TDS) technology was developed in 2015 and launched locally at the South African Coal Processing Society's biennial conference in 2017. At that time, three operating mines in China were using the equipment. The technology processes raw coal, with an upper throughput of around 400 tph. Aury Africa managing director Sydney Parkhouse explains that coal is conveyed on an enclosed system that incorporates dual X-ray technology and is simple to operate. It can therefore be retrofitted to existing coal-processing plants in various configurations.
The TDS does not use any water during operation, which makes it a fundamentally invaluable technology for 'greening' the coal-mining industry. "There is increasing focus from mines to be environment-friendly, with significant pressure on the coal industry to go 'green'. This technology is a push in that direction," adds Parkhouse.
Currently, 46 TDS systems are either operational, in commissioning, or contracts being signed. Aury Africa is considering different applications for the technology in the complete mineral beneficiation chain. For example, a four tonne sample from a manganese mine in the Northern Cape was sent to Tianjin in China in July for separation trials using the TDS.
"Aury Africa invites mining partners across the commodity spectrum to see how the TDS can improve yield and quality at their mines and ultimately reduce operating and maintenance costs," concludes Parkhouse. "The company is open to procure units for clients in South Africa to trial at their mines, and to show them the benefits of the TDS system."
For more information contact Sydney Parkhouse, Aury Africa, +27 11 026 6642, syd@auryafrica.co.za, www.auryafrica.co.za
Further reading:
From the editor's desk: 4IR could solve South Africa's youth unemployment problem
July 2019, Technews Publishing (SA Instrumentation & Control) , News
From 4-6 June, Africa Automation Fair 2019 attracted some 4500 visitors and 131 exhibitors from seven countries, including Australia, China, Germany, South Africa, South Korea, Switzerland and Taiwan. 
...
Read more...
---
Africa Automation Fair 2019 wraps up with strong growth
July 2019, Reed Exhibitions , News
Key event reflects SA's growing interest in IIoT/4IR.
Read more...
---
4IR in South Africa: SAIMC involved from day one.
Technews Industry Guide: Industrial Internet of Things & Industry 4.0 , News
The Fourth Industrial Revolution (4IR), also known as Industry 4.0, has necessitated that countries develop new policies, strategies and innovation plans to enable an inclusive whole-of-society approach 
...
Read more...
---
Announcing MESA's 2019 award winners
July 2019, MESA Africa NPC , News
MESA International has announced this year's winners of the 12th Annual Outstanding Contribution Award. A new Innovative Service award was also announced in honour of long time community member, Tom Bruhn. 
...
Read more...
---
Robin Briggs appointed managing director of BMG
July 2019, Bearing Man Group t/a BMG , News
Robin Briggs has a passion for strategy and a commitment to driving successful business growth in South Africa's industrial sector. He brings to BMG a wealth of product knowledge, a thorough understanding 
...
Read more...
---
Arca receives prestigious award
July 2019 , News
Arca has been awarded the quality label 'Innovative through Research' for the year 2018/2019 by the German Association for the Promotion of Science and Education (Stifterverband für die Deutsche Wissenschaft). 
...
Read more...
---
PoolSense: set to change the face of pool maintenance forever
Technews Industry Guide: Industrial Internet of Things & Industry 4.0 , News
The automatic pool cleaner changed the face of pool cleaning forever, but maintaining the quality of the water has remained a difficult and expensive task. PoolSense is about to change this. An unobtrusive 
...
Read more...
---
Sensear appoints Extech Safety Systems as authorised distributor in sub-Saharan Africa
July 2019, Extech Safety Systems , News
Extech has partnered with Sensear to distribute its products in sub-Saharan Africa. Sensear is a global leader in digital communication and active listening headsets and earplugs for use in high noise 
...
Read more...
---
R&C Instrumentation receives accreditation from Fluke
July 2019, R&C Instrumentation , News
R&C Instrumentation is pleased to announce that the company has received accreditation from Fluke Process Instruments for its Infrared Temperature Calibration facility. This facility is housed in a climate-controlled 
...
Read more...
---
Test Dynamics launched to represent National brands
July 2019, Test Dynamics , News
Test Dynamics has been appointed to provide continued representation of the National Instruments brand following a decision by National Instruments to pursue a distribution model in southern Africa.
...
Read more...
---