printer friendly version
Intelligent blasting at the forefront of smart mining
January 2019
News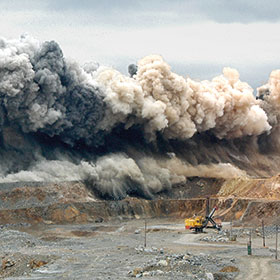 In line with its vision of embracing the technological revolution in the explosives and mining industry, AEL Mining Services, a member of the AECI Group in South Africa, has announced its official rebrand to AEL Intelligent Blasting.
The rebranding is aligned with the company's mission to keep its global operations on the frontier of technology through the delivery of ground-breaking innovations; to offer state-of-the-art technological solutions to clients and to operate sustainably, without harm to people, the environment and the communities in which AEL operates. AEL through its offering aims to demonstrate the intelligence and thought leadership that goes into the execution of the 'perfect blast outcome'.
"Our new branding seeks to capitalise on our successful growth and expansion, and supports our strategy to position the Group as the most intelligent choice in the market when it comes to blasting services and products," says AEL MD, Edwin Ludick.
Through its IntelliBlast total value proposition, AEL deploys solutions that extract optimum value from any blasting operation through the combination of products and services. Each component of the value proposition is backed by an inherent intelligence that helps achieve efficiencies, safety and reduced total cost of ownership through blasting outcomes. AEL's newly-launched Blast Consult team offers expert technical services across a wide range of related disciplines such as blast monitoring, design, timing, fragmentation analysis, technology conversion, consulting services and training in basic blasting principles.
Customer centric
In addition to providing expert technical services to meet the changing needs and challenges of the mining industry, AEL follows the ideal of partnering with customers to bring into realisation the products and services they require to take the mining industry into the era of digitalisation and smart mining.
"By partnering with our customers, we are able to ensure efficient and sustainable blasting practices by focusing on optimal blast outcomes, optimising blasting processes and solving blasting problems," notes Ludick.
Blast optimisation: this focuses on customers' unique requirements and the impact blasting would have on the environment. Safety, as always, is the primary objective. In order to optimise blasting outcomes, AEL has a number of tools and methodologies specifically designed to make scientific and informed decisions around blast performance assessment. The active loading system enables real time information pertaining to blasting parameters, for example: condition of blast hole, types of explosives loaded, quantity of explosives loaded, etc. This information is stored in a database for future analysis, comparison and fine tuning of blast inputs and results.
Mining productivity: this looks at the mining operation holistically to ensure that benefits are derived from improved efficiency in equipment, plant and beneficiation. AEL will conduct various checks to ensure that blasted rock suits and complements the design of equipment and plant. It is supported by AEL's sophisticated blasting software IntelliHub, a suite of software that enables the design, predictive modelling and post blast assessment.
The value proposition that IntelliBlast offers is a fundamental component in the business' global expansion strategy. AEL's market-leading technology is already being used in Indonesia, Australia, South America and various locations in Africa. It has enabled various benefits to customers, such as reductions in blasting delays and improved uniformity of fragmentation while ensuring uncompromised safety at all times.
For more information contact AEL Mining Services, +27 11 606 0000, www.aelminingservices.com
Further reading:
From the Editor's desk: Digital transformation is more than just technology
May 2019, Technews Publishing (SA Instrumentation & Control) , News
While digitalisation offers new ways to increase operational efficiency, we see many companies battling to overcome the challenges. Particularly, they struggle to get past the 'pilot' stage, and are therefore 
...
Read more...
---
A technology evolution unfolds at X-Change 2019
May 2019, IS³ - Industry Software, Solutions & Support , News
IS
3
and AVEVA reimagine asset optimisation and new ways of work in tomorrow's digitally enhanced manufacturing plants.
Read more...
---
Emerson appoints new president for Middle East and Africa
May 2019, Emerson Automation Solutions , News
Emerson has appointed Vidya Ramnath as the new president for its Automation Solutions business in Middle East and Africa.    A 24-year veteran of Emerson, she was most recently vice president for Emerson's 
...
Read more...
---
Emerson and Repsol form strategic alliance
May 2019 , News
Emerson and Repsol have announced a strategic alliance to deliver advanced subsurface geophysical technologies to significantly reduce the time to prospect and produce first oil. To achieve this critical 
...
Read more...
---
Yokogawa establishes Yokogawa Norge
May 2019 , News
Yokogawa Electric Corporation has announced that it has established a subsidiary in Norway to engage in the sale of control products and provision of related services. The subsidiary, Yokogawa Norge, 
...
Read more...
---
Local manufacturing key to economic growth
May 2019 , News
The manufacturing sector in southern Africa is primed to take a more active role in supplying goods to the continent and internationally. Characterised by a pioneering diehard attitude, this sector has 
...
Read more...
---
Iritron welcomes Oculus into the I3Group
May 2019, Iritron , News
Pretoria-based Iritron, a black economic empowered technology company and subsidiary of the I
³
Group, providing quality solutions in the fields of electrical, instrumentation and control systems engineering, 
...
Read more...
---
SKF expands engineering services to address changing customer needs
May 2019, SKF South Africa , News
The last few months have seen SKF South Africa substantially expand its engineering team and services to keep in step with the company's new technology and service developments, as well as to address 
...
Read more...
---
HAW to showcase niche product lines at Nampo 2019
May 2019, Hydraulic & Automation Warehouse , News
Hydraulic and Automation Warehouse (HAW), a Bosch Rexroth South Africa Group Company, will showcase eight of its niche product lines at Nampo 2019. Formally known as Grain SA's Nampo Harvest Day, the 
...
Read more...
---
Hytec appointed service partner to Zollern
May 2019, Hytec South Africa , News
Hytec South Africa has been appointed the southern African service partner to the Drive Technology Unit of Zollern. The partnership allows Hytec South Africa to sell, execute inspections, and conduct 
...
Read more...
---