printer friendly version
Bernhard Klöss takes the wheel at Endress+Hauser South Africa
January 2019
News
Following the move of Rob Mackenzie to Endress+Hauser's Swiss-based head office, the company recently announced its choice of Bernhard Klöss as the new managing director of southern African operations. SA Instrumentation and Control had an opportunity to chat to him about the appointment and his plans for the future.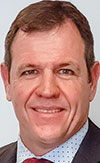 Bernhard Klöss
"Can we offer you something to drink?" he asks, settling himself comfortably into a chair at the beginning of our interview. An engaging man with an obvious love for social interaction, Klöss has a long history in the automation industry since his first job as an engineer at Siemens in 1994. Various moves followed, including back to Siemens for a 14-year stint during which he transitioned from engineering to sales to management. Prior to accepting the Endress+Hauser offer, Klöss led the Industrial Automation and Control team at EOH, which included the flourishing Schneider Electric software portfolio of solutions.
Thoughtful in response to the question about why the move from EOH, by his own admission he was extremely happy there, Klöss explains that the more he learnt about Endress+Hauser, the more impressed he became with the company. "The vision and culture suit me perfectly," as he put it. "Technology innovation is at the cutting-edge and the work environment supports creative thinking through processes that do away with unnecessary red tape. We also never forget the importance of having a little fun along the way. Endress+Hauser truly is a family organisation."
As one would suppose, Endress+Hauser's expectation of its newest regional leader is continued growth and development in sub-Saharan Africa. So what is the strategy?
Put customer problems first
Klöss' enthusiasm for technology shines through whenever we touch on the subject, but that is not the approach he intends to take in the field. "What customers expect from us are solutions that go beyond just measurement and solve every aspect of their instrument-related problems," he explains. "So before we think technology, we have to sit down with them and make sure that we understand those problems entirely, and from their unique process perspective. One of the first things I'll focus on is aligning everyone to the idea that we need to think from an 'holistic solutions' perspective for our customers, not individual products or technologies, no matter how cool we think these may be."
What he is alluding to is that while technology will undoubtedly be the enabler, the choice available today is so wide that one cannot make optimum recommendations without a detailed understanding of each customer's particular constraints. In addition, the modern trend is for end users to rely on their automation vendors for more than just product supply. Klöss believes that the future lies in strategic partnerships and long-term service level agreements, built on the foundation of one of the most advanced portfolio of process measurement solutions in the business. This is not a particularly new approach, but the connected nature of Industry 4.0 has added an extra complexity.
Digitalisation as the X-factor
I asked Klöss about Endress+Hauser's approach to digitalisation and how it fits into the argument he has just outlined. "The most important thing to realise is that you are not selling Industry 4.0," he says disarmingly. "Industry 4.0 is just a platform for connecting people and things to a richer source of information that has never been available before. But if you want it to work for you then you have to deploy it in ways that optimise the customer's own particular supply chain."
The trick then is for vendors to understand exactly where and how their equipment can add value in this context. Klöss explains how Endress+Hauser approached it from two directions. First, at the administrative level, there is the W@M portal designed to provide effective management of a plant's installed base over the entire asset lifecycle. The web-based interface gives plant owners and operators quick access to the information that accelerates processes such as repair or replacement of an instrument, or downloading calibration certificates for inspection. Second, at the edge level, there is the Heartbeat Technology embedded in every new instrument. Designed with predictive maintenance strategies in mind, Heartbeat-enabled instruments run their own diagnostics while in service to ensure process measurements are kept perfectly under control.
"It's a powerful combination of concepts," concludes Klöss. I have to agree. Thanks to smart technology, its customers will in the future be able to track their orders through each step of Endress+Hauser's process, which brings me back to a point Klöss made at the beginning of the interview: "What customers expect from us are solutions that go beyond just measurement to solve every aspect of their instrument-related problems." It seems like he knows exactly how he is going deliver against this.
For more information contact Endress+Hauser, +27 11 262 8000, info@za.endress.com, www.za.endress.com
Credit(s)
Further reading:
From the editor's desk: Is additive manufacturing poised to go mainstream?
March 2021, Technews Publishing (SA Instrumentation & Control) , News
As digital manufacturing technology pushes its way further towards the production floor, additive manufacturing (3D printing) is emerging as a viable option to complement the more traditional methods 
...
Read more...
---
Endress+Hauser holds its ground despite the pandemic
May 2021, Endress+Hauser South Africa , News
Endress+Hauser weathered the 2020 pandemic year well. The Group created new jobs and expanded its global sales and production network.
Read more...
---
SKF bearings help Mars Rover collect samples on the planet's surface
April 2021, SKF South Africa , News
Enabling the Mars Rover's core operations in the harsh environment on Mars are Kaydon RealiSlim thin-section ball bearings, designed and manufactured by SKF.
Read more...
---
Water 4.0 for Botswana
April 2021, Siemens Digital Industries , News
Thanks to automation and electrical engineering from Siemens Solution Partner Moreflow, a new water treatment plant delivers 11 million litres of this precious resource every day.
Read more...
---
Comtest to represent Netscout
April 2021, Comtest , News
Comtest has announced that it now represents Netscout Systems, assuring digital business services against disruptions in availability, performance and security. Netscout's market and technology leadership 
...
Read more...
---
BMG says yes to South Africa's Youth Employment Service Programme
May 2021 , News
BMG is participating in South Africa's Youth Employment Service (YES) Programme, a joint initiative between the Government and private sector.
Read more...
---
UIC has relocated
May 2021 , News
After 46 years at its current premises, UIC has moved. Director, Guy Watkins, remarked that COVID-19 led the company to regroup and consolidate operations, making it leaner and more efficient, adding 
...
Read more...
---
From the editor's desk: Quantum sensors might soon be commercially available
May 2021, Technews Publishing (SA Instrumentation & Control) , News
In 1927, at a conference in Brussels, a new theory burst onto the scene. The literati of the day's theoretical physicists had gathered to hammer out an accurate description of the nature of matter on 
...
Read more...
---
Africa Automation Technology Fair postponed to 9-11 May, 2023. Virtual Connect! launched
May 2021, Reed Exhibitions , News
The Africa Automation Technology Fair (AATF) has made the decision to postpone the September 2021 in-person event and reschedule it for 9-11 May 2023.
Read more...
---
New devices from Endress+Hauser connect pressure measurement to the future
May 2021, Endress+Hauser South Africa , Editor's Choice
By implementing a Bluetooth interface, devices that were previously difficult to access, or in danger zones, can now be operated easily and safely.
Read more...
---