printer friendly version
Skyriders uses drones to complete boiler inspection at Medupi
January 2019
News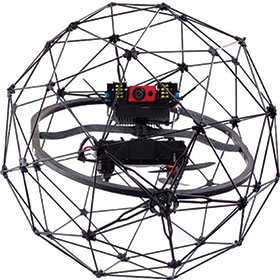 One of the largest boiler inspections ever undertaken using drones in South Africa was recently completed by Skyriders on Unit 6 at Eskom's Medupi Power Station. The project was distinguished by its sheer size, with Unit 6 a towering 80 metres high. In addition, a full internal inspection had to be conducted of the entire furnace area, from the bottom all the way up to the super heater elements. This was especially important as it was the first time that the boiler had been inspected thoroughly since start up.
Skyriders' marketing manager Mike Zinn explains that from the outset the decision was to deploy the company's proprietary Elios collision-tolerant drone technology. Imported from Switzerland, the hi-tech drone includes a full HD camera, a thermal camera, and an on-board LED lighting system with remotely adjustable intensity. The drone can be brought into inaccessible places up to many hundred metres beyond line of sight due to the wireless communications system and live video feedback. The collision-tolerance feature means it can enter furnace areas easily, and even go right up to a burner for close inspection, without any danger of crashing or causing damage.
The drone was operated by trained pilots, accompanied by a Level 2 boiler inspector, obviating the risk of any staff having to enter the boiler themselves and also making the inspection much quicker to perform. Skyriders opted to use SkyEye technology because it is designed specifically for such arduous conditions. First of all, the boiler was switched off, and subjected to a forced cooling period so that the drone could enter safely. Thereafter, the drone was piloted inside in order to carry out a full boiler inspection.
For more information contact Mike Zinn, Skyriders, +27 11 312 1418, mike@ropeaccess.co.za, www.ropeaccess.co.za
Further reading:
From the Editor's desk: Digital transformation is more than just technology
May 2019, Technews Publishing (SA Instrumentation & Control) , News
While digitalisation offers new ways to increase operational efficiency, we see many companies battling to overcome the challenges. Particularly, they struggle to get past the 'pilot' stage, and are therefore 
...
Read more...
---
A technology evolution unfolds at X-Change 2019
May 2019, IS³ - Industry Software, Solutions & Support , News
IS
3
and AVEVA reimagine asset optimisation and new ways of work in tomorrow's digitally enhanced manufacturing plants.
Read more...
---
Emerson appoints new president for Middle East and Africa
May 2019, Emerson Automation Solutions , News
Emerson has appointed Vidya Ramnath as the new president for its Automation Solutions business in Middle East and Africa.    A 24-year veteran of Emerson, she was most recently vice president for Emerson's 
...
Read more...
---
Emerson and Repsol form strategic alliance
May 2019 , News
Emerson and Repsol have announced a strategic alliance to deliver advanced subsurface geophysical technologies to significantly reduce the time to prospect and produce first oil. To achieve this critical 
...
Read more...
---
Yokogawa establishes Yokogawa Norge
May 2019 , News
Yokogawa Electric Corporation has announced that it has established a subsidiary in Norway to engage in the sale of control products and provision of related services. The subsidiary, Yokogawa Norge, 
...
Read more...
---
Local manufacturing key to economic growth
May 2019 , News
The manufacturing sector in southern Africa is primed to take a more active role in supplying goods to the continent and internationally. Characterised by a pioneering diehard attitude, this sector has 
...
Read more...
---
Iritron welcomes Oculus into the I3Group
May 2019, Iritron , News
Pretoria-based Iritron, a black economic empowered technology company and subsidiary of the I
³
Group, providing quality solutions in the fields of electrical, instrumentation and control systems engineering, 
...
Read more...
---
SKF expands engineering services to address changing customer needs
May 2019, SKF South Africa , News
The last few months have seen SKF South Africa substantially expand its engineering team and services to keep in step with the company's new technology and service developments, as well as to address 
...
Read more...
---
HAW to showcase niche product lines at Nampo 2019
May 2019, Hydraulic & Automation Warehouse , News
Hydraulic and Automation Warehouse (HAW), a Bosch Rexroth South Africa Group Company, will showcase eight of its niche product lines at Nampo 2019. Formally known as Grain SA's Nampo Harvest Day, the 
...
Read more...
---
Hytec appointed service partner to Zollern
May 2019, Hytec South Africa , News
Hytec South Africa has been appointed the southern African service partner to the Drive Technology Unit of Zollern. The partnership allows Hytec South Africa to sell, execute inspections, and conduct 
...
Read more...
---