printer friendly version
The Engineering Institute of Technology celebrates 2018 African graduates
December 2018
News
Some 60 graduates from 10 African nations attended the Engineering Institute of Technology's (EIT) 2018 African Graduation Gala, held recently in South Africa. The online learning platform reaches EIT students in their homelands around Africa, and indeed the world. Graduates were addressed by the CEO of the South African Council of Engineering (ECSA), Sipho Madonsela and Johan Maartens, COO of The Society for Automation, Instrumentation, Measurement and Control (SAIMC), who both noted that with the Fourth Industrial Revolution in full swing, the work EIT is doing is invaluable.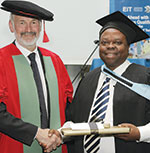 Steve Mackay (left) with Sipho Madonsela.
Other speakers included EIT instructors Terry Cousins and Tom Neilings, who noted the speed with which technology is advancing since the advent of the Internet. EIT's Dean of Engineering, Steve Mackay, honoured some of the college's most dedicated students, while Graduate of the Year, Johannes Kapeuasha, joined proceedings via webcam and spoke about how EIT had contributed to his promotion from security guard to industrial security technician. The runner-up award for Graduate of the Year went to Jo-Ann Hogan.
Student Ambassador of the Year, Tatenda Nherera, received his Advanced Diploma of Electrical and Instrumentation Engineering for Oil and Gas Facilities. He delivered a speech about the benefits of EIT's distance learning philosophy and proudly vouched for its success and the fact that EIT' understands that students are also working in the field while trying to complete their studies.
Zimbabwe's Algate Panyika Mtemah was named Honorary Student of the Year for the way he assisted fellow students transfer money from Zimbabwe to South Africa to pay for their tuition fees. The event concluded with lunch and a networking opportunity for the graduates in attendance.
For more information contact Apolonia Pamuri, Engineering Institute of Technology, +27 11 024 5520/5, apolonia.pamuri@eit.edu.au, www.eit.edu.au
Further reading:
Hitachi ABB Power Grids commences operations
June 2020, ABB South Africa , News
In accordance with the agreement signed on 17 December 2018, Hitachi and ABB have announced the completion of all required procedures as planned and the formation of Hitachi ABB Power Grids Ltd. on 1 
...
Read more...
---
Zest grows Africa base with local partners
June 2020, Zest WEG Group , News
"The key to sustainable growth in Africa is partnering with locally owned companies which have proven track records, are technically sound, have strong market knowledge and a business culture aligned 
...
Read more...
---
Gas control products for Covid-19
June 2020, Fluid Systems Africa , News
Fluid Systems Africa (FSA) is the authorised distributor for Gas Control Equipment (GCE) in Africa, and supplies a wide range of healthcare and high-purity products. The global spread of Covid-19 
...
Read more...
---
Cummins ReCon parts a cost-effective alternative
June 2020 , News
Cummins ReCon parts are not just repaired or rebuilt, but are remanufactured to meet or exceed your engine's original specifications for performance, reliability and durability. These parts also include 
...
Read more...
---
Thermometer guns on coronavirus front lines: accurate or not?
June 2020, SA Gauge , News
If you have not already had your temperature taken before entering a public building, there is a good chance you soon will. It has become an iconic image of the coronavirus outbreak worldwide: a masked 
...
Read more...
---
Africa Automation Technology Fair hosts successful first virtual event
June 2020, Reed Exhibitions , News
The Africa Automation Technology Fair (AATF) organiser, Reed Exhibitions, has launched a series of virtual events and successfully started hosting them. The first was held on 2 July. Aptly named the Launch 
...
Read more...
---
ARCA delivers control valves for biomass heat and power plant
June 2020, Valve & Automation , News
Kronospan, a global manufacturer of chipboards, laminated flooring and worktops, has been working with the 'Factory Of The Future', EU's project to reduce CO
2
emissions and other environmental impacts 
...
Read more...
---
RS Components extends distribution partnership with Rockwell Automation
June 2020, RS Components SA , News
RS Components has announced a partnership with Rockwell Automation, a global leader in industrial automation and digital transformation. With immediate effect, RS is also authorised to supply Rockwell 
...
Read more...
---
Experience digitalisation at the Festo Virtual Exhibition
June 2020, Festo South Africa , News
Festo is breaking new ground with its first-ever Virtual Exhibition scheduled to take place from the 15-16 July. Visitors will get to experience digitalisation as never before. This exhibition will be 
...
Read more...
---
Varispeed delivers a customised control system solution in KZN
June 2020, Varispeed (Div of Hudaco Trading) , News
Varispeed recently partnered with a prominent local cable manufacturer to upgrade an existing, outdated control system.      
The project
"This customer had been looking to upgrade the control system 
...
Read more...
---