printer friendly version
The Engineering Institute of Technology celebrates 2018 African graduates
December 2018
News
Some 60 graduates from 10 African nations attended the Engineering Institute of Technology's (EIT) 2018 African Graduation Gala, held recently in South Africa. The online learning platform reaches EIT students in their homelands around Africa, and indeed the world. Graduates were addressed by the CEO of the South African Council of Engineering (ECSA), Sipho Madonsela and Johan Maartens, COO of The Society for Automation, Instrumentation, Measurement and Control (SAIMC), who both noted that with the Fourth Industrial Revolution in full swing, the work EIT is doing is invaluable.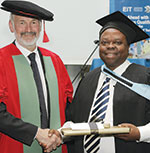 Steve Mackay (left) with Sipho Madonsela.
Other speakers included EIT instructors Terry Cousins and Tom Neilings, who noted the speed with which technology is advancing since the advent of the Internet. EIT's Dean of Engineering, Steve Mackay, honoured some of the college's most dedicated students, while Graduate of the Year, Johannes Kapeuasha, joined proceedings via webcam and spoke about how EIT had contributed to his promotion from security guard to industrial security technician. The runner-up award for Graduate of the Year went to Jo-Ann Hogan.
Student Ambassador of the Year, Tatenda Nherera, received his Advanced Diploma of Electrical and Instrumentation Engineering for Oil and Gas Facilities. He delivered a speech about the benefits of EIT's distance learning philosophy and proudly vouched for its success and the fact that EIT' understands that students are also working in the field while trying to complete their studies.
Zimbabwe's Algate Panyika Mtemah was named Honorary Student of the Year for the way he assisted fellow students transfer money from Zimbabwe to South Africa to pay for their tuition fees. The event concluded with lunch and a networking opportunity for the graduates in attendance.
For more information contact Apolonia Pamuri, Engineering Institute of Technology, +27 11 024 5520/5, apolonia.pamuri@eit.edu.au, www.eit.edu.au
Further reading:
From the editor's desk: Predictive maintenance drives asset performance
Technews Industry Guide: Maintenance, Reliability & Asset Optimisation 2019, Technews Publishing (SA Instrumentation & Control) , News
The modern trend in maintenance, repair and overhaul (MRO) tactics is to deploy a combination of continuous monitoring and cloud-based predictive analytic solutions. The underlying principle is early 
...
Read more...
---
From the editor's desk: A real case for artificial intelligence
April 2019, Technews Publishing (SA Instrumentation & Control) , News
For many manufacturers, the era of mass production is drawing to a close. Changes in consumer behaviour have forced them to rethink their 'economies of scale' approaches as they reorganise to answer the 
...
Read more...
---
Inductive Automation and FreeWave Technologies partner to provide increased data visibility
April 2019 , News
Inductive Automation, an industrial automation software innovator with a focus on transforming the user experience, and FreeWave Technologies, a leader in long-range wireless radios and edge computing 
...
Read more...
---
ABB and BP celebrate global MEC frame agreement
April 2019, ABB South Africa , News
BP has appointed ABB as one of its global main electrical contractors (MEC) for the provision of engineering, procurement and construction of electrical equipment for BP Upstream Major Capital Projects. 
...
Read more...
---
Rockwell Automation and Schlumberger announce joint venture
April 2019, Rockwell Automation , News
Rockwell Automation and Schlumberger have announced an agreement to create a new joint venture, Sensia, the first fully integrated digital oilfield automation solutions provider. The Sensia joint venture 
...
Read more...
---
Electra Mining Botswana
April 2019, Specialised Exhibitions Montgomery , News
Now in its fourth edition, Botswana's leading mining, industrial and power generation expo returns in September together with the recently launched A-OSH Expo Botswana. Taking place at the Gaborone Fairgrounds 
...
Read more...
---
Mecosa has moved
April 2019, Mecosa , News
Mecosa is pleased to announce that it has moved to new premises. The following changes come into effect immediately. All deliveries and collections must be done via the following address: Mecosa (Pty) 
...
Read more...
---
Ten years of emerging enterprise and graduate development
April 2019 , News
Bosch Ulwazi marks its tenth anniversary this year, with a track record in the advancement of engineering skills across South Africa. The company was established in 2009 as a subsidiary of Bosch Holdings 
...
Read more...
---
SA Gauge receives SANAS accreditation
April 2019, SA Gauge , News
Temperature and pressure gauge manufacturer, SA Gauge recently received the South African National Accreditation System (SANAS) accreditation conforming to the ISO/IEC 17025 standard for temperature calibration. 
...
Read more...
---
SEW-Eurodrive drives for Greenfield coal mine
April 2019, SEW-Eurodrive , News
A Greenfield coal mine in the Mpumalanga coalfields region has standardised on drives from SEW-Eurodrive for its entire conveyor belt system. This entailed a massive 27-unit order that was assembled at 
...
Read more...
---