printer friendly version
The Engineering Institute of Technology celebrates 2018 African graduates
December 2018
News
Some 60 graduates from 10 African nations attended the Engineering Institute of Technology's (EIT) 2018 African Graduation Gala, held recently in South Africa. The online learning platform reaches EIT students in their homelands around Africa, and indeed the world. Graduates were addressed by the CEO of the South African Council of Engineering (ECSA), Sipho Madonsela and Johan Maartens, COO of The Society for Automation, Instrumentation, Measurement and Control (SAIMC), who both noted that with the Fourth Industrial Revolution in full swing, the work EIT is doing is invaluable.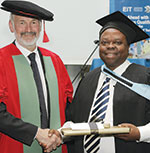 Steve Mackay (left) with Sipho Madonsela.
Other speakers included EIT instructors Terry Cousins and Tom Neilings, who noted the speed with which technology is advancing since the advent of the Internet. EIT's Dean of Engineering, Steve Mackay, honoured some of the college's most dedicated students, while Graduate of the Year, Johannes Kapeuasha, joined proceedings via webcam and spoke about how EIT had contributed to his promotion from security guard to industrial security technician. The runner-up award for Graduate of the Year went to Jo-Ann Hogan.
Student Ambassador of the Year, Tatenda Nherera, received his Advanced Diploma of Electrical and Instrumentation Engineering for Oil and Gas Facilities. He delivered a speech about the benefits of EIT's distance learning philosophy and proudly vouched for its success and the fact that EIT' understands that students are also working in the field while trying to complete their studies.
Zimbabwe's Algate Panyika Mtemah was named Honorary Student of the Year for the way he assisted fellow students transfer money from Zimbabwe to South Africa to pay for their tuition fees. The event concluded with lunch and a networking opportunity for the graduates in attendance.
For more information contact Apolonia Pamuri, Engineering Institute of Technology, +27 11 024 5520/5, apolonia.pamuri@eit.edu.au, www.eit.edu.au
Further reading:
Plan your media strategy with Technews Publishing
November 2019 , News
Dear Marketer, Have you ever looked back on a year and wondered how you survived it? For the majority of South Africans, 2019 started benignly enough, cosily wrapped in the blanket of Ramaphoria that 
...
Read more...
---
From the editor's desk: The power of 23
December 2019, Technews Publishing (SA Instrumentation & Control) , News
Have you ever looked back on a year and wondered how you survived it? For the majority of South Africans, 2019 was such a year. It started benignly enough, cosily wrapped in the blanket of Ramaphoria 
...
Read more...
---
Robust absolute linear position measurement
December 2019, ATI Systems , News
Temposonics, an MTS Systems company, is a leading supplier of magnetostrictive sensors, which are rapidly becoming the transducers of choice in many applications.
Read more...
---
Honeywell helps transform petrochemical operations
December 2019, Honeywell ACS South Africa , News
Honeywell has announced that Braskem Idesa has adopted a hands-free, wearable connected technology solution at its plant in Veracruz, Mexico. Honeywell's Intelligent Wearables will allow Braskem Idesa 
...
Read more...
---
Lonza selects Rockwell Automation for digital transformation of pharmaceutical operations
December 2019, Rockwell Automation , News
Lonza has selected Rockwell Automation for the turnkey implementation of the strategic vision to bring the digital factory to nine facilities that manufacture drug capsules. The Swiss-based company, founded 
...
Read more...
---
Rocket car arrives in South Africa
December 2019 , News
The Bloodhound LSR car has arrived at Hakskeenpan, the dry salt lake bed in South Africa's northern Cape province, where over the next month a 25-strong crew will run tests that may see it exceed 800 
...
Read more...
---
Europe's largest-ever Emerson Users Conference to be held in Milan
December 2019, Emerson Automation Solutions , News
The largest-ever Emerson Global Users Exchange in Europe will be taking place in Milan, Italy, in 2020. The biennial conference will be held at the Milano Convention Centre from March 18 to 20, with current 
...
Read more...
---
World record for Festo's BionicOpter
December 2019, Festo , News
The Festo BionicOpter will be included in the 2020 Guinness World Records. The chapter 'Robots' presents the most amazing records from the world of super robots and artificial intelligence. The Festo 
...
Read more...
---
BMG's Food & Beverage Expo voted a success
December 2019, Bearing Man Group t/a BMG , News
BMG's recent Food & Beverage Expo, held at the BMG World distribution and engineering facility, has been voted a great success. "Highlights of the event included presentations from guest speaker, Linda 
...
Read more...
---
BI leverages synergies across Hudaco Group
December 2019 , News
As part of the Hudaco Group, Bearings International (BI) is able to leverage synergies across a broad range of companies, meaning it can offer a complete product basket across its branch network countrywide. In 
...
Read more...
---