printer friendly version
The Engineering Institute of Technology celebrates 2018 African graduates
December 2018
News
Some 60 graduates from 10 African nations attended the Engineering Institute of Technology's (EIT) 2018 African Graduation Gala, held recently in South Africa. The online learning platform reaches EIT students in their homelands around Africa, and indeed the world. Graduates were addressed by the CEO of the South African Council of Engineering (ECSA), Sipho Madonsela and Johan Maartens, COO of The Society for Automation, Instrumentation, Measurement and Control (SAIMC), who both noted that with the Fourth Industrial Revolution in full swing, the work EIT is doing is invaluable.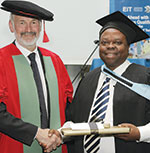 Steve Mackay (left) with Sipho Madonsela.
Other speakers included EIT instructors Terry Cousins and Tom Neilings, who noted the speed with which technology is advancing since the advent of the Internet. EIT's Dean of Engineering, Steve Mackay, honoured some of the college's most dedicated students, while Graduate of the Year, Johannes Kapeuasha, joined proceedings via webcam and spoke about how EIT had contributed to his promotion from security guard to industrial security technician. The runner-up award for Graduate of the Year went to Jo-Ann Hogan.
Student Ambassador of the Year, Tatenda Nherera, received his Advanced Diploma of Electrical and Instrumentation Engineering for Oil and Gas Facilities. He delivered a speech about the benefits of EIT's distance learning philosophy and proudly vouched for its success and the fact that EIT' understands that students are also working in the field while trying to complete their studies.
Zimbabwe's Algate Panyika Mtemah was named Honorary Student of the Year for the way he assisted fellow students transfer money from Zimbabwe to South Africa to pay for their tuition fees. The event concluded with lunch and a networking opportunity for the graduates in attendance.
For more information contact Apolonia Pamuri, Engineering Institute of Technology, +27 11 024 5520/5, apolonia.pamuri@eit.edu.au, www.eit.edu.au
Further reading:
From the editor's desk: 4IR could solve South Africa's youth unemployment problem
July 2019, Technews Publishing (SA Instrumentation & Control) , News
From 4-6 June, Africa Automation Fair 2019 attracted some 4500 visitors and 131 exhibitors from seven countries, including Australia, China, Germany, South Africa, South Korea, Switzerland and Taiwan. 
...
Read more...
---
Africa Automation Fair 2019 wraps up with strong growth
July 2019, Reed Exhibitions , News
Key event reflects SA's growing interest in IIoT/4IR.
Read more...
---
4IR in South Africa: SAIMC involved from day one.
Technews Industry Guide: Industrial Internet of Things & Industry 4.0 , News
The Fourth Industrial Revolution (4IR), also known as Industry 4.0, has necessitated that countries develop new policies, strategies and innovation plans to enable an inclusive whole-of-society approach 
...
Read more...
---
Announcing MESA's 2019 award winners
July 2019, MESA Africa NPC , News
MESA International has announced this year's winners of the 12th Annual Outstanding Contribution Award. A new Innovative Service award was also announced in honour of long time community member, Tom Bruhn. 
...
Read more...
---
Robin Briggs appointed managing director of BMG
July 2019, Bearing Man Group t/a BMG , News
Robin Briggs has a passion for strategy and a commitment to driving successful business growth in South Africa's industrial sector. He brings to BMG a wealth of product knowledge, a thorough understanding 
...
Read more...
---
Arca receives prestigious award
July 2019 , News
Arca has been awarded the quality label 'Innovative through Research' for the year 2018/2019 by the German Association for the Promotion of Science and Education (Stifterverband für die Deutsche Wissenschaft). 
...
Read more...
---
PoolSense: set to change the face of pool maintenance forever
Technews Industry Guide: Industrial Internet of Things & Industry 4.0 , News
The automatic pool cleaner changed the face of pool cleaning forever, but maintaining the quality of the water has remained a difficult and expensive task. PoolSense is about to change this. An unobtrusive 
...
Read more...
---
Sensear appoints Extech Safety Systems as authorised distributor in sub-Saharan Africa
July 2019, Extech Safety Systems , News
Extech has partnered with Sensear to distribute its products in sub-Saharan Africa. Sensear is a global leader in digital communication and active listening headsets and earplugs for use in high noise 
...
Read more...
---
R&C Instrumentation receives accreditation from Fluke
July 2019, R&C Instrumentation , News
R&C Instrumentation is pleased to announce that the company has received accreditation from Fluke Process Instruments for its Infrared Temperature Calibration facility. This facility is housed in a climate-controlled 
...
Read more...
---
Test Dynamics launched to represent National brands
July 2019, Test Dynamics , News
Test Dynamics has been appointed to provide continued representation of the National Instruments brand following a decision by National Instruments to pursue a distribution model in southern Africa.
...
Read more...
---