printer friendly version
Endress+Hauser introduces Memosens chlorine dioxide sensor
June 2018
Analytical Instrumentation & Environmental Monitoring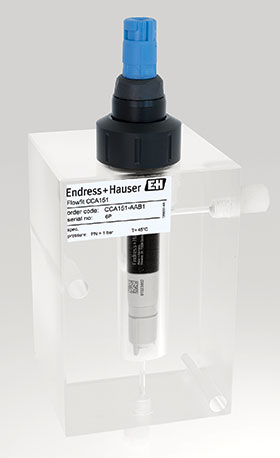 Endress+Hauser's new Memosens CCS50D chlorine dioxide sensor supports safe and effective disinfection for clean drinking water, pathogen-free cooling water and high-quality process water.
Systematic disinfection is an essential step in water treatment and legally required in many areas to protect people and systems from illness or damage. However, high doses of disinfectants such as chlorine and chlorine dioxide can be toxic, which means compliance with limit values for those disinfectants is also very important. The Memosens CCS50D chlorine dioxide sensor helps to achieve a safe and efficient disinfection by providing stable and fast measured values.
Safety through long-term stability
The chlorine dioxide sensor features a convex membrane made of dense, dirt-repellent material that prevents soiling and makes it resistant to biofouling. Ultrasonic welding of the membrane to the sensor cap ensures integrity, preventing dilution of the electrolyte. This guarantees long-term stable measurements and gives a plant manager the security that the disinfection process is running smoothly and the required results are achieved. High stability naturally also reduces maintenance.
Minimise water loss
Drinking water is a precious resource. That is why minimum water loss is an important factor in drinking water preparation. Memosens CCS50D is able to deliver reliable disinfection measurements at low flow rates. In combination with the Flowfit CCA151 assembly, for example, the required flow rate is as low as 5 l/h, which means only a minimum amount of water is consumed in the bypass and the required disposal capacities are reduced.
Save on disinfection chemicals
Many skids in the food and beverage industry use chlorine dioxide for disinfection. These skids provide only small-volume samples for dosing control. Thanks to its special membrane design, Memosens CCS50D provides a fast response time and supports precise dosing of chlorine dioxide even in these skids, leading to safe disinfection and cost savings for chemicals.
Increase process uptime
The chlorine dioxide sensor is equipped with the proven Memosens technology by Endress+Hauser. Memosens allows for direct commissioning of new sensors without further calibration. During on-going operation, plant operators can pre-calibrate sensors in the lab, swap them into the process with plug-and-play, and thus continue measuring faster. Finally, contactless data transmission eliminates all measurement errors or even failures caused by humidity or corrosion.
Disinfection
Disinfection, based on chlorine dioxide is becoming more relevant and is becoming a disinfectant of choice because its handling has become easier. Today, chlorine dioxide is available as a ready-to-use solution that does not require manual mixing or the application of chemical generators. Memosens CCS50D is the perfect sensor to support this trend. It helps plant managers comply with strict legal requirements on disinfection, whether it is in drinking water treatment, cooling systems, wash water for packed vegetables and salads, beverage production or desalination plants.
For more information contact Jan Swart, Endress+Hauser, +27 (0)11 262 8000, jan.swart@za.endress.com, www.za.endress.com
Credit(s)
Further reading:
Ready for use anywhere
August 2021, Endress+Hauser South Africa , Level Measurement & Control
The first 2-wire loop-powered compact transmitter enters the market.
Read more...
---
Endress+Hauser opens vaccination centre
July 2021, Endress+Hauser South Africa , News
As part of a model project, Endress+Hauser is operating a vaccination centre for employees in Maulburg.
Read more...
---
Two-gas detection monitor
July 2021, Comtest , Analytical Instrumentation & Environmental Monitoring
New lightweight two-gas monitor offers more accurate alarms and minimises maintenance with a two-year runtime.
Read more...
---
MAP – making the right choice for gas analysis
August 2021, Elemental Analytics , Analytical Instrumentation & Environmental Monitoring
Modified atmosphere packaging (MAP) is used within the food and pharmaceutical sectors to extend the shelf life of many products that would otherwise deteriorate quickly in the presence of oxygen.
Read more...
---
A new generation of sensors for liquid analysis
May 2021, Endress+Hauser South Africa , News
Endress+Hauser introduces the next generation of Memosens digital technology for simple, safe and connected liquid analysis.
Read more...
---
Endress+Hauser holds its ground despite the pandemic
June 2021, Endress+Hauser South Africa , News
Endress+Hauser weathered the 2020 pandemic year well. The Group created new jobs and expanded its global sales and production network.
Read more...
---
Accurate particle matter measurement
June 2021, GHM Messtechnik SA , Analytical Instrumentation & Environmental Monitoring
The PMsense datalogger has particular applications in smart city applications and the monitoring of particle matter pollutants found at industrial sites.
Read more...
---
Memosens 2.0: simple, safe and connected for future-proof applications
June 2021, Endress+Hauser South Africa , Sensors & Transducers
Memosens 2.0 represents the next, future-proof step in the evolution of Endress+Hauser's Memosens technology, while maintaining all of the familiar and well-established advantages.
Read more...
---
24/7 boiler monitoring with the SWAS Compact
June 2021, Endress+Hauser South Africa , Analytical Instrumentation & Environmental Monitoring
Endress+Hauser has developed a compact new steam analysis device for continuous boiler water monitoring.
Read more...
---
New devices from Endress+Hauser connect pressure measurement to the future
May 2021, Endress+Hauser South Africa , Editor's Choice
By implementing a Bluetooth interface, devices that were previously difficult to access, or in danger zones, can now be operated easily and safely.
Read more...
---