printer friendly version
Extra light and powerful
December 2017
SCADA/HMI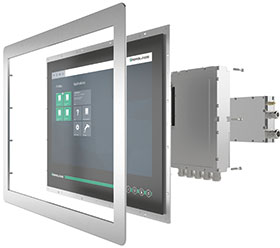 HMI components and solutions are in use in all sectors of the process industry today and the requirements they must meet in the highly specialised sectors of the chemical, pharmaceutical or oil and gas industries are high. Insensitivity to harsh environmental conditions, vibration, or temperature fluctuations is a decisive factor in the chemicals industry, for instance. By contrast, low surface roughness of the stainless steel housing and good cleanability in accordance with GMP guidelines is of particular importance in the life sciences sector. Devices that are expected to survive in these demanding environments must be precisely tailored to the respective requirements to provide the user with the best possible support in their plant control. This especially applies where potentially explosive production areas pose an additional challenge.
But it is not only the difficult environmental conditions that place high demands on modern HMI solutions. As the level of automation in process plants constantly increases, so too do the requirements placed on the underlying computer infrastructure. For this reason, alongside the increasing digitisation and networking of automation systems, thin client technology is becoming increasingly important in today's production plants. The enormous potential of this technology was recognised early on at Pepperl+Fuchs. Back in 2007, the company launched its first network-based thin client solution for hazardous areas with the VisuNet Remote Monitor (RM).
Thin client technology has spread rapidly since then, but today's solutions are generally still characterised by a monolithic design. That is, a computer, display and power supply often form a closed unit. In daily operation this certainly has disadvantages, because this design often results in a high unit weight, thus making handling more difficult in practice. This makes even just installing the heavy units more complex. This problem persists when a simple component upgrade is due, or repairs are necessary. The entire system must then be dismantled and sent back to the manufacturer, requiring a significant amount of technical and logistical work.
A new generation of thin client
The future of thin-client-based HMIs for hazardous areas should look very different – namely compact, lightweight and modular. An example of this is the VisuNet GXP Remote Monitor from Pepperl+Fuchs. This monitor-based solution for Zone 1/21 weighs less than 25 kilograms, which enables one-person installation and fast commissioning. The compact, modular design is also of great benefit in everyday handling. Each unit consists of three main components: the display, the power supply, and the specially designed thin client computer unit. In case of a defect, the operator can replace the components separately thanks to the modular design. In this way, onsite servicing is simplified and operation can be resumed quickly.
That nothing has been spared in terms of display size, despite the light weight is crucial for the optimal visualisation of processes. A 21,5" full HD display in 16:9 widescreen format enables the direct transfer of process control images. To ensure minimal reflections and optimum image viewing, the displays also have an anti-reflective coating. A projected capacitive multi-touch sensor behind safety glass enables the configuration of touch-optimised user interfaces using gestures and cursor control, as is familiar from a smartphone or tablet PC. This means that important safety aspects can be implemented for critical processes. For example, it is possible to specify that functions only start when two contact points are touched simultaneously, to avoid unintentional activation. A powerful and reliable DC or AC power supply ensures that a wide range of applications is covered. The design of the components also fulfils the specific demands of highly specialised industries like chemicals and pharmaceuticals, as the stainless steel surfaces and the gap-free design of the enclosure and keyboard prevent the accumulation of liquids, dirt and bacteria. At the same time, they ensure optimal cleaning and even comply with the stringent GMP guidelines.
Thanks to the compact, modular design, the new generation of thin-client-based HMI systems offers considerable benefits for process automation. The light weight facilitates handling in daily operation and enables a significantly faster installation and more efficient servicing of the units. Large displays also enable the direct transfer of process control images, and therefore optimum visualisation.
Credit(s)
Further reading:
Hazardous area installations
March 2019, Pepperl+Fuchs , Enclosures, Cabling & Connectors
How to find the most efficient protected solution for each application.
Read more...
---
New benchmark scada software platform
March 2019, Adroit Technologies , SCADA/HMI
MAPS 4, the latest scada solution for control and visualisation from Adroit Technologies, extends connectivity options, adds user tools and increases the scope of its built-in functionality. The result 
...
Read more...
---
Enclosure series for explosion protection in process automation
February 2019, Pepperl+Fuchs , Enclosures, Cabling & Connectors
For many years, users have been waiting for a new, universal enclosure system in the field of electrical explosion protection. Having invested in this area, Pepperl+Fuchs has developed the GRP enclosure 
...
Read more...
---
Is HART technology still useful as manufacturing moves to Industry 4.0?
December 2018, Pepperl+Fuchs , Fieldbus & Industrial Networking
With its bidirectional communication between intelligent field devices and host systems, HART has become a global standard. The example of valves shows how important the data provided by field devices 
...
Read more...
---
Network-based process visualisation
November 2018, Pepperl+Fuchs , IS & Ex
IT technologies such as PC and server virtualisation are establishing themselves in larger plants in the process industry to reduce the growing number of PC hardware components, while at the same time increasing flexibility and availability.
Read more...
---
Optical positioning system knows the way
October 2018, Pepperl+Fuchs , Sensors & Transducers
The PGV (position guided view) positioning system from Pepperl+Fuchs consists of a 2D vision sensor with integrated LED lighting, a coloured tape as an optical route indicator, data matrix codes as a 
...
Read more...
---
WirelessHART in process ­automation
September 2018, Pepperl+Fuchs , Industrial Wireless
The open standard, based on the HART 7 protocol, ensures that sensors from different manufacturers can be integrated into the wireless communication platform without restriction via WirelessHART adaptors 
...
Read more...
---
How mobile digital solutions benefit industry
September 2018, Pepperl+Fuchs , IT in Manufacturing
The networking of people, processes, machines, and systems will not just shape the markets of the future, it is the biggest challenge and opportunity of today's world. Companies that make use of the possibilities 
...
Read more...
---
New optical sensors for longer operating distances
August 2018, Pepperl+Fuchs , Sensors & Transducers
The forward-thinking product design of the R200 and R201 photoelectric sensors from Pepperl+Fuchs enables applications with longer operating distances. Just like the compact R100 R101, and R103 series, 
...
Read more...
---
Inductive Automation's I­gnition technology offers potential to ­disrupt the market
July 2018, Mzukulu Technologies , SCADA/HMI
'Ignition by Inductive Automation' is an industrial software platform with a variety of modules that can be combined to create custom HMI, scada and MES solutions.
Read more...
---