printer friendly version
Futuring smart energy
August 2017
Motion Control & Drives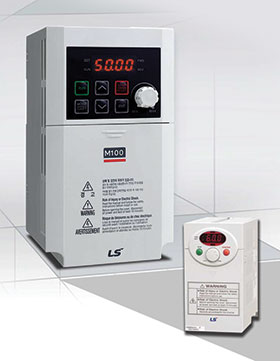 With the market demanding more compact devices, LS has introduced the new M100, which replaces the long-serving and robust iC5 range.
The all new LSLV-M100 more than adequately fulfils this need as it has some features not seen in the iC5, such as an easy to connect RJ45 port which supports the high-level SV-iS7 remote keypad. This is useful for programming and storing the settings of the drive for future use. This port can also connect the M100 to LSIS's DriveView7 software for setup purposes which is available at no extra charge. Control from a HMI or PAC/PLC are easily achieved with the built-in Modbus port.
The M100 also supports 5 multi-function inputs, 2 voltage or current analog inputs, 1 analog output and 3 relay outputs. Added to this is PID for accurate operation using analog transducers, flowmeters or temperature control.
LSIS's reputation of being robust under severe conditions, by being able to operate in harsh conditions, is reflected in the M100's ability to operate at ambient temperatures of up to 50ºC at 95% humidity without condensation. Added to this, the drive is able to withstand continuous 1G vibration.
Nowadays, size counts and the M100 is smaller than its predecessor, with side by side installation clearance being reduced from 50 to 2 mm. The M100 can also conveniently be din-rail mounted and a built-in EMC filter assists in producing a system that is interference free, in compliance to international standards.
The display and tactile buttons follow the theme of the now well-known LS S100 3ph range with easy to operate function keys and clear red LED parameter display. This is complemented with a rotary knob for localised frequency control.
As a whole, the new M100 is a good looking and well thought out drive to suit the demands of duty and power saving and supplied in a frame that does not dominate the installation.
For more information contact Ana-Digi Systems, +27 (0)21 914 9030, sales@anadigi.co.za, www.anadigi.co.za
Credit(s)
Further reading:
Danfoss efficiencies help South African farmers to free up energy and achieve production goals
October 2020, Danfoss , Motion Control & Drives
Danfoss, together with engineering components provider BMG, supplied a commercial maize farmer with the technology to combat challenges around irrigation sufficiency.
Read more...
---
Energy efficient drive technology for the mining industry
October 2020, Danfoss , Motion Control & Drives
The mining industry must forgo its traditional energy consumption patterns in a bid to ensure that the sector de-carbonises towards a greener and more sustainable method of extraction.
Read more...
---
Modular towel production lines
September 2020, Beckhoff Automation , Motion Control & Drives
Rapid development and configuration of manufacturing systems for terrycloth towels with PC-based control.
Read more...
---
BMG solutions for efficient agriculture
August 2020, Bearing Man Group t/a BMG , Motion Control & Drives
BMG's Boer Slim/Smart-Farming agricultural team works closely with farmers throughout southern Africa, assisting them with the selection, installation and operation of new electromechanical systems. These 
...
Read more...
---
PC and EtherCAT-based control technology in next-generation telescope
August 2020, Beckhoff Automation , Motion Control & Drives
Key factors were the advantages of EtherCAT for site-wide real-time communication connecting all telescope functions. Various embedded PCs and AM8000 servomotors were also tested and specified, among 
...
Read more...
---
Commander series drives
August 2020, Nidec Industrial Automation Southern Africa , Motion Control & Drives
The Commander series are simple and compact AC motor speed controllers that meet advanced requirements in a wide range of applications. Their small footprint makes them ideal for machine builders and 
...
Read more...
---
Belting products for furnace belts
August 2020, Bearing Man Group t/a BMG , Motion Control & Drives
BMG's Light Materials Handling division supplies and supports a comprehensive range of belting products suitable for use in diverse sectors, including high-temperature applications, like glass bottle 
...
Read more...
---
Machine upgrade at Rostberg
August 2020, Ana-Digi Systems , System Integration & Control Systems Design
Ana-Digi Systems designs and delivers a state-of-the-art, reliable machine upgrade to match its client's requirements of easy setup and low maintenance.
Read more...
---
BMG's new generation of IE5+ motors
July 2020, Bearing Man Group t/a BMG , Motion Control & Drives
In 1916, BMG and German precision engineers, Getriebebau Nord, entered into a partnership agreement to assemble, distribute and support Nord Drivesystems throughout southern Africa. BMG has made 
...
Read more...
---
Rockwell Automation upgrade for Ghana Water
June 2020, Rockwell Automation , Motion Control & Drives
Over the last five years, Rockwell Automation has been working with Intermerc Ghana in supplying medium-voltage motor control and automation technologies to some of its recent pump upgrade and rehabilitation 
...
Read more...
---