printer friendly version
Real-time capable data communication via OPC UA
February 2017
IT in Manufacturing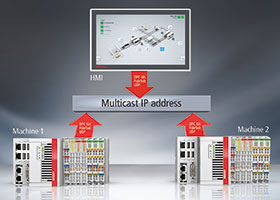 Direct integration of OPC UA Pub/Sub UDP communication into the TwinCAT 3 runtime paves the way for straightforward configuration of publishers and subscribers, as well as exchange of data in realtime.
With a new extension of the OPC UA specification, which Beckhoff played a prominent role in helping to develop, the publisher/subscriber principle is being introduced into the established and standardised OPC UA communication protocol. Through the early integration of the Pub/Sub UDP extension, Beckhoff has emerged once again as an early adopter of OPC technologies.
One particular advantage is the much simplified configuration resulting from direct integration into the TwinCAT 3 engineering environment. Communication is initiated directly from the TwinCAT 3 runtime, creating a deterministic and therefore real-time-capable communication channel via OPC UA.
Advantages of publisher/subscriber communication
Conventional client/server applications are decoupled from one another in publisher/subscriber-based data communication and no longer need to 'know' each other. The publisher simply sends its data, as a UDP multicast in this case, to a multicast group. The subscribers receive the data by subscribing to the multicast group instead of the actual device.
These advantages can be utilised in all areas of machine design, plant engineering and building automation technology. This is especially true in M2M scenarios within machine networks, for example, in small manufacturing systems as well as complex machines and buildings.
According to the current roadmap for the OPC UA specification, this extension is expected to be finalised by the OPC Foundation in early 2017. Accordingly, Beckhoff plans a timely product release in TwinCAT 3.
For more information contact Kenneth McPherson, Beckhoff Automation, +27 (0)11 795 2898, kennethm@beckhoff.com, www.beckhoff.co.za
Credit(s)
Further reading:
What does digitalisation mean for food product safety?
Endress+Hauser South Africa IT in Manufacturing
Product safety remains a vital topic for achieving food security across the globe. To date, many manufacturers still question whether digitalisation can help reduce the effort involved in process optimisation, production monitoring and system installation.
Read more...
---
Digital twins enhance asset productivity in oil and gas applications
IT in Manufacturing
The ability to continue through various production cycles with zero unplanned downtime means that practical efficiencies using digitisation are essential.
Read more...
---
Accelerating high-precision assembly of micro-optics
Beckhoff Automation System Integration & Control Systems Design
PC-based control technology automates component assembly.
Read more...
---
IaaS – paying for the experience but not the assets
Schneider Electric South Africa IT in Manufacturing
Infrastructure-as-a-Service has emerged as a feasible option that maintains crucial infrastructure such as IT, power consumption and business continuity while organisations focus on their core business.
Read more...
---
Siemens extends Xcelerator portfolio
Siemens South Africa IT in Manufacturing
Siemens Digital Industries has announced the release of NX Automation Designer software and NX Industrial Electrical Design software, a new suite of solutions that provide a central design application for industrial, electrical and automation design.
Read more...
---
Intelligent automation for Industry 4.0
IT in Manufacturing
Jumo smartWARE Evaluation is a software solution that allows browser-based process data analysis via customised dashboards.
Read more...
---
The MX-System: the controller becomes a modular control cabinet
Beckhoff Automation System Integration & Control Systems Design
The new MX-System from Beckhoff is quite simply a revolution in control cabinet construction.
Read more...
---
2-channel EtherCAT motion interface
Beckhoff Automation Motion Control & Drives
Flexible and cost-effective stepper motor terminal with 6 A total current.
Read more...
---
Simplifying the management of hybrid IT environments
Schneider Electric South Africa IT in Manufacturing
With the ongoing move towards hybrid cloud environments there comes an extra layer of complexity; nothing is ever as simple as it seems.
Read more...
---
Server engine for increasing machine learning requirements
Beckhoff Automation IT in Manufacturing
TwinCAT Machine Learning offers further inference engine.
Read more...
---