printer friendly version
XHQ Operations Intelligence
February 2017
IT in Manufacturing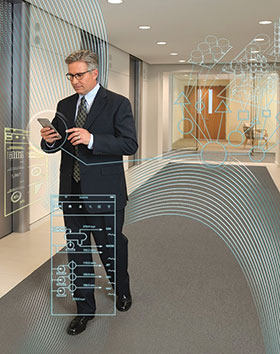 With the introduction of Version 5.0, Siemens has now enabled its XHQ Operations Intelligence software to be used on mobile devices, allowing data relevant to plant operation to be accessed anywhere, anytime. For the first time, Version 5.0 allows organised and relevant visualisations on both mobile and desktop devices to be set up with a single tool, the XHQ Workbench. Users are now also able to use a new interface to access their operations and business data for further analyses in Business Intelligence Tools.
XHQ Operations Intelligence aggregates and links plant data from the operational and business level. Interactive views of the relevant plant data can be simply configured to address individual user requirements. By using XHQ, operating personnel and management are able to access a visualisation of the current plant status at any time, allowing them to compare plant performance against business targets in real time, using methods such as dashboards and charts as and when required.
High plant availability and security
High plant availability and security are among the most important success factors in fields such as the chemical and petrochemical industries. XHQ extracts and prepares information relating to the on-going production process from a wide array of information sources and compares it to other sources such as process historians, laboratory data or business data.
The different possibilities for data analysis and visualisation provide vital support to users at all levels of the organisation for better decisions. Operations intelligence can be used to provide justification for the implementation of measures, to avoid production risks or as the basis for shaping production in line with changing market requirements. Market changes or influencing factors can also be taken into consideration both on the local level and at locations around the world.
"For more than 15 years, companies in both the oil and gas and chemical industries have looked to XHQ to provide operational intelligence to help reduce costs and improve margins," commented Peter Reynolds, a senior consultant at the ARC Advisory Group.
"With the addition of both mobile access and BI Tool gateway capabilities, XHQ can now help users address today's critical need for digital transformation. Significantly, XHQ fits into new technology stacks without requiring users to replace the systems that are already in place."
For more information contact Jennifer Naidoo, Siemens Southern Africa, +27 (0)11 652 2795, jennifer.naidoo@siemens.com, www.siemens.co.za
Credit(s)
Further reading:
What does digitalisation mean for food product safety?
Endress+Hauser South Africa IT in Manufacturing
Product safety remains a vital topic for achieving food security across the globe. To date, many manufacturers still question whether digitalisation can help reduce the effort involved in process optimisation, production monitoring and system installation.
Read more...
---
Digital twins enhance asset productivity in oil and gas applications
IT in Manufacturing
The ability to continue through various production cycles with zero unplanned downtime means that practical efficiencies using digitisation are essential.
Read more...
---
IaaS – paying for the experience but not the assets
Schneider Electric South Africa IT in Manufacturing
Infrastructure-as-a-Service has emerged as a feasible option that maintains crucial infrastructure such as IT, power consumption and business continuity while organisations focus on their core business.
Read more...
---
Siemens guides Tiger Brands along its digitalisation journey
Siemens South Africa System Integration & Control Systems Design
The project involved upgrading the legacy plant control system with the implementation of a combined Siemens WINCC scada and PM-addons along with the associated network and control equipment that included communication converters, PLCs, VSDs and ASI modules for various process areas.
Read more...
---
Siemens extends Xcelerator portfolio
Siemens South Africa IT in Manufacturing
Siemens Digital Industries has announced the release of NX Automation Designer software and NX Industrial Electrical Design software, a new suite of solutions that provide a central design application for industrial, electrical and automation design.
Read more...
---
Intelligent automation for Industry 4.0
IT in Manufacturing
Jumo smartWARE Evaluation is a software solution that allows browser-based process data analysis via customised dashboards.
Read more...
---
Simplifying the management of hybrid IT environments
Schneider Electric South Africa IT in Manufacturing
With the ongoing move towards hybrid cloud environments there comes an extra layer of complexity; nothing is ever as simple as it seems.
Read more...
---
Server engine for increasing machine learning requirements
Beckhoff Automation IT in Manufacturing
TwinCAT Machine Learning offers further inference engine.
Read more...
---
OPC Classic data connectivity notice
Moore Process Controls IT in Manufacturing
During June, Microsoft released a security update that changed how the Windows operating system enforces DCOM security. As a result, OPC communications relying on DCOM may stop working when the Windows changes start to be enforced in 2022.
Read more...
---
The importance of good project management
Iritron IT in Manufacturing
A structured way of organising work can help identify and resolve problems in an efficient manner before the implications have a chance to escalate.
Read more...
---