printer friendly version
Exoskeleton technology poised to transform factories of the future
January 2017
News
Automation and artificial intelligence are paving the way for human robotic collaboration, finds Frost & Sullivan's Visionary Innovation Team. Exoskeletons, both passive and active, will see higher adoption across industries such as automotive, manufacturing, defence and healthcare. In factory settings, they can empower workers, improve ergonomy and provide safety by increasing automation, thus improving quality, reducing waste, and lowering levels of absenteeism due to injuries. Understanding the costs, benefits and return on investment (ROI) of exoskeleton integration into assembly lines could also be the first step toward human robotic collaboration (HRC).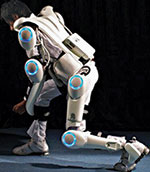 The Hybrid Assistive Limb (HAL) is a powered exoskeleton suit developed by Japan's Tsukuba University and Cyberdyne to expand the physical capabilities of its users, particularly people with physical disabilities.
"Exoskeletons will play a critical role in the future of smart factories," noted Frost & Sullivan Visionary Innovation Group research analyst Vijay Natarajan. "By 2020, firms across most industries will use some form of exoskeleton technology and by 2025, concepts such as HRC will likely replace exoskeletons, resulting in increased collaboration between humans and robots."
The potential for seamless integration within a factory setting, lower maintenance costs, and an attractive ROI with a payback period of less than one year indicate tremendous promise for the exoskeleton technology, but challenges remain:
• Currently, there are no regulations that bind exoskeleton use on factory floors. A proper regulatory framework needs to be incorporated to ensure that safety requirements pertaining to technology use is met.
• A negative perception of machines replacing human beings, instead of assisting them, lingers. Further, the debate about who is in control, the machine or the user, is a concern among most users.
As significant cost benefits in terms of productivity and insurance for workers propel exoskeleton technology forward. Several players are offering innovative solutions including Noonee, Exso Bionics, Cyberdyne, Active Bionics, Robo Mate Consortium, Lockheed-Martin, Bioservo Technologies and Sarcos.
"The evolution of artificial intelligence and machine learning will eventually result in intelligent autonomous robots that sense surroundings and work effectively with human beings to initiate multi-fold levels of efficiency," concluded Natarajan. "In that sense, exoskeletons have a very unique role in future human-robot or cobot factories."
For more information contact Samantha James, Frost & Sullivan, +27 (0)21 680 3574, samantha.james@frost.com, www.frost.com
Further reading:
From the editor's desk: Edge, cloud or both?
June 2019, Technews Publishing (SA Instrumentation & Control) , News
In the illusory world of digital transformation, the question of where the applications will best be hosted often triggers a lively discussion. In particular, the cloud vs. edge debate has left many wondering 
...
Read more...
---
Wireless IoT devices in oil and gas reached 1,3 million in 2018
June 2019 , News
According to a new research report from Berg Insight, the number of devices featuring cellular or satellite connectivity deployed in oil and gas applications amounted to 1,3 million at the end of 2018. 
...
Read more...
---
Siemens and Iraqi government sign roadmap agreement
June 2019, Siemens Digital Industries , News
In a move that takes the roadmap for rebuilding Iraq's power sector a step further, Siemens and the Ministry of Electricity of the Republic of Iraq have signed an implementation agreement. This builds 
...
Read more...
---
Emerson acquires KNet software
June 2019, Emerson Automation Solutions , News
Emerson has announced the acquisition of KnowledgeNet (KNet) software from Tunisia-based Integration Objects. KNet's unique analytics application software accelerates digital transformation initiatives 
...
Read more...
---
BI set to add ContiTech belts to its range
June 2019 , News
Bearings International (BI) is set to add to its basket of premium brands following a visit by the ContiTech Power Transmission Group to discuss a local distribution agreement for its belt ranges. These 
...
Read more...
---
Endress+Hauser expands patent portfolio
June 2019, Endress+Hauser , News
The number of patents submitted by the Endress+Hauser Group continues to rise. As reported during the annual Innovators' Meeting held this year in France, the Group submitted 287 initial patents in 2018, 
...
Read more...
---
Hyflo Southern Africa incorporated into BMG's Fluid Technology division
June 2019, Bearing Man Group t/a BMG , News
The Engineering Solutions Group (ESG) of Invicta Holdings has incorporated Hyflo Southern Africa into BMG's Fluid Technology Division. This development is a positive move for both companies and for the 
...
Read more...
---
Festo to go digital at Automation Expo
June 2019, Festo , News
The world is currently undergoing radical digital transformation, which is viewed as an implementation of digital technologies in all sectors, including the automation industry. As a company that continuously 
...
Read more...
---
MESA aligns with Africa Automation Fair to promote next level industry automation
June 2019, Reed Exhibitions , News
MESA Africa has aligned with Africa Automation Fair for the first time this year, to help drive the next level of industry automation in South Africa. Vice chairman, Gerhard Greeff, explains that MESA's 
...
Read more...
---
Future Production Technologies Conference
June 2019 , News
"The Fourth Industrial Revolution will herald the transformation of entire systems of production, management and governance," says Bob Williamson, chair of the Future Production Technologies Conference 
...
Read more...
---