printer friendly version
Greenside School Rap's the Scrap in India
January 2017
News
The World Robot Olympiad is an initiative that brings together young people from all over the world to develop their creativity and problem-solving skills through challenging and educational robotics competitions. Schools are invited to enter a team of three students to participate. Teams have to create, design and build a robot model that solves a specific problem.
Last year's competition was held in Delhi, India, from 25 to 27 November and over 500 teams competed – having made it through the regional and national stages in their home countries – against over 22 000 teams worldwide. South Africa sent a contingent of 81, including 15 teams, 15 coaches and 14 judges and referees.
Two teams from Greenside School made it all the way through. Motion Control magazine caught up with them as they went through their final presentations before leaving for India. They were under the guidance of Danie Heymans from Hands On Technologies, a member of the national organising team: Hands On Technologies provided the equipment and the SAIMC contributed R30 000 towards the robots.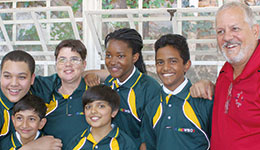 Danie Heymans (right) with members of the two teams from Greenside School.
The theme was recycling – Rap the Scrap. In the primary division, Dilan Naran (grade 6) and Aydin Kauchali (grade 4) built the Lazy Bin, an automatic recycling bin that reads barcodes and sorts litter into different receptacles for recycling. In the junior high division, Andy Owethu Sobuwa, Mohammed Ridwaan Kai and Ubaidullah Sajied Brown developed a robot with infrared sensors that can approach customers in a fast food restaurant, for example, and tell them where to put the different categories of recyclable materials (paper, cups, tray and organics). They are then rewarded by getting a Minecraft card so they can make a game of it, play with friends and swap cards. "This motivates them to recycle their waste," explains Andy.
The enthusiasm of these bright young people and the dedication of their coaches augers well for the future.
For more information contact Danie Heymans, Hands On Technologies, +27 (0)11 462 2851, danie@handsontech.co.za, www.wrosa.co.za
Further reading:
From the editor's desk: Edge, cloud or both?
June 2019, Technews Publishing (SA Instrumentation & Control) , News
In the illusory world of digital transformation, the question of where the applications will best be hosted often triggers a lively discussion. In particular, the cloud vs. edge debate has left many wondering 
...
Read more...
---
Wireless IoT devices in oil and gas reached 1,3 million in 2018
June 2019 , News
According to a new research report from Berg Insight, the number of devices featuring cellular or satellite connectivity deployed in oil and gas applications amounted to 1,3 million at the end of 2018. 
...
Read more...
---
Siemens and Iraqi government sign roadmap agreement
June 2019, Siemens Digital Industries , News
In a move that takes the roadmap for rebuilding Iraq's power sector a step further, Siemens and the Ministry of Electricity of the Republic of Iraq have signed an implementation agreement. This builds 
...
Read more...
---
Emerson acquires KNet software
June 2019, Emerson Automation Solutions , News
Emerson has announced the acquisition of KnowledgeNet (KNet) software from Tunisia-based Integration Objects. KNet's unique analytics application software accelerates digital transformation initiatives 
...
Read more...
---
BI set to add ContiTech belts to its range
June 2019 , News
Bearings International (BI) is set to add to its basket of premium brands following a visit by the ContiTech Power Transmission Group to discuss a local distribution agreement for its belt ranges. These 
...
Read more...
---
Endress+Hauser expands patent portfolio
June 2019, Endress+Hauser , News
The number of patents submitted by the Endress+Hauser Group continues to rise. As reported during the annual Innovators' Meeting held this year in France, the Group submitted 287 initial patents in 2018, 
...
Read more...
---
Hyflo Southern Africa incorporated into BMG's Fluid Technology division
June 2019, Bearing Man Group t/a BMG , News
The Engineering Solutions Group (ESG) of Invicta Holdings has incorporated Hyflo Southern Africa into BMG's Fluid Technology Division. This development is a positive move for both companies and for the 
...
Read more...
---
Festo to go digital at Automation Expo
June 2019, Festo , News
The world is currently undergoing radical digital transformation, which is viewed as an implementation of digital technologies in all sectors, including the automation industry. As a company that continuously 
...
Read more...
---
MESA aligns with Africa Automation Fair to promote next level industry automation
June 2019, Reed Exhibitions , News
MESA Africa has aligned with Africa Automation Fair for the first time this year, to help drive the next level of industry automation in South Africa. Vice chairman, Gerhard Greeff, explains that MESA's 
...
Read more...
---
Future Production Technologies Conference
June 2019 , News
"The Fourth Industrial Revolution will herald the transformation of entire systems of production, management and governance," says Bob Williamson, chair of the Future Production Technologies Conference 
...
Read more...
---