printer friendly version
World leader in liquid analysis
October 2016
Analytical Instrumentation & Environmental Monitoring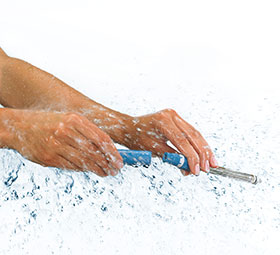 After extensive market and competitor research, US consulting firm Frost & Sullivan concluded that Endress+Hauser supports its customers better than any other in the area of liquid analysis.
The global Company of the Year Award for water analysis instrumentation is based on an independent study. Analysts took into account each company's visionary innovation and performance as well as customer impact.
"A robust product portfolio, coupled with strong acumen for innovation and focused customer centricity, has been instrumental in strongly positioning Endress+Hauser amidst competition in the global water analysis instrumentation market," said Frost & Sullivan industry analyst Krishnan Ramanath. With 9,25 points out of a possible 10, Endress+Hauser clearly set itself apart from the competition, which scored 8,5 and 7,5 points.
Revolutionary product innovations
"Endress+Hauser offers a comprehensive product range to cover all the analytical parameters needed to monitor water quality," underlined Ramanath. Today, transmitters, samplers and analysers from the Liquiline family, in addition to Memosens sensors, form the foundation of a universal liquid analysis platform that is suitable for many industries and applications, from simple pH measurement points to wet-chemical analysers for demanding measurement tasks.
"This award confirms that we have revolutionised liquid analysis with our products," said Dr. Manfred Jagiella, managing director of liquid analysis specialist Endress+Hauser Conducta based in Germany. As a member of the Group's Executive Board, he is responsible for the analytical business. "A well thought-out overall concept and perfect interaction between all components ensures reliable measurements, simple operation and low total costs of ownership."
Strategic focus on the analytical business
The company's success in liquid analysis is no coincidence. Endress+Hauser views the entire field of analytics as a focus of development. "Our customers want to measure more than just process conditions. They also want to determine material characteristics and product quality in realtime while the process is running," explained Matthias Altendorf, CEO of the Endress+Hauser Group.
Endress+Hauser relied on acquisitions to bolster the process analytical business with state-of-the-art technologies such as Raman and laser absorption spectroscopy. The Group has also opened the door to laboratory analytical business through the takeover of Analytik Jena.
Elements of Endress+Hauser's liquid analysis platform
Simple operation: Endress+Hauser revolutionised liquid analysis with the Liquiline platform of transmitters, samplers and analysers as well as Memosens sensor technology. The expansive product portfolio meets the requirements of a wide range of applications.
Cutting-edge technology: Liquiline is the name of Endress+Hauser's transmitter, sampler and analyser platform. Uniform operation across all products prevents errors, while standard components simplify spare part warehousing.
Digital benefit: with Memosens technology from Endress+Hauser, measurement values are digitised in the sensor and transmitted through a noncontact inductive connection that powers the sensor as well. Humidity and corrosion issues are a thing of the past.
Efficient maintenance: Memosens sensors from Endress+Hauser can be calibrated and regenerated in the lab, allowing them to be quickly and easily swapped out on site and significantly increasing measurement point availability.
Advanced liquid analysis: Endress+Hauser's Liquiline System CA80 performs demanding tasks such as in water & wastewater treatment applications or wastewater monitoring. Using the plug-and-play principle, the system can be expanded all the way to a complete measurement station.
Highly versatile: Liquiline and Memosens products from Endress+Hauser are tailored to the specific needs of various industries. Shown here is the Liquiline transmitter with Memosens conductivity sensors being used to monitor a power plant water-steam cycle.
Leading provider: Endress+Hauser Conducta is the competence centre for liquid analysis within the Endress+Hauser Group. The company's innovative strength stems from the knowledge and skills of nearly 800 employees worldwide.
For more information contact Jan Swart, Endress+Hauser, +27 (0)11 262 8000, jan.swart@za.endress.com, www.za.endress.com
Credit(s)
Further reading:
Portable fuel cleanliness analysis kit
January 2020 , Analytical Instrumentation & Environmental Monitoring
The Fleetguard FK36000 portable fuel cleanliness analysis kit is a reliable solution for testing fuel cleanliness in the field, according to Cummins Filtration mining sales manager Tinus Naude. Testing 
...
Read more...
---
The future calls for efficiency
January 2020, Endress+Hauser , News
The demand for raw materials is rising, which means reserves should be dwindling. Producers around the world are thus working toward the goal of generating more with less. The result, which seems contradictory 
...
Read more...
---
Focus on combustion and refinery applications
January 2020, Instrotech , Analytical Instrumentation & Environmental Monitoring
Instrotech now offers Keller's range of intrinsically safe electronic pressure gauges for use in areas subject to gas explosion risks. The type approvals are compliant with the ATEX Explosion Protection 
...
Read more...
---
ABB optimises efficient water usage
January 2020, ABB South Africa , Analytical Instrumentation & Environmental Monitoring
ABB has expanded its digital analytical measurement range of solutions with the launch of the AWT420 transmitter. The new four-wire, dual channel analytical instrument measures multiple parameters in 
...
Read more...
---
Water analysis technology reduces downtime
January 2020, GHM Messtechnik SA , Analytical Instrumentation & Environmental Monitoring
In order to monitor the process of reverse osmosis and ensure that deposits do not clog up membranes and reduce system efficiency, Martens, a member of the GHM Group, has joined the forces with its Condix 
...
Read more...
---
Compact design electromagnetic flow measurement
December 2019, Endress+Hauser , Flow Measurement & Control
Whether in the life sciences or in biotechnology, whether in the food or chemical industries – global competition is steadily increasing. Ever more companies are implementing their process facilities 
...
Read more...
---
A good combination for the primaries and metals industry
November 2019, Endress+Hauser , System Integration & Control Systems Design
Endress+Hauser?s measurement devices for flow, level, pressure, temperature and liquid analysis.
Read more...
---
Mobile CO2 measuring device
November 2019, GHM Messtechnik SA , Analytical Instrumentation & Environmental Monitoring
The measurement of CO
2
emissions throughout industry is a critical activity. Across many industries, leaks in equipment resulting from non-maintenance, mechanical damage or wear and tear can impact on 
...
Read more...
---
Automated analysers for sulphate and chloride measurements
November 2019, Microsep , Analytical Instrumentation & Environmental Monitoring
Chlorides and sulphates cause pitting and stress corrosion in expensive power plant components, such as turbines and boilers, leading to extensive maintenance and unplanned shutdowns. Monitoring these 
...
Read more...
---
The complexity of water management in mines
October 2019, Endress+Hauser , System Integration & Control Systems Design
Industries across the globe are encouraged to reuse water as much as possible, and therefore a 'zero liquid discharge' policy has already been implemented by various companies in different sectors.
Read more...
---