printer friendly version
SAIMC: From the President's desk
August 2015 Editor's Choice SAIMC
At the time of writing this letter, I had just returned from a trip to Japan and Hong Kong for both business and a bit of a holiday. The experience can only be described as mind­boggling. Within Japan, Tokyo and Osaka are massive metropolises with huge population densities and hence have very sophisticated and reliable public transportation systems (much larger than the European and American systems in my experience). The sheer number of people one encounters in one of the massive metro stations, which have become underground malls, is really intimidating for a South African who is accustomed to using private transportation and hence only having direct contact with perhaps 50 or 100 people per day at the office etc. Whereas Osaka Station copes with 400 000 travellers a day and as a traveller you will be in close proximity to hundreds if not thousands of people. No wonder a lot of people wear surgical masks whilst in public. Imagine what an influenza outbreak would do to the working population under such circumstances. All this discipline and orderliness is probably what made the Japanese such a successful nation. They were occupied by the Americans for a number of years post-WWII and identified that industrialisation/modernisation was required. This was in conflict with their historical roots which caused some significant political strife. However, the tough decisions were made by the government of the time and the resultant prosperity is apparent to all. I would never believe that this country has been in two decades of deflation!
So what is the point of my ramblings above, you may justifiably ask? This is supposed to be an automation and control piece right? Not a travel blog . . . However, during these travels I continued to ask myself why we as South Africans in particular and Africans in general, have not been able to develop such successful economies? Japan has limited natural resources and imports raw materials from SA for their motor and other industries. In fact they import the majority of their raw materials for their large industries. Hong Kong imports gold and diamonds from SA and then makes these into desirable, expensive jewellery which is then resold worldwide, including SA! Imagine the boost to our automation and control industry and the contribution it could make if we could get massive industrialisation in SA? However, as one of my colleagues on the trip pointed out . . . he sees more and more warehouses popping up around SA to store mainly imported goods.
So what is the difference? Is it cultural differences, are we not disciplined enough? Is it colonialism or apartheid that held us back? The one thing I do know is that we had a lot of innovation and industrialisation due to our isolation by sanctions during apartheid, e.g. the CAT scan, oil from coal (SASOL), the Kreepy Krauly pool cleaner, ISCOR (now ArcelorMittal) etc. Is part of the problem that it is too easy for us to buy technology from other countries since our re-admission into the world in 1994? Have we just become dumb consumers instead of creators of technology? Or is the socio-economic or socio-political environment not conducive to innovation? What happened to The Joule, our first all-electric car? Government partnered with the Nissan Leaf instead. We are planning on buying nuclear plants from around the world and killed our own nuclear technology project after pouring billions into it. I hear this modular pebble bed reactor is soon going to be licensed in the US.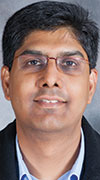 Vinesh Maharaj.
Whatever the problem is, we need to fix it and fix it fast! The rest of the world is not waiting for us to catch up. We cannot rely on government to fix everything, but they have a very important role to play in creating an enabling environment for the economic success of our country. The policy uncertainty needs to be dealt with quickly, all the noises about industrialisation and beneficiation need to become tangible actions. The black industrialists being touted, need to be created faster and by creating new wealth, not redistributing existing wealth. Local companies should push for local manufacturing/assembly of goods. We as individuals need to live by the Proudly South African motto, we should have a natural preference to buy and use South African goods and services. We should do this even if it costs more than the imported product, because it will create jobs and in the long-run that will be cheaper for our country as a whole as there will be less people living off government grants and they will have greater self-esteem, because they are making a contribution. The social ills associated with lower economic groups should also then decrease and make for a more stable, equitable society. Currently we stand on the precipice where those who 'have not' far outnumber those of us who 'have'! They have nothing to lose and hence their behaviour is congruent with this.
As usual, please mail me your thoughts on ­ vinesh.maharaj@saimc.co.za. I thank you all for taking the time to read this column.
Working together, achieving more,
Vinesh Maharaj, President
Credit(s)
Further reading:
SAIMC: From the office of the CEO
September 2021, SAIMC , News
The registration process for people doing engineering work according to the Identification of Engineering Work, (IoEW) document gazetted in March, will start in earnest next year.       Surnames A through 
...
Read more...
---
SAIMC: Durban branch
September 2021, SAIMC , News
Kevin Preston of Phoenix Contact kindly presented at the virtual Durban branch technology meeting in August. Kevin is group manager IMA & IE at Phoenix Contact and is responsible for the interface, 
...
Read more...
---
SAIMC: Johannesburg branch
September 2021, SAIMC , News
Once again, the Johannesburg branch technology evening had to held virtually. We were happy to have Stahl SA involved, with Diogo Fidalgo doing a presentation on 'Ethernet and network technologies for 
...
Read more...
---
Case History 179: Some unusual measurement and control problems
September 2021, Michael Brown Control Engineering , Editor's Choice
The example given in this article illustrates some mistakes made by the system integrators and control engineers at a metals extraction plant that used a well-known make of PLC and scada for its controls.
Read more...
---
Tag-specific requirements in RFID systems for track and trace
September 2021, Turck Banner , Editor's Choice, Industrial Wireless
The BL ident complete RFID system from Turck Banner offers solutions in the HF or UHF range with interfaces for use in a plant or switch cabinet.
Read more...
---
Security for operational technology: Part 2: How much of a cyber threat are people to OT systems and what can be done?
September 2021, Wolfpack Information Risk , Editor's Choice
The recent cyber-attack on Transnet is a wake-up call that South African companies are not immune from cyber threats.
Read more...
---
Loop Signatures 8: Final control elements – Part 4: the infamous stick-slip cycle
August 2021, Michael Brown Control Engineering , Editor's Choice
An inherent phenomenon occurring in most control valves that few people are aware of is 'stick-slip'.
Read more...
---
OT the executor, IT the overseer, IIoT the enabler
August 2021 , Editor's Choice
It is a fascinating and daunting time to be working as professionals in the OT and IT worlds.
Read more...
---
Of gorillas and swarms – the manufacturing CIO's new dilemma
July 2021, Absolute Perspectives , Editor's Choice
Back in the heyday of integrated business systems, the manufacturing CIO was faced with a relatively simple choice: which big ERP vendor to select and what database technology to run the system on?
Read more...
---
SAIMC: From the office of the CEO
July 2021, SAIMC , SAIMC, News
The Identification of Engineering Work that has been in the making since 2000, was eventually gazetted in March this year. People now have roughly three years to comply – depending on your surname.
...
Read more...
---