printer friendly version
User-friendly mass flow controller
August 2015
Mass Measurement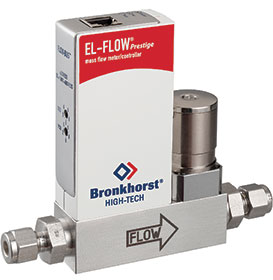 EL-Flow Prestige is the next generation of Bronkhorst mass flow meters/controllers for gases. Nearly all core components have been redesigned and many improvements and innovations have been incorporated. With this new series Bronkhorst introduced the 'differential temperature balancing' technology to ensure high accuracy and superb sensor stability.
New, power-efficient micro-processors with innovative multistage control loops have been applied to achieve enhanced dynamic behaviour and the new metal housing is of robust yet compact design. EL-Flow Prestige represents a ground-breaking shift in versatility and user-friendliness, featuring an on-board gas conversion model, various fieldbus options and customisable I/O functions.
The control performance is factory adjusted for swift response to setpoint changes, without overshoot. Moreover, the controllers are highly resistant to mechanical shocks and pressure fluctuations that may be caused by other devices consuming gas from the same source. As an option the MFCs can be tuned for extra fast flow response (down to 500 milliseconds) or extra smooth control, depending on the requirements of the user's process. The dynamic behaviour can also easily be tuned on site by adjusting the controller speed settings via the FlowTune or FlowPlot software tools. These can also be used for device diagnostics or alarm and counter settings.
Credit(s)
Further reading:
Bronkhorst adds Ethernet/IP
July 2020, Mecosa , Fieldbus & Industrial Networking
Bronkhorst High-Tech has announced the availability of Ethernet/IP and Modbus-TCP interface options for its mass flowmeters and controllers, as well as its digital pressure controllers. Like the previously 
...
Read more...
---
Belt conveyor weighing applications
June 2020, Loadtech Loadcells , Mass Measurement
Loadtech's LT1320 is a precision digital indicator for belt weighing applications. The unit takes the weight and speed information from a belt conveyor system and accurately calculates the rate and total 
...
Read more...
---
Positive displacement vs Coriolis meters
March 2020, Soliflo , Mass Measurement
Positive displacement (PD) is a practical and accurate method to achieve volumetric measurement of refined hydrocarbons, according to tests undertaken by Brodie International in the USA.
Read more...
---
Ultra-compact weighing electronics
March 2020, Siemens Digital Industries , Mass Measurement
Siwarex WP351 is Siemens' newest solution for intelligent weighing automation. Measuring 20 mm width by 65 mm height, the module is one of the smallest weighing electronics units available. The device's 
...
Read more...
---
Radiometric solutions in refineries
November 2019, Mecosa , Level Measurement & Control
Berthold Technologies' radiometric instruments for non-contacting level and density measurement are widely used in the oil refining industry, where customers include Exxon Mobil, Sinopec, Shell, BP, Conoco 
...
Read more...
---
Interface measurement in desalters
November 2019, Mecosa , Level Measurement & Control
Interface measurements in desalters are often regarded as non-critical, even though every drop of oil to be refined passes through the desalter. As refineries try to maximise their margins, so-called 
...
Read more...
---
A real-time alternative to radiometric density measurement
September 2019, Endress+Hauser South Africa , Mass Measurement
Currently, in mining applications, radiometric measurement has been the only way to measure the density of slurry. Until recently, and due to the harsh and abrasive environment of slurry, no other measuring 
...
Read more...
---
What is the next big thing in Coriolis mass flowmeters?
June 2019, KROHNE , Mass Measurement
With such fast moving technology it can be difficult to forecast the 'next big thing', but it is possible to focus on two recent developments that look set to influence the market in the near future: high capacity flowmeters; and the ability of Coriolis meters to measure liquids with entrained gas.
Read more...
---
Radiometric density system
Africa Automation Fair 2019 Preview, Mecosa , Sensors & Transducers
On show at Stand D08 is the new DuoSeries LB 475 radiometric density system from Berthold, which is designed for the cementing and hydraulic fracturing industries. The density transmitter is a state-of-the-art 
...
Read more...
---
Industrial gas flowmeters
Africa Automation Fair 2019 Preview, Mecosa , Flow Measurement & Control
The IN-FLOW mass flowmeters and controllers by Bronkhorst High-Tech are of rugged design according to IP65. Showcased at Stand D08, the instruments are available for flow ranges from 0,05 to 1 mln/min 
...
Read more...
---