printer friendly version
User-friendly mass flow controller
August 2015
Mass Measurement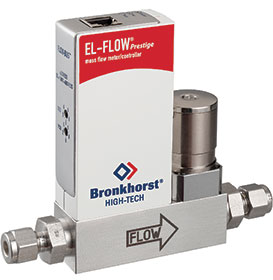 EL-Flow Prestige is the next generation of Bronkhorst mass flow meters/controllers for gases. Nearly all core components have been redesigned and many improvements and innovations have been incorporated. With this new series Bronkhorst introduced the 'differential temperature balancing' technology to ensure high accuracy and superb sensor stability.
New, power-efficient micro-processors with innovative multistage control loops have been applied to achieve enhanced dynamic behaviour and the new metal housing is of robust yet compact design. EL-Flow Prestige represents a ground-breaking shift in versatility and user-friendliness, featuring an on-board gas conversion model, various fieldbus options and customisable I/O functions.
The control performance is factory adjusted for swift response to setpoint changes, without overshoot. Moreover, the controllers are highly resistant to mechanical shocks and pressure fluctuations that may be caused by other devices consuming gas from the same source. As an option the MFCs can be tuned for extra fast flow response (down to 500 milliseconds) or extra smooth control, depending on the requirements of the user's process. The dynamic behaviour can also easily be tuned on site by adjusting the controller speed settings via the FlowTune or FlowPlot software tools. These can also be used for device diagnostics or alarm and counter settings.
Credit(s)
Further reading:
Electrical measurement and process analytics for hydrogen production
Technews Industry Guide: Sustainable Manufacturing 2021, Mecosa , Analytical Instrumentation & Environmental Monitoring
Knick products optimise the hydrogen production process and electrolyser operation.
Read more...
---
Controllers with real-time Ethernet solution
April 2021, Mecosa , PLCs, DCSs & Controllers
Bronkhorst is pleased to present Powerlink as its tenth on-board fieldbus interface option.
Read more...
---
Pulse frequency conditioner
May 2021, Mecosa , Sensors & Transducers
The new ProLine P16000 from Knick is a pulse frequency conditioner that converts frequency signals from speed sensors into standard signals.
Read more...
---
Measurement solutions for mining applications
February 2021, Mecosa , Sensors & Transducers
As a technology leader in radiometric measurements, Berthold provides a wide range of analysers and measurement solutions that have been specifically designed for the mining and mineral processing industry.
Read more...
---
Pyrometers for industry
January 2021, Mecosa , Temperature Measurement
Pyrometers are instruments that detect infrared radiation of objects to determine the temperature without making contact with the process or surface being measured.
Read more...
---
Make bin level sensors redundant
November 2020, DRH Components , Mass Measurement
Today it is critical to know and understand inventory down to the last unit in order to be efficient.
Read more...
---
New RTD transmitter
September 2020, Mecosa , Temperature Measurement
What characterises the APAQ 130 is simplicity. Users can easily configure the transmitters wirelessly with a smartphone or tablet.
Read more...
---
Bronkhorst adds Ethernet/IP
July 2020, Mecosa , Fieldbus & Industrial Networking
Bronkhorst High-Tech has announced the availability of Ethernet/IP and Modbus-TCP interface options for its mass flowmeters and controllers, as well as its digital pressure controllers. Like the previously 
...
Read more...
---
Belt conveyor weighing applications
June 2020, Loadtech Loadcells , Mass Measurement
Loadtech's LT1320 is a precision digital indicator for belt weighing applications. The unit takes the weight and speed information from a belt conveyor system and accurately calculates the rate and total 
...
Read more...
---
Positive displacement vs Coriolis meters
March 2020, Soliflo , Mass Measurement
Positive displacement (PD) is a practical and accurate method to achieve volumetric measurement of refined hydrocarbons, according to tests undertaken by Brodie International in the USA.
Read more...
---