printer friendly version
Nick Denbow's European report: Laser spectroscopy – a new plant tool?
May 2015 News Editor's Choice
For most of the last century, optical techniques were not treated as suitable for any serious instrumentation on process plants. There were some turbidity sensors used for floc blanket monitoring on water treatment ponds; some smoke density sensors used for alarms to advise when burners on steam boilers were misbehaving; and some clever devices for refractive index monitoring in clear solutions, to derive sugar or salt concentration. Most of these used white light from an internal source, and measured the broad spectrum attenuation. But at the same time, astronomers relied on optical systems for detailed analysis of the atmospheres round distant planets, or for determining the composition of comet tails. They applied spectral analysis techniques on the light transmitted through the target, the light usually originating from another stellar, but known, source. The astronomers had no other choice: actually they were adapting the spectral analysis techniques that were started in the 1800s. The result was that they could find out more about the atmospheres of distant planets than process instrumentation specialists could measure about the gases flowing down the pipelines in their plants.
It was towards the end of the 20th century that Dow Chemical engineers applied these same ideas to two major problems: monitoring for the presence of water vapour in chlorine gas production lines, to prevent the resulting corrosion; and monitoring for 1-2 ppm traces of acetylene in ethylene production plants, allowing a significant improvement in productivity. A company called Analytical Specialties Inc (ASI) was established to take up the development of this Dow technology further, and in a shared marketing deal with Yokogawa introduced the TruePeak tunable diode laser system, primarily aimed at combustion flue gas analysis to improve the efficiency of large boilers: the gases measured include O2, CO, CO2 and H2O. Here IR laser light is transmitted across the flue, meaning the measurement offers no flow obstruction, and monitors the full pipe cross-section. Yokogawa acquired ASI in 2008.
Serendipity played a part in this initial development: the tunable diode lasers (TDL) used for this application are the same ones that were developed and produced for use in the near infrared fibre optic transmission of telephone conversations down the fibres, so were available economically. It also happens that the near-IR is a good region of the spectrum for monitoring the absorption peaks specific to dual element gases like CO, CO2, H2S and hydrocarbons. Serendipity again: in one of nature's quirks, oxygen (O2) is an unusual element, in that both outer electrons spin in the same direction, and this makes it paramagnetic, with an absorption peak in this same near-IR region.
Other optical sensors
Many other optical techniques have been developed for flammable hydrocarbon gas monitoring on hazardous installations like petrochemical plants, refineries and pipelines. Most straightforward perhaps was the IR imaging approach, for example from Flir, where clouds of a hydrocarbon gas from a leak can be seen as dark areas in the image, when the gas attenuates the IR light seen by the detector. Different systems monitored the IR transmission over a long path length, along a pipeline or a perimeter fence, to detect fugitive ­emissions: early work on this was pioneered by Shell Research. Such a system was also reported for hydrogen sulphide monitoring by Alison Engineering. Point sensors for flammable gas monitoring are available from companies like General Monitors, Honeywell, Crowcon and Det-tronics, amongst others: IR absorption is one of the normal technologies used.
Gas sensing technology accelerates
Technology always does: research scientists are developing new, economical answers to the creation of different lasers, plus high frequency electronics and IR components have improved. New products and businesses emerge and new markets are created based on the clever devices invented – by sole inventors, University researchers and major corporations. Honeywell have invested heavily in acquiring gas detection sensor companies. Endress+Hauser now own Analytik Jena, and are involved with TDL and spectroscopy through their SpectraSensors and Kaiser Optical Systems acquisitions.
Some other recent laser optical sensor developments are: From the Norwegian University at Trondheim, encouraged by Statoil and the North Sea requirements, a small spin-off company was formed to create a battery powered flammable gas point sensor, using IR techniques, which could transmit an alarm over a wireless link: but the battery system had to last over five years. The development and field trials and approvals also took 5 years, but now GasSecure has a proven hydrocarbon gas monitor working over the ISA100 network, being promoted in co-operation with Yokogawa. The GasSecure company was recently acquired by Dräger for US$61m.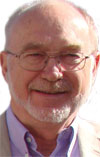 Cascade Technologies in Scotland was formed in 2003 to manufacture gas analysers and monitoring systems using laser spectroscopy, their products can measure the concentration of up to 20 different gases simultaneously. The Cascade technique uses tunable diode laser spectroscopy in the mid-IR region, and high frequency CHIRP techniques to scan the spectrum, but does not require the conventional cooled detectors. Their systems are widely used for flue gas monitoring to MARPOL requirements on board ships, for aerosol monitoring and automotive test equipment, and more recently for pharmaceutical leak detection and ethylene production plants. Cascade Technologies was acquired by Emerson last year, to strengthen Rosemount Analytical.
The future seems bright for new laser ­spectroscopy developments!
Nick Denbow spent thirty years as a UK-based process instrumentation marketing manager, and then changed sides – becoming a freelance editor and starting Processingtalk.com. Avoiding retirement, he published the INSIDER automation newsletter for 5 years, www.iainsider.com, and now acts as its EMEA editorial correspondent. His blog is on www.nickdenbow.com.
Further reading:
From the editor's desk: Is additive manufacturing poised to go mainstream?
March 2021, Technews Publishing (SA Instrumentation & Control) , News
As digital manufacturing technology pushes its way further towards the production floor, additive manufacturing (3D printing) is emerging as a viable option to complement the more traditional methods 
...
Read more...
---
Fluid Systems Africa – official Arpol partner for Africa
August 2021, Fluid Systems Africa , News
Fluid Systems Africa has recently been appointed as the official partner of Arpol flexible pipe couplings in Africa.
Read more...
---
BMG boosts solutions through Heko products
August 2021, Bearing Man Group t/a BMG , News
Through the supply and support of Heko products, BMG has boosted its solutions service to customers wanting to optimise the efficiency of their bulk material conveyor systems.
Read more...
---
Bosch Rexroth electrifies subsea process automation
August 2021 , News
Bosch Rexroth has engineered a disruptive innovation for electrically actuating valves in the subsea process industry.
Read more...
---
Endress+Hauser opens vaccination centre
July 2021, Endress+Hauser South Africa , News
As part of a model project, Endress+Hauser is operating a vaccination centre for employees in Maulburg.
Read more...
---
IS³ accelerates digital transformation through its AVEVA Select partnership
July 2021, IS³ - Industry Software, Solutions & Support , News
IS³ has announced that it has become the first AVEVA Select partner in the EMEA region, making it the only authorised distributor for AVEVA products in southern Africa.
Read more...
---
Flow Software joins the Eclipse Foundation and Sparkplug Working Group
July 2021 , News
Sparkplug governing body and industry collective welcomes an innovative industrial data analytics and information management software provider to help drive the future of the protocol.
Read more...
---
IS³ accelerates digital transformation through its AVEVA Select partnership
July 2021, IS³ - Industry Software, Solutions & Support , News
IS³ has announced that it has become the first AVEVA Select partner in the EMEA region, making it the only authorised distributor for AVEVA products in southern Africa.
Read more...
---
New B2C online shopping platform for engineering consumables
July 2021, Bearing Man Group t/a BMG , News
BMG's online shopping platform now encompasses a newly launched E-commerce service, designed especially for consumers, to boost their buying experience of engineering consumables.
Read more...
---
ETG hosts second EtherCAT Interoperability Testing Week
July 2021 , News
After the first EtherCAT Interoperability Testing Week of the EtherCAT Technology Group (ETG) met with a great response, the second event was also very well received.
Read more...
---