printer friendly version
Scada software goes mobile
August 2014
SCADA/HMI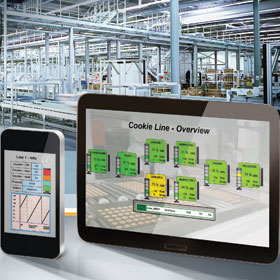 The Siemens Industry Automation Division has extended the range of functions of the Simatic WinCC Scada software in its latest Version 7.3 and added the Simatic WinCC/WebUX V7.3 option package for mobile applications.
Simatic WinCC V7.3 focuses on making engineering easier. The Configuration Studio now supports the central configuration of process data, messages, archiving and user management, and of texts in any languages. Communication options to current Simatic S7-1500 controllers have also been extended: it is now possible to directly transfer tags with symbolic addressing and the system messages of the controllers can also be handled.
The new Simatic WinCC/WebUX V7.3 option package solution from Siemens meets the growing demand for access at any time to plant information using Internet-based and mobile devices. Simatic WinCC/WebUX V7.3 goes beyond the usual control centre solutions on offer today to include just such Internet-based and mobile, flexible access to plant data. The package, which can be used across all industrial sectors, is suitable for a wide range of users within any company. From executive and production line management to service and maintenance, WinCC/WebUX V7.3 offers effective access to automation data from any location. This mobile access to information can be adapted precisely to meet individual needs. Configuration of the HTML5 Web pages is carried out with WinCC Designer. No special training is required for the WinCC application designer. Innovative maintenance concepts, tasks for operations control or plant performance metrics can be made available in this way at any location, regardless of the platform. This enables management, for example, to keep an eye on production data at all times, while quality assurance is always aware of current processes in production such as fault messages or trends. In addition, the new option package also supports remote access to the production process. For example, the user can specify switching operations and set-points for remote operation.
Simatic WinCC/WebUX V7.3 is independent of any platform or browser and does not require client installation. For secure communication, https and SSL are implemented via Web standards (HTML5, SVG). User management is integrated in WinCC. The licensing model is scaled according to the required functional scope and number of users. Simatic WinCC V7.3 already includes a licence for WebUX access for monitoring purposes.
For more information contact Keshin Govender, Siemens Southern Africa, +27 (0)11 652 2412, keshin.govender@siemens.com, www.siemens.co.za
Credit(s)
Further reading:
Totally Integrated Automation – added value in three dimensions
Siemens Digital Industries Editor's Choice System Integration & Control Systems Design
Discover everything that's in TIA, the leading automation concept from Siemens, and how it all works together to create a unique product for machine builders and industrial enterprises.
Read more...
---
The brewery of the future
Siemens Digital Industries Process Dynamics System Integration & Control Systems Design
Meeting current and future customer requirements quickly and with the highest quality is key to the food and beverage industry.
Read more...
---
Siemens' software for digital transformation of automotive design
Siemens Digital Industries IT in Manufacturing
Model-based development process and systems are used in Japan and globally to adapt to the biggest automotive transformation in 100 years.
Read more...
---
Siemens gateway for the process industry
Siemens Digital Industries Fieldbus & Industrial Networking
Siemens has introduced the Sitrans CloudConnect 240: a new gateway for the process industry. It provides a second data channel, that is used to transmit data from any HART-based field devices to the IT world.
Read more...
---
Siemens drives digital transformation at virtual Smart Mining forum
Siemens Digital Industries IT in Manufacturing
With its motto: 'On the road to the digital future', Siemens hosted its virtual Smart Mining forum from 3-5 August.
Read more...
---
Siemens to focus on sustainability
Siemens Digital Industries News
As part of its recent virtual capital market day, entitled 'Accelerating High Value Growth', Siemens presented its new growth strategy that includes a comprehensive sustainability agenda.
Read more...
---
Siemens makes industrial 5G router available
Siemens Digital Industries Industrial Wireless
Router supports future-oriented applications such as remote access via public 5G networks or the connection of mobile devices such as automated guided vehicles in industry.
Read more...
---
Siemens adds AI to Simcenter
Siemens Digital Industries IT in Manufacturing
Siemens Digital Industries Software has announced the latest release of Simcenter Studio software, a web application dedicated to discovering better system architectures, faster. Simcenter Studio offers 
...
Read more...
---
Siemens and Google Cloud to co-operate on AI-based solutions in manufacturing
Siemens Digital Industries News
Siemens intends to integrate Google Cloud's data cloud and artificial intelligence/machine learning technologies with its factory automation solutions to help manufacturers innovate for the future.
Read more...
---
Siemens expands CFD simulations
Siemens Digital Industries IT in Manufacturing
Siemens' Simcenter portfolio expands capabilities for frontloading computational fluid dynamics (CFD) simulation and increased productivity.
Read more...
---