printer friendly version
The Jim Pinto Column: Top-50 automation companies
June 2014
News
Once again, Control magazine published its list of the top-50 automation companies in North America and the world. It is creditable that ARC, the premier industrial automation advisory group, is involved. The list was published in December 2013. It is for 2012 because it is tabulated from published results for the most recent fiscal year.
There are four lists: Top-50 North America; Top-50 Global; Honorable Mention Global and Honorable Mention North America. Here is my tabulation for 2011 and 2012, Top Global and North America. The large companies move up and down a couple of places every year.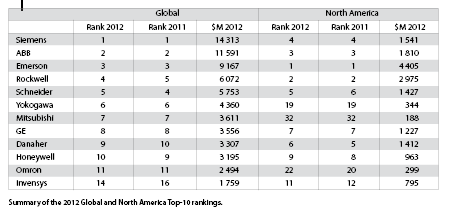 Here is my view of my favourite growth companies on the global list: In North America, Emerson, Rockwell and ABB are at the top. The largest global automation company Siemens at 4, followed by Schneider at 5. Danaher achieves the 6th position, followed by GE at 7, Honeywell is at 9 and Invensys (now acquired by Schneider) is 14.
The acquirers and mini-conglomerates are advancing rapidly in the lists. Danaher is at 9, Cameron at 8, Ametek 10, Spectris (which acquired Omega) is 12, followed by Roper at 14. Phoenix Contact is 16 on the global list, with over $2B revenues, far outpacing its old rival Weidmuller which ranks 31 with about $870M. Wago is falling behind 42 with less than $600M.
Other closely held 'mittelstand' Europeans are flat: B&R 44 $550M; Turck 45 $551M; Pepperl+Fuchs 41 $621M; Pilz got an honourable mention at $339M.
The Japanese: Yokogawa is 6 on the global list with $4.3B; Omron is 11 at $2,5B.
My favourite standouts continue to grow: National Instruments with Dr. Jim Truchard still at the helm is now 24 with $1,14B in revenues; German-based Beckhoff, still run by Hans Beckhoff is 47 at $523M; OSIsoft got an honourable mention with $263M; Advantech, the industrial PC-maker continues to advance at 28 with $929M global and 25 $268M in North America.
The private, family-run company Opto-22 is still independent and got an honourable mention with global sales of $60M and N. American sales of $39M.
Automation acquisitions heating up
Reviewing results during the 2011/2012 timeframe, it seems that the automation majors did not grow very much. But, hidden behind the numbers are good financial results which generated lots of cash.
The stock market measures success by both growth and profit. With not much real growth on their horizons, the majors will all start to acquire smaller and medium sized companies. And then, when new growth occurs, it will lead to an acquisition binge. Major companies will try to gobble up new technology leaders to gain ground.
In a recent review, Credit Suisse analysts point out that manufacturing automation technology companies are an attractive long-term investment target. They claim that the $152 billion global industrial automation market has grown 6% per year on average, since 2003, which is nearly twice as fast as overall industrial growth.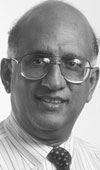 The traditionally separate silos – Process Controls and Discrete Factory Automation – are breaking down with acquisitions across the boundaries. For example, Schneider, which was focused on discrete manufacturing, with programmable controllers and related acquisitions, recently acquired Invensys, a leader in process automation systems.
Siemens and Rockwell Automation, two other big players in automation for discrete manufacturing, are also looking to expand into process arenas. And ABB, the power and automation company, traditionally strong in process, is moving to strengthen its discrete manufacturing capabilities.
Companies that already make plant-level automation systems are also seeking to expand by targeting enterprise level systems, which share data among many areas of the business, including customer relationships, sales, maintenance and manufacturing. The objective is to allow better coordination of design and manufacturing, bring products to market faster, cheaper, better.
Look for automation to become a hotbed of mergers and acquisitions over the next few years.
Jim Pinto is a technology futurist, international speaker and automation industry commentator. You can e-mail him at jim@jimpinto.com. Or review his prognostications and predictions on his website www.jimpinto.com
Further reading:
From the editor's desk: Edge, cloud or both?
June 2019, Technews Publishing (SA Instrumentation & Control) , News
In the illusory world of digital transformation, the question of where the applications will best be hosted often triggers a lively discussion. In particular, the cloud vs. edge debate has left many wondering 
...
Read more...
---
Wireless IoT devices in oil and gas reached 1,3 million in 2018
June 2019 , News
According to a new research report from Berg Insight, the number of devices featuring cellular or satellite connectivity deployed in oil and gas applications amounted to 1,3 million at the end of 2018. 
...
Read more...
---
Siemens and Iraqi government sign roadmap agreement
June 2019, Siemens Digital Industries , News
In a move that takes the roadmap for rebuilding Iraq's power sector a step further, Siemens and the Ministry of Electricity of the Republic of Iraq have signed an implementation agreement. This builds 
...
Read more...
---
Emerson acquires KNet software
June 2019, Emerson Automation Solutions , News
Emerson has announced the acquisition of KnowledgeNet (KNet) software from Tunisia-based Integration Objects. KNet's unique analytics application software accelerates digital transformation initiatives 
...
Read more...
---
BI set to add ContiTech belts to its range
June 2019 , News
Bearings International (BI) is set to add to its basket of premium brands following a visit by the ContiTech Power Transmission Group to discuss a local distribution agreement for its belt ranges. These 
...
Read more...
---
Endress+Hauser expands patent portfolio
June 2019, Endress+Hauser , News
The number of patents submitted by the Endress+Hauser Group continues to rise. As reported during the annual Innovators' Meeting held this year in France, the Group submitted 287 initial patents in 2018, 
...
Read more...
---
Hyflo Southern Africa incorporated into BMG's Fluid Technology division
June 2019, Bearing Man Group t/a BMG , News
The Engineering Solutions Group (ESG) of Invicta Holdings has incorporated Hyflo Southern Africa into BMG's Fluid Technology Division. This development is a positive move for both companies and for the 
...
Read more...
---
Festo to go digital at Automation Expo
June 2019, Festo , News
The world is currently undergoing radical digital transformation, which is viewed as an implementation of digital technologies in all sectors, including the automation industry. As a company that continuously 
...
Read more...
---
MESA aligns with Africa Automation Fair to promote next level industry automation
June 2019, Reed Exhibitions , News
MESA Africa has aligned with Africa Automation Fair for the first time this year, to help drive the next level of industry automation in South Africa. Vice chairman, Gerhard Greeff, explains that MESA's 
...
Read more...
---
Future Production Technologies Conference
June 2019 , News
"The Fourth Industrial Revolution will herald the transformation of entire systems of production, management and governance," says Bob Williamson, chair of the Future Production Technologies Conference 
...
Read more...
---