printer friendly version
The Jim Pinto Column: Top-50 automation companies
June 2014
News
Once again, Control magazine published its list of the top-50 automation companies in North America and the world. It is creditable that ARC, the premier industrial automation advisory group, is involved. The list was published in December 2013. It is for 2012 because it is tabulated from published results for the most recent fiscal year.
There are four lists: Top-50 North America; Top-50 Global; Honorable Mention Global and Honorable Mention North America. Here is my tabulation for 2011 and 2012, Top Global and North America. The large companies move up and down a couple of places every year.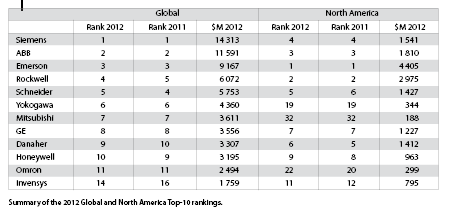 Here is my view of my favourite growth companies on the global list: In North America, Emerson, Rockwell and ABB are at the top. The largest global automation company Siemens at 4, followed by Schneider at 5. Danaher achieves the 6th position, followed by GE at 7, Honeywell is at 9 and Invensys (now acquired by Schneider) is 14.
The acquirers and mini-conglomerates are advancing rapidly in the lists. Danaher is at 9, Cameron at 8, Ametek 10, Spectris (which acquired Omega) is 12, followed by Roper at 14. Phoenix Contact is 16 on the global list, with over $2B revenues, far outpacing its old rival Weidmuller which ranks 31 with about $870M. Wago is falling behind 42 with less than $600M.
Other closely held 'mittelstand' Europeans are flat: B&R 44 $550M; Turck 45 $551M; Pepperl+Fuchs 41 $621M; Pilz got an honourable mention at $339M.
The Japanese: Yokogawa is 6 on the global list with $4.3B; Omron is 11 at $2,5B.
My favourite standouts continue to grow: National Instruments with Dr. Jim Truchard still at the helm is now 24 with $1,14B in revenues; German-based Beckhoff, still run by Hans Beckhoff is 47 at $523M; OSIsoft got an honourable mention with $263M; Advantech, the industrial PC-maker continues to advance at 28 with $929M global and 25 $268M in North America.
The private, family-run company Opto-22 is still independent and got an honourable mention with global sales of $60M and N. American sales of $39M.
Automation acquisitions heating up
Reviewing results during the 2011/2012 timeframe, it seems that the automation majors did not grow very much. But, hidden behind the numbers are good financial results which generated lots of cash.
The stock market measures success by both growth and profit. With not much real growth on their horizons, the majors will all start to acquire smaller and medium sized companies. And then, when new growth occurs, it will lead to an acquisition binge. Major companies will try to gobble up new technology leaders to gain ground.
In a recent review, Credit Suisse analysts point out that manufacturing automation technology companies are an attractive long-term investment target. They claim that the $152 billion global industrial automation market has grown 6% per year on average, since 2003, which is nearly twice as fast as overall industrial growth.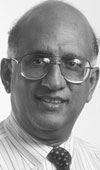 The traditionally separate silos – Process Controls and Discrete Factory Automation – are breaking down with acquisitions across the boundaries. For example, Schneider, which was focused on discrete manufacturing, with programmable controllers and related acquisitions, recently acquired Invensys, a leader in process automation systems.
Siemens and Rockwell Automation, two other big players in automation for discrete manufacturing, are also looking to expand into process arenas. And ABB, the power and automation company, traditionally strong in process, is moving to strengthen its discrete manufacturing capabilities.
Companies that already make plant-level automation systems are also seeking to expand by targeting enterprise level systems, which share data among many areas of the business, including customer relationships, sales, maintenance and manufacturing. The objective is to allow better coordination of design and manufacturing, bring products to market faster, cheaper, better.
Look for automation to become a hotbed of mergers and acquisitions over the next few years.
Jim Pinto is a technology futurist, international speaker and automation industry commentator. You can e-mail him at jim@jimpinto.com. Or review his prognostications and predictions on his website www.jimpinto.com
Further reading:
From the editor's desk: Automation professionals need communication strategy too
September 2019, Technews Publishing (SA Instrumentation & Control) , News
Catching the eye of a potential customer has become more difficult than ever thanks to the ethos of information promiscuity that defines the 21st century. It's never been easy to stand out in a crowded 
...
Read more...
---
South Africa sets plans in motion with new LNG import terminal
September 2019 , News
State-owned freight logistics firm, Transnet, said on Tuesday that it had signed a cost-sharing agreement with the World Bank's International Finance Corporation (IFC) to conclude a feasibility study 
...
Read more...
---
Emerson completes acquisition of Zedi's software and automation businesses
September 2019, Emerson Automation Solutions , News
Emerson has announced the purchase of Zedi's software and automation businesses. The addition of Zedi's cloud supervisory control and data acquisition (scada) platform will further enable Emerson to help 
...
Read more...
---
ETG conducts first Safety over EtherCAT Plug Fest
September 2019 , News
The EtherCAT Technology Group (ETG) recently held its first Safety over EtherCAT (FSoE) Plug Fest with great success. Numerous manufacturers of EtherCAT safety master and slave devices came to Verl, Germany, 
...
Read more...
---
Endress+Hauser strengthens ­expertise for advanced analysis
September 2019, Endress+Hauser , News
Endress+Hauser has expanded its centre of competence for advanced analysis in Lyon, France. The Group invested €2 million in a new production facility and office space to meet growing demand in the area 
...
Read more...
---
Festo inspires with smart digital solutions at the Automation Expo
September 2019, Festo , News
Festo hosted the first leg of the Automation Expo in Johannesburg at the Sandton Convention Centre, while the second took place in Port Elizabeth at the Boardwalk Convention Centre. Both ended on a high 
...
Read more...
---
AVK Academy gains traction in Africa
September 2019 , News
The Academy, the training arm of AVK Southern Africa, has taken the Group's training into Africa. With training on basic and advanced valve fundamentals recently concluded at Mulonga Water and Sewerage 
...
Read more...
---
WearCheck acquires reliability testing company, boosts services
September 2019 , News
Durban-based condition monitoring specialists, WearCheck, has bought Anglo Field Services (AFS), which adds three new established divisions to the company's comprehensive reliability solutions portfolio, 
...
Read more...
---
Siemens South Africa puts Smart City vision into action
September 2019, Siemens Digital Industries , News
Fourteen months ago, Siemens installed a microgrid at its headquarters in Midrand and data shows it is using 50% less supplied energy, drawing it from solar resources instead. By extracting energy off 
...
Read more...
---
Implementing Industry 4.0 technologies in Africa's manufacturing environment
September 2019 , News
African manufacturers are aspiring to raise their standards and increase the efficiency of their enterprise operations. To discuss the rising prevalence of technology within the industrial realm, the 
...
Read more...
---