printer friendly version
The Jim Pinto Column: Could two new books help transform capitalism and exceed the limits of growth?
October 2012
News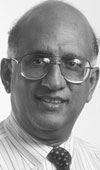 Radical re-vision of capitalism
Using his intuition to sniff out what people really want, Howard Bloom rose to prominence in the '70s/'80s music industry. He achieved great success with stars like Billy Joel, Prince, Michael Jackson, Bette Midler and many others. Now approaching 70, he seems to have settled down to writing visionary books.
In the past, I extolled Bloom's, 'Global Brain' as one of the most significant books I have ever read. Then his 'Lucifer Principle' resonated with me.
And then in 2010 Bloom came out with, 'The Genius of the Beast: A Radical Re-Vision of Capitalism', an iconoclastic, big-picture view of the transformation of mankind by its machinery. I got sidetracked before I finished the book, but started again after my recent comments on the changing paradigms of capitalism. This time I could not put it down.
Is global capitalism on its last legs? Is the era of American leadership over? Has the West begun a decline into a new Dark Age? Does American civilisation deserve to survive?
Howard Bloom has radically new answers. He insists that there is a hidden imperative in the adaptations of capitalism that can lift us from the current economic crisis and make us a leader in the next-generation economy.
Bloom sees crisis as opportunity for the whole human race. In more than 80 short, fast chapters, his insights sweep over centuries and millennia, drawing parallels that become clear. He expresses a radically new way to see the astonishing mechanisms of capitalism. He shows that what many regard as the end is just the beginning of things never before imagined.
Bloom explains the regular cycles of boom and bust as mechanisms that cause explorations and then consolidations. He shows why capitalism's next great leap will not come through financial manipulations, but by the emergence of radically new ways that will benefit humanity. The key lies in his big-picture view. He reveals the deeper meaning beneath what we have thought of as crass materialism. He shows how successive change upgrades the nature of human developments.
'Genius of the Beast' rewrites the history of capitalism. Asks Howard Bloom: "What is the beast? It is capitalism that, beneath the surface, hides astonishing human abilities to adapt and succeed."
This brilliant, inspirational work of daring ideas offers more than just hope. It offers new levels of understanding that can literally redefine how we think about how humanity is progressing.
Exceeding the limits of growth
In the 1970s an environmental study, 'The Limits to Growth' predicted that the world is on track for disaster. But no one really took the warning seriously because one of the sad facts about futures is that people are more willing to listen to optimists.
A new study by MIT researchers used computers to model several possible future scenarios. It compared real-world data from 1970 to 2000 with the business-as-usual scenario, and confirmed the prognosis – if humans continue to consume more than nature was capable of providing, global economic collapse and population decline could occur by 2030.
However, the MIT study also noted that unlimited economic growth was possible, IF governments forged policies and invested in technologies to regulate the expansion of humanity's ecological footprint.
Providing abundance is humanity's grandest challenge. A new book, 'Abundance' by tech entrepreneur turned philanthropist Peter Diamandis and award-winning science writer Steven Kotler describes how the growth challenges can be met. The book shows how four forces: exponential growth technologies; do-it-yourself innovators; techno-philanthropists; and the rising billions – are combining to solve humanities biggest problems.
The book gives plenty of reason for optimism. It establishes hard targets for change and lays out a strategic roadmap for governments, industry and entrepreneurs. It examines human need by category: water, food, energy, healthcare, education, freedom. And it introduces dozens of innovators who are making great strides in each area: Larry Page, Steven Hawking, Dean Kamen, Elon Musk, Bill Joy, Ray Kurzweil, Ratan Tata and Craig Venter, among many, many others.
Jim Pinto is an industry analyst and commentator, writer, technology futurist and angel investor. His popular e-mail newsletter, JimPinto.com eNews, is widely read (with direct circulation of about 7000 and web-readership of two to three times that number). His areas of interest are technology futures, marketing and business strategies for a fast-changing environment, and industrial automation with a slant towards technology trends.
Further reading:
From the editor's desk: AI in manufacturing and a virtual exhibition booth
October 2020, Technews Publishing (SA Instrumentation & Control) , News
Artificial intelligence (AI) is seen by many as the core of the Fourth Industrial Revolution (4IR), yet its vision is not fundamentally new. The ideas have been around since the mid 1950s, but progress 
...
Read more...
---
Endress+Hauser strengthens presence in the Middle East
October 2020, Endress+Hauser South Africa , News
Endress+Hauser is strengthening the Group's presence on the Arabian Peninsula with the establishment of Endress+Hauser Middle East.
Read more...
---
BMG launches online shopping platform
October 2020, Bearing Man Group t/a BMG , News
BMG has announced the launch of the company's new online shopping platform - BMG Online - which makes doing business in the industrial sector even easier.
Read more...
---
WearCheck moves to Westville
October 2020 , News
Condition monitoring specialist, WearCheck, recently relocated its head office and main laboratory from Pinetown to Westville, just outside Durban.
Read more...
---
Skyriders inspection at pulp and paper plant
October 2020 , News
Online teaser: When a pulp and paper producer required inspection of its fire-water reticulation system, it turned to rope access specialist Skyriders.
Read more...
---
Trafo supplies skid-mounted dry-type transformer
October 2020 , News
In a specialised application on a coal mine, Trafo Power Solutions recently supplied a dry-type transformer mounted on a mobile skid.
Read more...
---
OPC Foundation welcomes Emerson to its board of directors
September 2020 , News
Emerson has joined the OPC Foundation Field Level Communications (FLC) initiative to drive a holistic approach to sensor and device level communications across process and factory automation.
Read more...
---
Siemens Energy MEA Energy Week conference draws world-class line-up
September 2020 , News
Siemens Energy & partners are holding a major Middle East and Africa-focused virtual conference, entitled "Shaping the Energy of Tomorrow", from 19-21 October.
Read more...
---
BMG launches online shopping platform
September 2020, Bearing Man Group t/a BMG , News
BMG has announced the launch of the company's new online shopping platform - BMG Online - which makes doing business in the industrial sector even easier.
Read more...
---
SJC Creative wins Media Communications Specialist Award
September 2020 , News
SJC Creative, a specialised B2B and industrial media communications consultancy, was recently awarded the Media Communications Specialist Award 2020, Gauteng.
Read more...
---