printer friendly version
KROHNE – 100 years in the spirit of creativity
August 2021
News
Today, KROHNE is an international company with a broad portfolio of instruments, solutions and services, primarily in process measurement technology and for various industries. With over 4000 employees worldwide, the company offers local contacts for its customers in over 100 countries and supports them in instrumentation projects of any size, from single devices to large projects.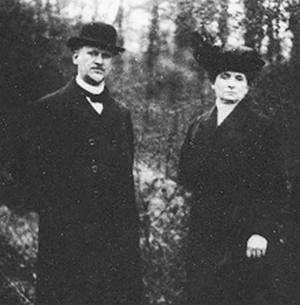 Ludwig and Anna Krohne.
But it was not always like this. When Ludwig Krohne founded the company in 1921, the first customers were a small number of steel producers from the Ruhr area. At that time, KROHNE built variable area flowmeters for hardening furnaces. Unfortunately, the Second World War then brought tragedy, as both Ludwig Krohne and his son Karl, who would have been his successor, lost their lives. This left KROHNE in the hands of Ludwig's wife Anna Krohne. In 1949, she asked her grandson Kristian Rademacher-Dubbick to help her in the business. He lived as an artist and Anna Krohne needed someone with creative ideas to help her market the products of the company. He accepted this task and soon took over full responsibility for KROHNE. Although he gave up his profession as an artist for this, he has always remained closely connected to art as an enthusiastic collector.
At KROHNE, Rademacher-Dubbick found a new environment in which he could act creatively. As someone who had no knowledge of measurement technology or its marketing, he wanted to find out what drove customers, what they expected from the company and its products and what their wishes were. He decided to ask them directly and took his bicycle to visit those in the area.
This way he learned about their needs and expectations regarding process measurement technology. They also advised him to hire an engineer and to always put technology first. The engineer turned out to be the perfect sparring partner for the creative ideas that Rademacher-Dubbick presented to him in order to fulfil customer wishes. He kept this approach throughout his career and always motivated employees to think creatively.
This is how KROHNE became a pioneer in many measuring technologies that are standards in the process industry today. However, the realisation and industrialisation of these ideas was anything but easy and often involved lengthy processes.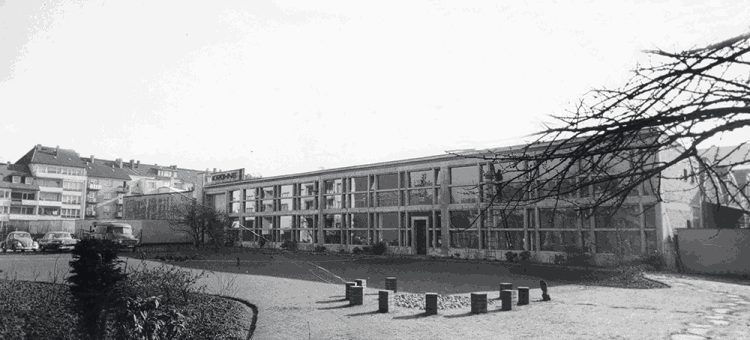 The former KROHNE building on the Blumenthalstrasse in Duisburg.
International expansion
Parallel to pushing technology, the company expanded internationally. From the 1960s onwards, KROHNE followed its customers and by the 1980s, had subsidiaries in countries such as China, USA, United Kingdom, Japan, India, Russia and South Africa.
The company developed from a pure measuring technology manufacturer into a technology company at an early stage and consistently investigated new technologies and integrated them into industrial measurement technology. Quantum leaps in innovation, such as the development of a differential pressure measuring cell and the entrained gas management technology for Coriolis devices, were realised because people had the freedom to develop.
Since creativity is essential for the development of new measurement solutions, KROHNE placed its 100th anniversary under the theme – The Spirit of Creativity. It stands for an open approach to unconventional ideas. By placing the anniversary under the umbrella of this core message, the company was able to show elements of itself that involve more than pure technology. Therefore, four additional messages were added to reflect the other core values:
• The Spirit of Adding Value promotes creative ideas and out-of-the-box thinking to realise added value for our clients.
• The Spirit of Pioneering demonstrates the use of creativity and innovation to drive progress and break new ground.
• The Spirit of Artistry reflects the close relationship with art and culture as a source of creativity.
• The Spirit of Family Culture describes a corporate approach that is characterised by family cohesion, stability, cosmopolitan attitudes and appreciation.
KROHNE's 100th anniversary embraces many different activities that converge under these messages to address and involve customers, partners and employees (https://100-years-krohne.com).
For more information contact Deon Rampathi, KROHNE SA, +27 11 314 1391, d.rampathi@krohne.com, www.za.krohne.com
Credit(s)
Further reading:
From the editor's desk: Is additive manufacturing poised to go mainstream?
March 2021, Technews Publishing (SA Instrumentation & Control) , News
As digital manufacturing technology pushes its way further towards the production floor, additive manufacturing (3D printing) is emerging as a viable option to complement the more traditional methods 
...
Read more...
---
Female talent switches on to engineering careers with ABB
September 2021, ABB South Africa , News
ABB's Sustainability Strategy incorporates driving social progress, equality and diversity to create safe, fair and inclusive working environments and support community building.
Read more...
---
MESA Africa – call for papers 2021
September 2021, MESA Africa NPC , News
We invite you – the manufacturing community – to submit papers showcasing your success stories and inspiring ideas, coping under restrictions, and illustrating this year's theme: The Art of the Possible: Manufacturing Without Limits.
Read more...
---
Hazardous locations seminar and cable gland training
September 2021 , News
The courses equip artisans and engineers with the skills needed to gain maximum benefit from Pratley's electrical products.
Read more...
---
Endress+Hauser integrates concentration measurement specialist
September 2021, Endress+Hauser South Africa , News
SensAction was founded in 2008 and has been part of the Endress+Hauser Group since 2017.
Read more...
---
Omron joins The Valuable 500
September 2021, Omron Electronics , News
The Valuable 500 aims to get leaders of multinational companies to bring about changes in business, society and the economy so that persons with disabilities can realise their true potential.
Read more...
---
Endress+Hauser honours its inventors
September 2021, Endress+Hauser South Africa , News
More than 500 inventors gathered virtually for Endress+Hauser's 21st Innovators' Meeting.
Read more...
---
Neles to acquire the valve and pump businesses of Flowrox
September 2021, Neles South Africa , News
Neles has signed an asset purchase agreement to acquire the valve and pump businesses of the Finland-based technology company, Flowrox.
Read more...
---
Bosch Holdings celebrates 60 years
September 2021 , News
In 1961, it was inconceivable for the founders of Bosch Holdings to have known that 60 years later, the company would have expanded into a global operation.
Read more...
---
Danfoss completes acquisition of Eaton's hydraulics business
September 2021, Danfoss , News
Danfoss has officially finalised its US$3,3 billion acquisition of Eaton's hydraulics business, following confirmation of all necessary regulatory approvals and closing conditions.
Read more...
---